April 6, 2018
Lighting it Up Blue (And Green) for Autism Awareness Month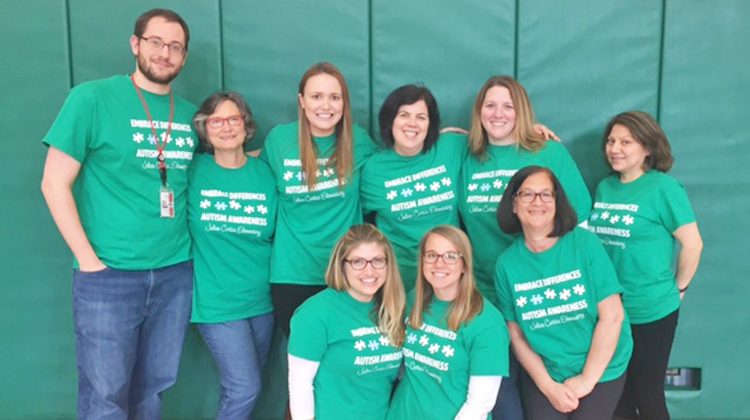 By Paul Silverfarb
Sentinel Editor
Julian Curtiss Elementary School in Greenwich is one of the many places that are lighting it up blue for Autism Awareness Month.
While blue is the color of choice this month, there's also going to be plenty of green at the school as well, courtesy of Meredith Gillam.
Gillam, a fifth-grade special education teacher at Julian Curtiss School, came up with the design for special shirts that will be seen throughout the school this month.
And the school, showing its true community spirit, responded to these shirts in a big way.
All the teachers at Julian Curtiss wore the special T-shirts on Monday, World Autism Awareness Day. However, the shirts are far from a one-hit wonder. All the teachers will wear the T-shirts every Friday throughout the month of April, otherwise known as Autism Awareness Month.
"We thought it was a really good cause because year-round at JC we try to teach awareness of diversity and acceptance," Gillam said. "We have events like UN Day Parade, so we thought that this should be equally celebrated."
In addition to being the assistant principal at Julian Curtiss School, Brenda Brush also handles special education. She's the administrator that's in charge of running the meeting, she overseas the special education teachers at the school and also the programs for the students at the school.
So for Brush to see the entire staff come together and support our students with different special needs was very touching. And it also showed her even more proof that the classroom teachers and specialists are certainly invested in the overall outcome for all the students at Julian Curtiss.
"We actually had a visitor come from the outside yesterday into the building and she was so thrilled to see everybody wearing these great T-shirts," Brush said. "It was great because I was able to brag a little bit about my staff. They definitely work the hardest for our kids. We definitely work well as a team. It's very important for us to make sure we are raising awareness for different abilities."
About a month ago, Gillam started designing these T-shirts. A dark green background was certainly in order, as she had to have the school's color on the shirt. Three puzzle pieces in white, along with one blue puzzle piece, one of the main logos for Autism Awareness Month, can also be found front row center on the shirt.
At the top of the shirt are the words "Embrace Differences," while at the bottom reads "Autism Awareness." Also at the bottom of the shirt is the name of the school in cursive.
"We hoped to sell 20 of these T-shirts and we exceeded our expectations by selling 36," said Gillam. "As a result, we fundraised over $100 to donate to a local autism-focused charity. Teachers really took the initiative to make sure all their orders were placed. We are very excited and very enthusiastic. We have had really great feedback. I am really proud of the project and excited to see where it goes next year too."
The idea for the T-shirts came up last year, but this was the year that Gillam and a plethora of other teachers in the building made it official.
"I think, this for us, we would really like to build this in as an equal important platform," fellow special education teach Liz DellaVolpe said. "I think this is something that creates diversity among their peers and their communities and it's something that should be celebrated and talked about."
After countless words of encouragement and excitement throughout all the staff at the school, Gillam made up the T-shirts to jumpstart the conversation about autism spectrum and acceptance.
"Next year we are hoping to have an assembly or more classroom activities to go along with the whole month of celebration," Gillam said.
And while having the T-shirts for the teachers to show their support for Autism Awareness Month, Gillam said that it is crucial for the children at Julian Curtiss to see the shirts and ask questions about Autism.
"It opens a lot of really good conversations about diversity, all sorts of disabilities and strength in other people," Gillam said. "It's all good for the families that are affected by Autism to see. They can see that we support them. I think everybody seeing that support and unity is awesome."
Brush also said that while the teachers and administrators are great for raising awareness throughout the building, they are also given a run for their money from the Julian Curtiss student body.
"The students are great as well," Brush said. "They are really accepting of each other and are really supportive."
Tags:
Autism
,
Autism Awareness Month
,
greenwich
,
Greenwich Public Schools
,
julian curtiss school
,
Light It Up Blue