April 6, 2018
All in the Family For Frano, GPD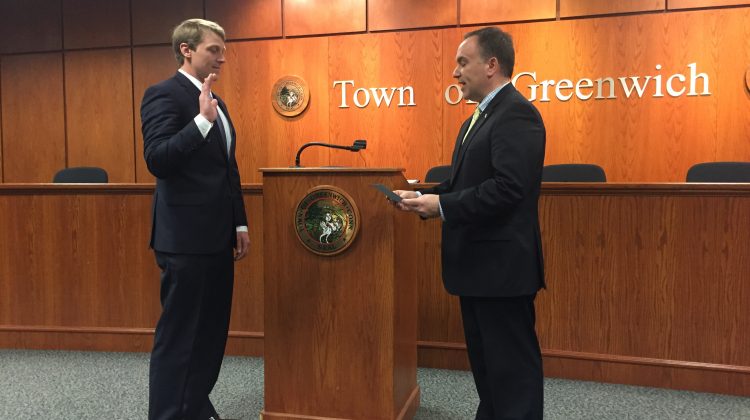 By Richard Kaufman
For many members of the Greenwich Police Department, family ties to the job are extremely strong. And on a snowy, spring Monday at Town Hall, the department added yet another officer to the ranks who can say they've now followed in a relative's footsteps.
Greenwich native, Steven Frano, was officially sworn in by First Selectman and Police Commissioner, Peter Tesei, in front of family and friends. 
Steven's grandfather, John Frano, worked as an officer with the GPD for 24 years and retired in the 1970's. John was born in New Jersey, moved to Greenwich as a youngster and attended New Lebanon School and Greenwich High School. 
He later enlisted in the Air Force where he saw action in Europe during World War II. After he was discharged in 1949, John joined the Greenwich Police Department and was given badge No. 115. He served in both the traffic and patrol divisions during his tenure and received numerous departmental commendations for excellent police work. 
On one occasion, while walking on patrol in Byram, John heard a call about an out-of-town gang that posed a threat to a group of local youth. After commandeering a vehicle, he caught up to the gang of about a dozen people, which was armed with bats, chains and knives, and single-handedly detained them until backup arrived. 
On another occasion, John put out a fire at the old Pickwick Arms on St. Patrick's Day in 1961. He also responded to a very significant gas explosion at the Two Door Restaurant in Chickahominy in the same year and received commendations for his heroic actions during Hurricane Hazel in 1954.
Even though the two had never met, since John passed away in the 1970's, his legacy will be carried on in the very same department through his grandson.
Steven will carry badge No. 115.
"No pressure," said GPD Police Chief, James Heavey, with a smile after running through John's accomplishments.
Steven, who is a certified EMT in the state of Connecticut, graduated from Greenwich High in 2002 and attended Sacred Heart University, where he received a Bachelor's degree in finance from the Jack Welch Business School. 
Prior to becoming a police officer, Steven worked for a construction company in nearby Westchester County for 13 years. He attributed his two young daughters, Chloe and Taylor, as being the main reasons why he decided to make a drastic career change. 
"Having children really made me want to be more actively involved in my community," he said. "I wanted my kids to see a father who was making a positive impact on where they're growing up and making a good change. I want them to have a positive outlook on police."
Steven went through a rigorous selection process, which took a year to complete. He underwent several interviews and had to undergo a multitude of physical and mental tests.
"It was a lot of hoops to jump through," he said. "[I tried] to go into every one of those as professionally and prepared as I could possibly be."
Steven now joins a department that prides itself on being courteous and professional. Tesei noted that all 62,000 Greenwich residents are "truly blessed" to have such dedicated and well-trained individuals serving them, and that administering the oath is one of the most special aspects of his job.
"It should be evident that without life safety and public safety, we cannot exist as a society and as a community," he said. "These are people who do extraordinary things, day in and day out."
Steven said having his grandfather's badge number means a lot, and that he's somebody to look up to because of all of the great accomplishments and stories he's heard over the years. 
"I'm hoping the academy prepares me to do this as well as my grandfather was prepared," Steven said. 
Steven will head to the Police Academy in Meriden, Conn., for six months on Monday, and will only have weekends off. After graduation, there will be 12 weeks of additional training before Steven can be out in the field by himself.
Steven's own GPD chapter has officially begun.
Tags:
GPD
,
Greenwich Police Department
,
Greenwich Town Hall
,
town hall