February 8, 2018
Murphy Brothers Win HOBI Award for Solar Roof Shingles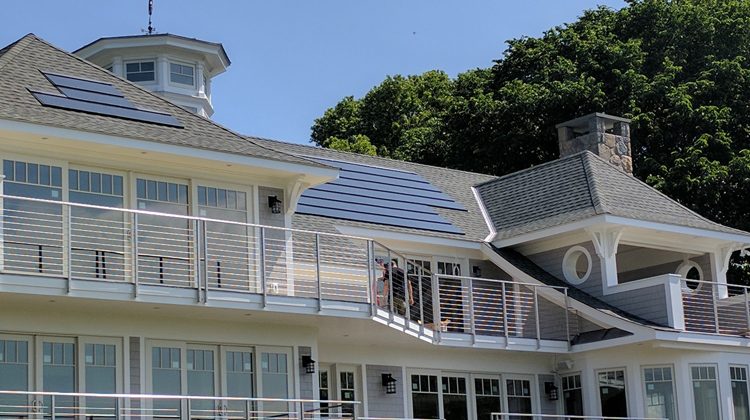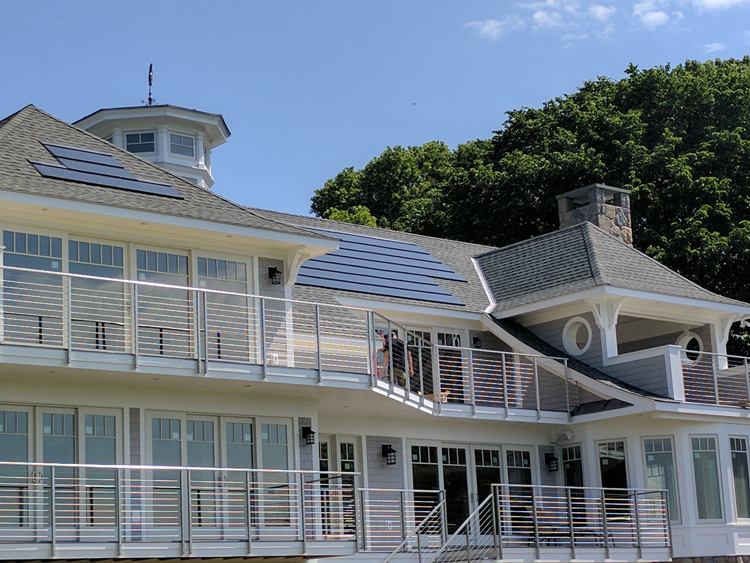 Murphy Brothers Contracting announced that they are the recipient of the 2017 HOBI Award for Best Green Exterior Product by The HBRA of Connecticut. The HOBI Awards are the most prestigious awards presented annually by the Connecticut-based association of construction professionals recognizing excellence in design, construction, sales and marketing, and financing by members of the organization. Murphy Brothers installed these SunTegra solar roof shingles on a custom-renovated home in Stamford.
For this construction project, the energy-conscious homeowners sought a solar solution that would blend in with the look and feel of their new waterfront home. Also, as electric vehicle drivers, they wanted to maximize their solar production. The family achieved their multifaceted goal for preserving aesthetics and harnessing clean energy from the sun with the SunTegra Solar Roof.
Whereas traditional solar panels install on metal racking systems raised above the roof plane several inches, the SunTegra Solar Roof is a roof-integrated solar electric solution that installs flush to roof decking in the place of traditional asphalt shingles – simultaneously producing solar energy and performing as a protective roofing material.
The general contractor, Murphy Brothers Contracting, was impressed when they discovered SunTegra's high-efficiency rating, particularly relative to other solar roofing solutions they had worked with in the past. Higher efficiency means the SunTegra system will perform like a standard solar panel system and the homeowners will benefit from more power produced per square foot of solar area.
Rated at 5.8 kilowatt (kW), the installed system consists of fifty-five SunTegra Shingles and is designed to produce over 6,500 kilowatt-hours (kWh) in the first year, measurably offsetting the amount of energy the family will need to purchase from the utility company. With a power warranty of 25-years, the homeowners can expect to be producing their own energy and saving money for a long time. This is Stamford's first solar shingle installation.
Murphy Brothers Contracting is owned and operated by Greenwich residents, Chris and Sean Murphy.
Tags:
green exterior
,
greenwich
,
HOBI Award
,
Murphy Brothers