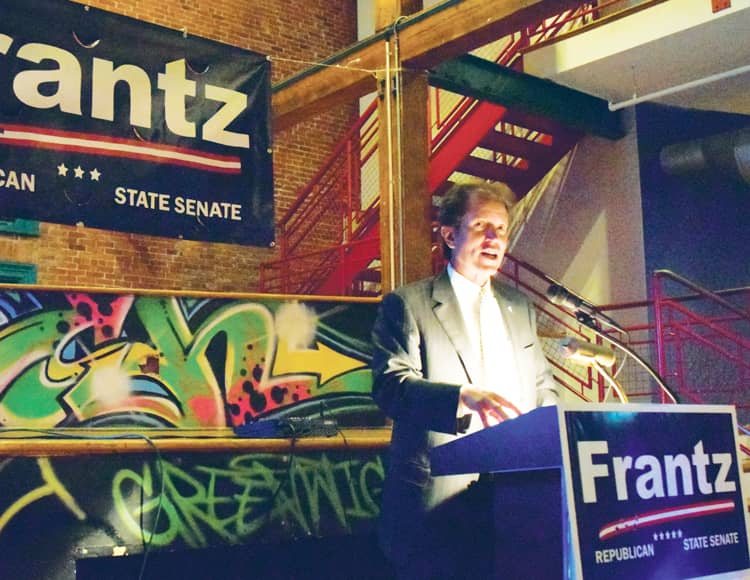 By Richard Kaufman
In front of a room crowded with friends, family, and supporters at the Arch Street Teen Center in Greenwich on Tuesday night, L. Scott Frantz officially announced that he'll be seeking a sixth term as Republican State Senator for the 36th district.
The teen center served as a poignant venue for the launch of Frantz's re-election campaign, since he helped establish it more than 26 years ago. It's now the longest-running, privately funded teen center in the United States.
"I'm a little overwhelmed," Frantz said before taking to the podium to speak to the crowd. "I'm overjoyed at the turnout. It's wonderful to [make this announcement] in a place like Arch Street. We have a wonderful tie to this place."
Standing in front of the podium with a large red, white and blue campaign sign hanging behind him, Frantz thanked his wife, Icy, and their four children for their unwavering support. He also thanked his close friends in attendance, as well as fellow Greenwich delegation members, State Reps. Livvy Floren (R-149), Michael Bocchino (R-150) and Fred Camillo (R-151).
Frantz painted a positive picture for Connecticut going forward, but stressed there's more work to be done. Frantz noted that he's more optimistic about the trajectory of the state at this point than during any of his previous nine years in Hartford, mostly because of a balance in the legislature. The balance helped Republicans and the Greenwich delegation to include important and impactful items in the budget last fall.
"We've been able to make some structural changes that will make all the difference in the state," Frantz said. "We will, years from now, if not a little bit sooner, not be in a position where we're asking ourselves, 'Are we living in the right state in the country?'"
At the end of the day, Frantz said, success for the state of Connecticut will stem from job growth, economic development, and having a pro-growth mindset.
"I pledge to you that I will work as hard as I've ever worked before up there to bring about the kind of change we really need. We can do this if we get the right team up in Hartford, and I'm very optimistic about that. This election [next November] is super important. It's critical to the future of the state of Connecticut," Frantz said to a loud round of applause from the crowd.
Along with Greenwich, the 36th Senatorial District encompasses parts of New Canaan and Stamford.
New Canaan First Selectman, Kevin Moynihan, was in attendance to offer support for Frantz. The two have known each other for nearly 10 years, mostly through Republican fundraising efforts.
"Scott is always with us in New Canaan, so we're going to be with him every time,"  Moynihan said. "He's a really smart guy. To lend his talents when he could be doing other things….You could do it as a hobby, but he does it like a job which is really impressive."
Former United States Ambassador to El Salvador under President George W. Bush, and fellow founding-member of the teen center, Charles Glazer, was also at the campaign announcement. Glazer called Frantz, "one of the finest people you'd ever meet," and praised him for being a great father, friend and family man.
Glazer believes Frantz is a central figure in turning Connecticut around.
"Scott is the voice of fiscal integrity in Hartford. Without him, I don't know where we'd be. He understands the numbers, he understand the economy, and he understands that high taxes run wealth out of the state," Glazer added. "Scott is doing this for all the right reasons."
Scott's wife, Icy, was all smiles following her husband's brief speech. She believes Scott's ability to connect and work with people, regardless of party, allows him to be a successful legislator.
"He loves what he does. He's a people person, and in this business you have to be a people person. He loves people from all walks of life," she said.
Frantz mentioned the signing of the bipartisan budget last fall, and the passing of Emily's Law, in 2015, which changed boating safety training standards following the tragic death of Greenwich teenager Emily Fedorko, as moments that stick out to him over his nine years in office.
Frantz hopes to experience more proud moments that will positively impact the state, and Tuesday night was the official start of trying to secure a sixth term.
"We've got to save the state of Connecticut; it's a great state. There's so much we've got to do," he said. "The whole idea of saving the state keeps me going."