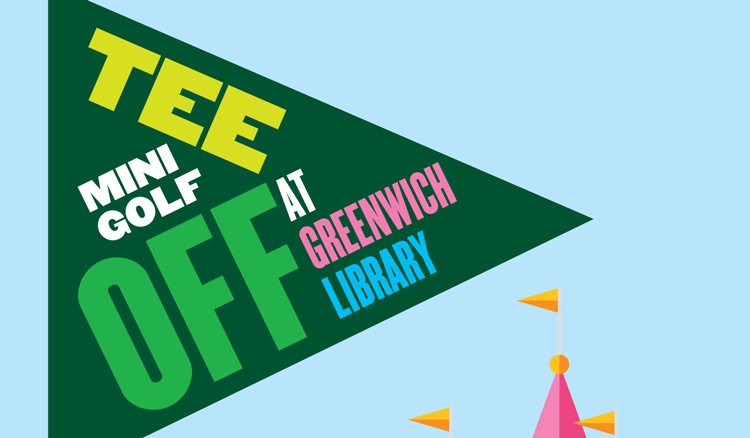 By Paul Silverfarb
Sentinel Editor
Heading out with family and friends to play a round or two of mini golf in the middle of winter doesn't sound like a match made in heaven.
Well for Nancy Klein, Director of Development at Greenwich Library, it makes perfect sense.
After last year's Tee Off: Mini Golf at Greenwich Library being so successful for its inaugural run, Klein and the rest of Greenwich Library are gearing up to host the second annual golfing event at the library.
"Last year we had an incredible turnout and it was so wonderful to have so many people show up," Klein said. "There were many who have been in the library and are the regular patrons that come in and there were so many young people and people off all ages that were new to the library that stopped on by. It was a great way to reintroduce parts of the library that people may not go to or may be surprised by places that we have here."
This year, mini golf is back and better than ever at the library, as this year's Tee Off: Mini Golf at Greenwich Library will take place tonight and tomorrow.
And the Greenwich Library added a little something extra to this year's event. Last year was the library's first mini golf event and it was still a novelty to play golf in a library. This year, the event has added a "Once Upon a Time" theme.
"Part of the reason for the themed event was to make it different than last year, so that way people that came last year have a reason to come back," Klein said. "We also wanted to make sure that people were connecting to the library. Once Upon a Time is basically how every fairy tale begins. Fairy tales are what our parents read to us when we were little and they are a critical part of childhood literacy. And that is one of our key missions here in the library."
The event gets underway tonight, as from 6 to 9 pm. adults 21-years-old and over can hit the course. The price of $25 per golfer includes the ability to get dressed up as their favorite childhood children's book character, play the course and enjoy some beverages and appetizers.
Tomorrow from 10 a.m. to 4 p.m., children, families and golfers of all ages can hit the course for $5 per golfer. All are encouraged to come dressed up as their favorite character as well. In addition, there will be a magic potion to drink at Elton's Café in the basement of the library.
And don't worry, this magic potion that Klein concocted will taste a lot like fruit punch.
Klein and the Greenwich Library have been working on this event since last summer, as they were finding sponsors, figuring out dates, designs for the course and getting the word out about the mini golf event.
"We have a couple of new obstacles this year and some special treats," Klein said.
For Klein and the rest of the Greenwich Library, there were some stressful moments while organizing the first mini golf event last year, as Klein was concerned if the concept of playing mini golf in a library would connect with the Greenwich community.
"By all accounts I think it was remarkably successful last year and I would say primarily that it was because people had a great time," Klein said. "For me as a person who organized the event like this, I wanted people to leave saying that they had so much fun and if we were going to do it again next year. They were saying that as they were leaving the building and for me to hear that was great."
And the answer is a resounding yes.
Klein first got the idea of holding a mini golf course inside the walls of the Greenwich Library when she heard that other libraries were doing this mini-golf fund raiser. After calling around and learning a little more about it, Klein found out about a gentleman named Rick Bolton, a Trumbull resident who, along with his brother, formed a business called Library Mini Golf.
"They are from a family of librarians and educators and they came up with the idea to design mini golf courses in libraries," Klein said. "They invested in the stuff that you need, like the greens and the holes. He knows how to design the course."
Klein couldn't help to think that the Greenwich Library, with its over 100,000 square foot space, would be a perfect place to set up a dynamite course.
"So, Rick came down and Barbara (Ormerod-Glynn) and I met him," Klein said. "We loved the idea and started to plan it. One of the challenges of doing a first-time event is that you kind of get everybody's head around it. People seemed stunned that it was actually inside the library."
Klein had the support from Ormerod-Glynn and Bolton's guidance to host a challenging and fun mini-golf course. But still, Klein was a little concerned about getting sponsors for the event.
"It's a great way for us to reach out to people in the community and make this really a big community event," Klein said. "And we have 19 sponsors this year. We have schools and local businesses and dentists and orthodontists and banks. We are the community hub and it's a community event. So, it's a great party."
Although the Greenwich Library has a terrific partnership with the Town of Greenwich, which pays for all the core operating expenses, the Town doesn't pay for the concerts, art gallery or when distinguished authors come and speak. That all comes from private funds.
"This is really important to understand that this is a partnership between the town and the private donations that we raise that allow us to put on all of the things the library has to offer," Klein said."
While Klein didn't lace up her golf shoes and hit the links last year, she was surprised on how competitive people were when it came to the event last year.
"We had a bunch of people that actually came with their putters," Klein said. "We had some foursomes that came and these guys were keeping serious score. We had children that came on Saturday for our family fun day and kids and adults came ready to play. Everybody seemed to have a really good time and that's all that matters."
And Klein said that there's really only one secret to tackling this year's "Once Upon a Time" course.
"Just have fun," Klein said. "It's as easy as that."