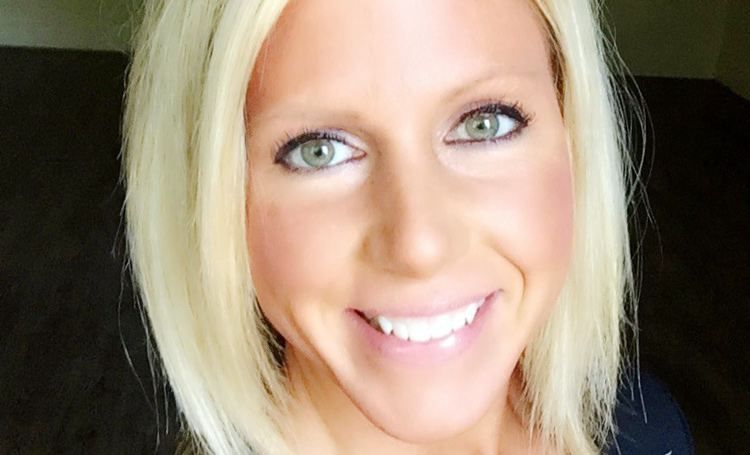 By Richard Kaufman
Sentinel Reporter
Last month, CLAY Health Club & Spa announced that its Director of Performance, Ali Gilbert, was named to Golf Digest Magazine's top 50 Best Golf Fitness Professionals list for 2017 and 2018.
An expert panel, comprised of trainers, chiropractors, physical therapists and doctors, nominated candidates based on several factors, including knowledge of the game, knowledge of exercise physiology and biomechanics, and ability to apply those elements when working with clients.
Gilbert, a lifelong Greenwich resident, attended Sacred Heart Greenwich and received her Bachelor of Science in Exercise Science from Springfield College (Mass.). Her clientele includes PGA Tour players, celebrities, politicians and teaching professionals, as well as recreational and competitive amateurs of all levels. Gilbert has also given lectures on golf fitness and professional training around the country.
"It's nice," Gilbert said of the Golf Digest honor. "I think it's even better for the game of golf because it's been such a taboo subject when it comes to weight training and fitness. It's probably the number one most argued thing in the golf world now, aside from the swing and everything that goes along with golf swing science."
Originally wanting to work with professional athletes, Gibert has found a niche in Greenwich, working primarily with men and specializing in incorporating nutrition and hormone optimization into golf fitness training. With nine golf clubs in Greenwich, and countless more in the surrounding metropolitan area, Gilbert quickly has become a leading figure in her field and a sought-after trainer.
"When you work with the golf population, you're still working with people who have that same mentality of an athlete wanting to show up, wanting to put in the work, and they can afford it as well," she said.
Gilbert said she specifically enjoys the biomechanics and the complexity of golf, which, she said, is all about constant problem solving. A golf swing is comprised of so many moving parts, and everything has to work harmoniously in the body on a consistent basis.
But Gilbert isn't alone in navigating the complexities of golf in order to achieve results for her clients. She is teamed up with Michael Manavian, another leading figure in the golf world, and a renowned golf professional who spearheads the club's golf services. Together, they deliver a unique, cutting-edge experience exclusive to CLAY.
The lower-level of CLAY is outfitted with GEARS technology, a full-body optical motion tracking system designed to measure and analyze every aspect of a golf swing. Users are outfitted with a motion-capture suit, along with a sensored club, which allows Manavian to collect data in real time to help with club-fitting, instruction and practice for members.
Gilbert and Manavian offer a two-hour elite performance evaluation. "The first hour of that is a golf lesson with me," Manavian said. "We'll evaluate your clubs. We'll find out: does this fit you or not? Then we'll look at your golf swing and your pattern, and we'll fix it. We'll give you the basic concept of what you need to do."
From there, Gilbert takes over for the second hour and does a complete fitness evaluation, using the GEARS system to check out things like range of motion and flexibility. Gilbert then works with the client on any deficiencies.
"[The evaluation] kind of gives someone the full run of what exactly is going on in their swing and then how it ties into what's going on physically, and that's how we kind of develop the plan of attack for strength training," Gilbert said. "What positions can their joints get in that will allow me to properly load them?"
Manavian said he'll often ask Gilbert questions, or vice versa, in order to work off each other to improve their clients' games. "We're not here to make people suck," Manavian said. "We're here to have them play very well." Gilbert essentially fine-tunes a client's fitness, and Manavian fine-tunes the client's swing, all under one roof.
In addition to the GEARS system, there is also a virtual program, featuring roughly 100,000 courses
from around the world, that members can play and practice on.
"Every time somebody goes and plays, it's an opportunity for us as an instructor to really bang home what's popping up so we can flatten that in practice," Manavian said. "It's a comprehensive program. We don't leave any stone unturned."
Gilbert said the idea behind golf fitness isn't to maintain status quo; it's to optimize performance.
"We can offer people the results," she said, noting that clients usually experience an increase of 10-20 yards on drives and a decrease of 1-3 inches on the waistline. She said clients build more stamina to sustain energy on the golf course.
For Gilbert, Manavian and their clients, the numbers don't lie, since they're able to track mostly everything related to golf and fitness and interpret the data into results. The personalized golf experience is part of the overall mission of CLAY, which aims to deliver a personalized environment with state-of-the-art fitness and spa equipment in a friendly setting.
"I love the atmosphere and the people that I work with," Gilbert said. "That's the dream situation."
For more information about membership rates at CLAY Heath & Spa, contact www.insideclay.com