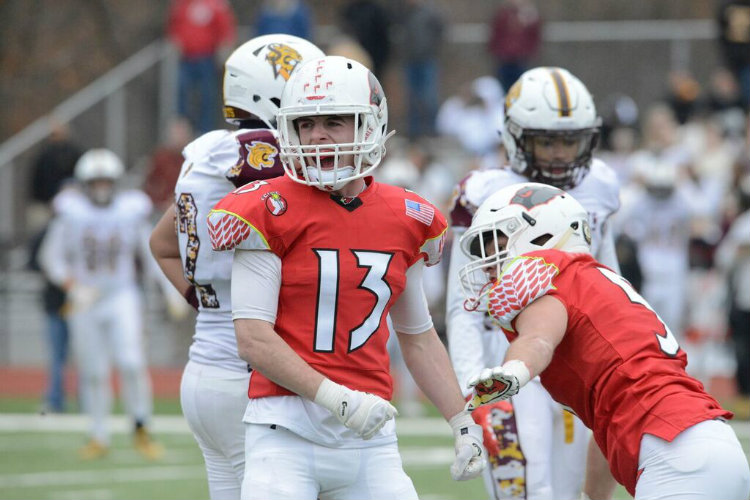 By Rob Adams
When a big crowd gathers at Boyle Stadium in Stamford on Saturday for the CIAC Class LL championship, there is no doubt that both Greenwich and Darien high schools will be ready to play.
"We've had a good week so far," GHS head coach John Marinelli said. "We watched a ton of film, corrected mistakes from (the game against) South Windsor, and got started on Darien."
The Cardinals (12-0) are the number one seed, coming off a 36-7 semifinal win against South Windsor. Darien arrives in the title game as third seed, having displaced West Haven 27-13 on Sunday.
The Blue Wave (11-1) aren't without a hint of controversy, as at least two players were suspended before the Turkey Bowl showdown with rival New Canaan on Thanksgiving. One of the two – senior quarterback Jack Joyce – was reinstated for the state playoffs and will start on Sunday.
Senior two-way starter Brian Minicus didn't play in the victory against West Haven. His status for Saturday is unknown.
"Their offense is methodical," Marinelli said. "They pick you apart little by little. They're a more complete offense than they've ever had. We just have to play our game and stop the run."
In nine regular season games, Joyce has thrown for 1,877 yards and 27 touchdowns, against only 6 interceptions. Across the way, junior quarterback Gavin Muir has tallied 2,621 yards and 31 touchdowns with 6 interceptions for the season, including the playoffs.
Muir – coming off a sprained ankle – will continue to lean on his leading rusher, junior Tysen Comizio, who has rushed for 1,266 yards and 20 TD's. A versatile performer, Comizio has added 32 receptions and 4 touchdowns as a part of a deep Greenwich receiver core.
Muir will spread the ball to Jael Negron, who looked healthy against South Windsor. The senior has caught 10 touchdowns, with leading receiver Lance Large making 42 catches. The depth stretches from co-captain Henry Saleeby (36 receptions, 3 TD's) to senior Elias Gianopoulos (6 TD's) to junior Stephen Bennett, who has emerged with 11 receptions over his last three games.
Defensively, the Cardinals have been rock solid, with Mozi Bici, Jack Feda, Tyler Blizzard, and co-captain Nick McIntosh among the talent that has allowed just under 13 points per game.
On the other side, Darien has allowed 85 points for the season.
"They're phenomenal," Marinelli said. "They're big up front, their linebackers are physical. They have a lot of guys who knows how to cover."
Marinelli aded that the teams has to stay focused and now give into the pressure of playing in a state championship game.
"We absolutely have to make sure that we do not turn over the ball," he said. "We take a lot of pride in ball security.
The Cardinals have an extra weapon in place kicker/punter Zach Moore. The senior has averaged nearly 39 yards per punt, and has hit on 62 of 64 extra points. He's connected on 10 of 13 field goal attempts, making a season-long 44-yarder against South Windsor.
The Blue Wave have tried only two field goals for the season, and have hit on both. Senior Austin Hagander has converted 31 of 36 extra points.
"I think the biggest key to the game: special teams," Marinelli said. "We do 40 to 60 minutes of special teams per day."
Marinelli said that Moore has the ability to hit field goals from 50 yards out.
Across the way, the Wave bring a collection of runners who can spread the wealth on the ground. Joyce has scampered for 351 yards, while leading rusher Mitch Pryor has run for 560 yards and 7 touchdowns.
Defensively, outside linebacker Kevin Grune has 52 tackles to go along with 6 sacks.
While it's a given that both teams have tremendous experience, especially on the coaching staffs, Marinelli hands the edge to Darien head man Rob Trifone.
"This is his fifth straight title game," Marinelli said of Darien's hall of fame coach.
Marinelli, in fact, has been on the coaching staff for three of the five. In 2013 and 2014, Marinelli was the offensive coordinator at New Canaan for his father, Lou, as the Rams beat the Blue Wave for those crowns. This time, John Marinelli is the Greenwich head coach, going against someone he has "enormous respect" for.
"He does such a good job of scouting his players to have success against the other teams' personnel," Marinelli said. "For me against him, it's feels like mind games back and forth."
The Cardinals are seeking their 10th title overall, and eighth in the CIAC, while the Blue Wave are trying to win their seventh CIAC championship.
While there is a chance for inclement weather Saturday, Marinelli says they'll be ready for the conditions.
"It's one of those games where I hope the weather stays dry and I hope we get a nice crowd," he said. "I think that having this game at Boyle means a lot to this county, not Just to the two towns.
"I hope the weather doesn't deter people from going to see two very well-coached, very talented football teams."
The CIAC Class LL championship game will be broadcast live on WGCH Radio (1490 AM/wgch.com) with the Sentinels' own Rob Adams calling the play-by-play. Chris Erway, AJ Szymanowski, and Ian Barto will help analyze the game.