November 10, 2017
Sullivan Returns to Northeast With New Team, New Attitude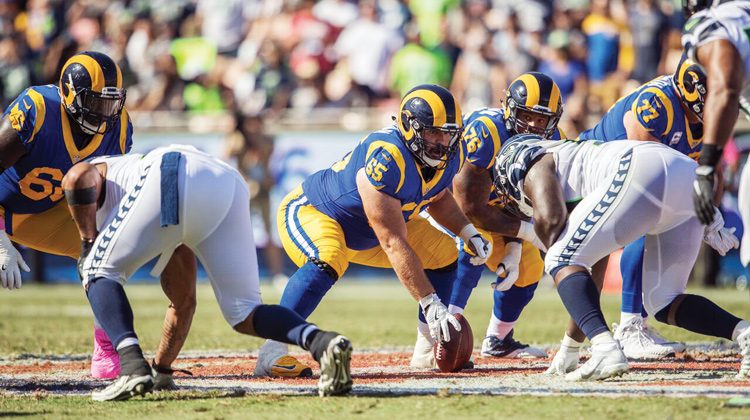 By Richard Kaufman
Sentinel Reporter
Much to the dismay of the Big Blue faithful, the upstart Los Angeles Rams barreled into MetLife Stadium last Sunday and trounced the lowly New York Giants by a score of 51-17.
However, there was a pocket of fans in the stands who were quite pleased with the outcome.
The game served as somewhat of a homecoming for Rams starting center, John Sullivan, who had family and friends in attendance cheering him on.
The Greenwich native and former Greenwich High School standout athlete, who has played in the Meadowlands a handful of times over his now nine-year NFL career, was front and center in helping his team amass 473 yards of total offense en route towards their sixth win of the season.
Playing in the backyard of where he grew up, especially in front of those close to him, is something Sullivan always cherishes.
"The games are always special when you play close to your hometown," he said. "It's always a good experience to get back and have people that have supported you throughout your entire career — starting all the way back from youth to high school, to Notre Dame and now the NFL; to have them have an opportunity to watch you play is great."
Sullivan is in his first year in Los Angeles, having played one season with the Washington Redskins, and seven with the Minnesota Vikings, the team that drafted him in 2008 as a sixth-round pick.
The Rams are currently 6-2, good for first place in the NFC West Division, and are one of the league's biggest surprises after they went 4-12 last year.
Much of their success is credited towards new head coach, Sean McVay, the 31-year-old wunderkind who, when he was hired last January at age 30, became the youngest head coach in NFL history.
But veterans like Sullivan, fellow lineman Andrew Whitworth, linebacker Connor Barwin and wide receiver, Robert Woods, who were all brought in as free agents prior to the 2017 season, have played major roles in providing leadership to the second youngest team in the NFL. The Rams entered this season with an average age of 25.09.
Sullivan said veteran leadership doesn't necessarily have to be loud and in your face.
"It can just be how you go about your daily business and the way you handle yourself with the training staff, how you approach meetings, and then how you approach the practice field," he said. "You just show guys how to do things the right way and that's what leads to longevity in this league as a player and that's what helps teams win."
Sullivan had a prior relationship with McVay while he was the offensive coordinator with the Redskins, which is something that helped ease the transition to a new team. "I definitely had a little bit of a head start in terms of the system, but more in terms of how Sean thinks and how Sean approaches football," Sullivan said.
Sullivan said McVay has "changed the culture" of the Rams organization, and that all the players have bought-in to the new philosophy. "I think that's why the product on the field has been good so far and why we anticipate having success going forward and that really starts with Sean," Sullivan said.
The Rams are hoping that their fans buy-in to the team as well. Since moving back to Los Angeles from St. Louis last season, they've had trouble filling the LA Coliseum and creating a true home field advantage.
But winning is the cure to all ills, and Sullivan believes that if his team can continue to perform week in and week out, they'll be able to establish a strong fan base.
"With a [6-2] start, hopefully we're going to keep winning. We plan on doing everything possible that we can to make sure that happens. We're hoping that by the end of the year we have more fans in the seats," he said.
The road for any professional athlete is long. From youth football to Greenwich High School, to Notre Dame and onto the NFL with stops in Minnesota, Washington D.C., and now Los Angeles, numerous people have helped Sullivan along the way.
Sullivan often thinks back to his roots in Greenwich, and says the relationships he forged here have shaped him as a person and as a football player.
"We really had a great staff that was good at preaching a family type philosophy on that football team," Sullivan said of his time at GHS. "They allowed us to really grow up as Cardinal football players and then obviously my best friends are guys I played with at GHS, so it was definitely a special time in my life."
Sullivan currently has a one-year deal with the Rams and lives in Malibu, Calif., with his wife and child. He said he plans on living in Greenwich during the offseason after this season.
But for now, with Sullivan anchoring the middle of the offensive line on the field and in the locker room, it's full speed ahead for the Rams, who seem primed to capture a playoff berth in the near future.
"We just expect to keep improving," he said.
Tags:
greenwich
,
Greenwich Cardinals
,
Greenwich Football
,
Greenwich High School
,
John Sullivan
,
Los Angeles Rams
,
New York Giants
,
NFL
,
Town of Greenwich