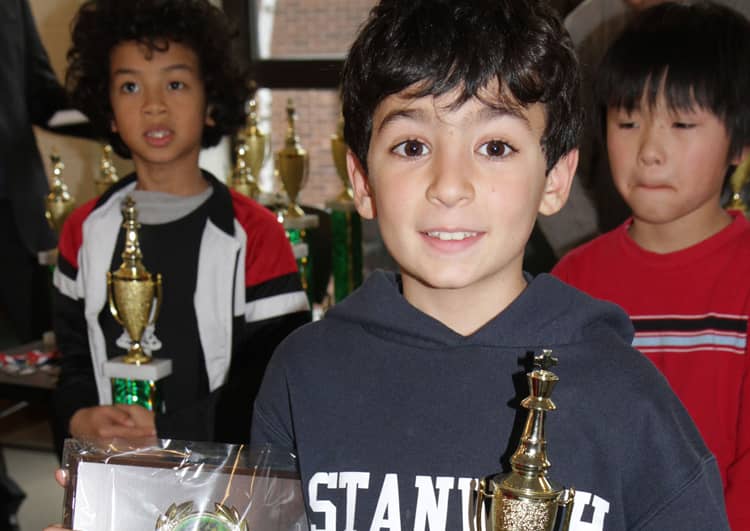 The 2017-18 Grand Prix chess season, produced by the National Scholastic Chess Foundation, begins with two tournaments in Greenwich. On Sunday, Nov. 12 the competition, open to all students in grades K-12, will be hosted by Greenwich Academy, 200 N. Maple Ave. The second event will be on Sunday, Nov. 19 at Greenwich Country Day School (GCDS), 401 Old Church Rd. Online registration for both events is available under the Tournaments tab at NSCFchess.org
A special presentation of awards to the winners of the 2016-17 Grand Prix season will be made immediately following the GCDS tournament on Nov. 19. Among the winners will be several from Greenwich schools, including Brunswick School's Colin Dean, the 1st grade champion, and Neel Behringer, Jackson Girardi and Oliver Servedio from The Stanwich School, and Serena Evans from Greenwich Academy.
"The NSCF Grand Prix competition encourages perseverance and the pursuit of excellence in chess by offering special awards to those players who play frequently and well in NSCF tournaments," says Sunil Weeramantry, the organization's Executive Director. "We want to teach children that success in chess comes not from a single lucky day but consistently applying your time and talent towards achieving a goal. We believe this is a life lesson as well."
About the National Scholastic Chess Foundation:
Founded in 1990 The National Scholastic Chess Foundation (NSCF) is a 501(c)3 non-profit educational organization that provides the benefits of a chess education to students of all ages. The primary focus of the NSCF's programs is to develop critical thinkers. For over 25 years, the NSCF has worked with diverse populations in private and public schools, with children in gifted programs as well as those with special needs. The NSCF currently conducts classes in over 70 schools in Westchester County, N.Y. and Greenwich.