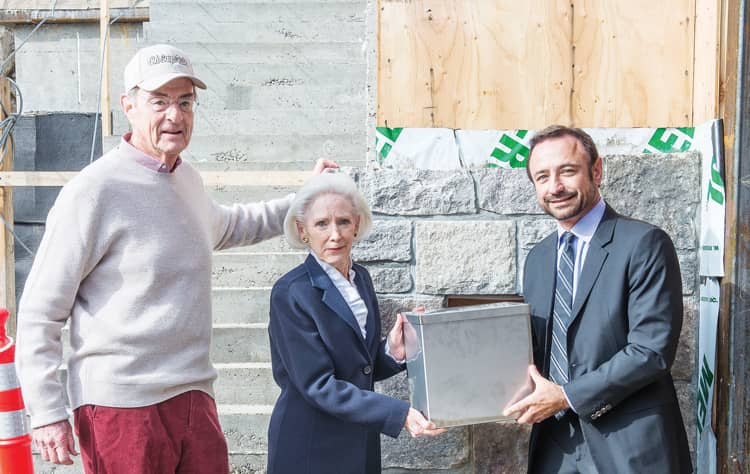 By Richard Kaufman
Sentinel Reporter
Last Saturday, the cornerstone to the Greenwich Historical Society's new museum, library and archives building was dedicated and a time capsule containing submissions from Greenwich residents was installed.
"This is another milestone event in the history of the Greenwich Historical Society," said the society's board chair, Davidde Strackbein.
The entire project, which was spearheaded by architect David Parker, is referred to as "Reimagine the Campus." It will offer increased parking spaces, improved handicapped access, an elevator and state-of-the-art galleries and archives. There will also be a cafe and a gift shop.
"We're seeking to ensure the long-term preservation and accessibility to the past which binds us together as a community," Strackbein said. "Within these walls, we will be saving the American dream, brought here in the baggage of immigrants from the 17th through the 21st century, to tell America's story and of our town's part in the development of our great nation so that its past will never be forgotten and lost."
According to lifetime Greenwich Historical Society member, Peter Malkin, who is also the president of the Greenwich Tree Conservancy and a member of other various preservation groups, the project is currently ahead of schedule and under budget.
The society is approximately within $600,000 of the $13.5 million price tag.
On hand were several local and state elected officials, which included State senator Scott Frantz, and State reps. Livvy Floren and Fred Camillo, as well as Town of Greenwich First Selectman, Peter Tesei, and selectmen John Toner and Drew Marzullo.
Tesei spoke briefly and commented on the importance of the historical society and how the new campus will help preserve Greenwich's rich and storied history.
"I know I join with you in the excitement in placing the time capsule [in place], for the enjoyment of those 50 years from now," Tesei added.
The time capsule is nicknamed "Elizabeth", after one of Greenwich's co-founders, Elizabeth Feake.
The historical society's executive director, Debra Mecky, said the capsule will be unearthed in 2067.
"Time capsules are a wonderful time to reflect on what we value today and what we imagine our town will be like, and what our world will be like, in 50 years," she said.
Several area students submitted letters for the capsule in which they posed questions and described what they thought Greenwich will look like in 2067.
"In 50 years, I wonder if…Greenwich will still vote Republican? The beach will still be beautiful? Electric cars and renewable resources will be more widespread? People will find out what happened with the skeleton in Laddins Rock woods? Students will get Columbus Day off?" said one student.
"No one will be driving cars, instead people will hitch a ride in automobiles that self-drive. All automobiles in the future would not need gas for fuel, and not pollute the earth," said another.
The historical society also partnered with Greenwich Magazine for a competition to determine which items would be preserved.
Trish Kirsch, publisher of the magazine, announced some of the submissions that were chosen:
A ticket to the Greenwich Town Party; a Connecticut license plate that depicts the Long Island Sound; a Greenwich High School varsity athletic uniform; a menu listing items from various Greenwich restaurants; a Town Party car magnet; and a photo of Greenwich Ave.
The time capsule was then put in place and sealed with the cornerstone, hidden away for the next five decades.
"[The submissions are] a testament to how passionate these [residents] are about our town and getting involved," Kirsch said.