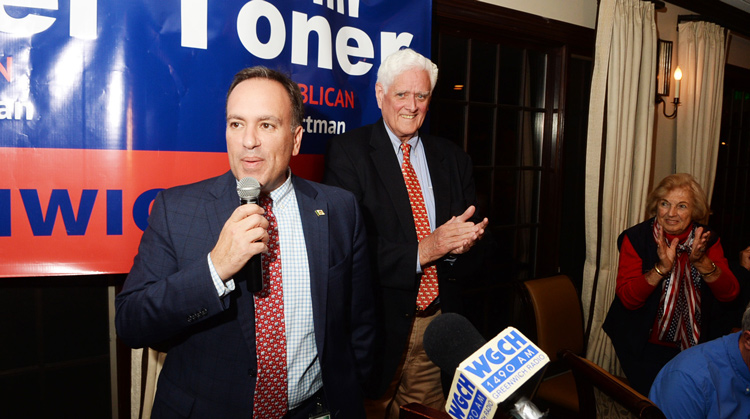 By Richard Kaufman
Sentinel Reporter
Another election night has come and gone, and the landscape of republican politics in Greenwich has been shaped for the next two years.
The night featured several races that came down to the wire, including an historic victory in the First Selectman's race, a close contest for chairmanship of the Board of Estimate and Taxation, a nail-biter for Tax Collector and a shake-up of the Representative Town Meeting.
The First Selectman ballot saw Republican incumbent Peter Tesei vying for an unprecedented sixth term. Challenging him was newcomer and Democrat, Sandy Litvack, a former vice chairman of the board at Walt Disney and U.S. Assistant Attorney General.
In 2015, Tesei won by nearly 5,000 votes over his closest competitor. But this year, the race was much more competitive and drama filled.
Tesei accumulated 7,569 votes, or roughly 53% to remain the chief elected official in town, while Litvack fell just short with 6,592 votes, garnering 47%.
Tesei hovered around 50% all night, but was able to pull away late. Litvack conceded the race shortly after 9:30 p.m., as the final results came in.
On the selectman side, incumbent Republican John Toner achieved the most votes of any Board of Selectmen candidate with 7,619, and will head back to the board for his second full term.
Democratic incumbent Drew Marzullo, who made headlines in September after an incident at the Clinton Crossing Premium Outlets, failed to gain re-election for a fifth term, as he tallied 4,937 votes.
The top three vote getters earn spots on the board.
"There's no question, as I learned tonight, that a sixth term is hard to come by," Tesei said in front of an excited crowd at Republican Headquarters at The Milbrook Club.
"Not as easy as the first five, but nonetheless, when we look at the election that was waged, the resources that were spent by the opposition, the level of engagement by outside individuals, we in many ways are fortunate to be standing here tonight to say we had won," he said, citing that democrats outspent the republicans nearly six to one.
Tesei went on to thank his supporters and stressed putting Greenwich first above individuals and ideologies.
"We're pleased to have won, we're pleased to have earned the trust for two more years and we ensure you that together we will work in your best interests to put the interests of Greenwich first," he added. "There's nothing wrong with putting Greenwich first; that's what we do. If you were particularly born and raised in Greenwich, you're going to put Greenwich first."
Afterwards, Tesei said he hopes the Republicans can be more aggressive next time in countering "some of the tactics that have been put forth by the Democrats."
"I think I'm going to have to be a little bit more strident in addressing some of the overtures and actions of the opposition, because clearly they have been able to capitalize perhaps on the goodness that I have presented or portrayed, and that's no longer going to be the case," he added.
Tesei also said that over the years, he's developed not only a political relationship but a personal one with Marzullo, and that the board perhaps won't have the same level of collaboration going forward.
"We'll see. I've worked with a lot of people in my 30 years of service to the town, and I have no doubt I can work with [Litvack]," Tesei said, although it's unclear if Litvack would consider joining the board.
Should Litvack should not to take the oath, a vacancy committee would be tasked with selecting a democratic replacement.
Toner also said he's going to miss Marzullo, but expressed excitement in being able to rejoin Tesei. "I look forward to it. There are so many things I got involved in and I'm going to keep on with those activities," he said.
Late Tuesday night, it appeared the democrats had gained control over the chairmanship for the BET by just 492 votes. But a clear winner wasn't determined until Thursday morning when the official votes were finally certified, which showed the chairmanship had indeed changed hands in favor of the democrats by an even smaller margin of 477 votes (37,789 votes for democrats, 37,312 for republicans).
On Tuesday night, current BET chair, Republican incumbent Michael Mason, said voter turnout for the democrats played a big factor, as well campaign funding. He noted that BET members have always maintained a "collegial" relationship, so collaboration moving forward should be fluid.
"The BET has been operating on a sound fiscal plan for a long, long time. We've been able to address the needs of the various RTM committees and the public and the taxation rates," he said. "We haven't really been separated all that much on the major issues. We'll just continue to move forward."
The race for two spots on the BOE finally came to an end after a tumultuous campaign which saw the three Republican candidates clash at various points over the summer.
Peter Bernstein, who was originally passed over for endorsement by the Republican Town Committee, petitioned onto the ballot and ended up receiving the most votes, 9,080 to incumbent chair Peter Sherr's 7,069 and newcomer Jason Auerbach's 5,790.
Bernstein filed an injunction against Sherr and Auerbach over the summer, claiming they made concerted efforts to block his petition candidacy. The injunction was later rejected.
Sherr said he hopes the end of the election season will bring a new chapter for the BOE.
"Over the past few months the board has become paralyzed and very politicized as the election campaign proceeded," he said. "I hope tomorrow we'll be turning a new page and we'll get back to the business of making Greenwich schools the best they can be for the kids."
Sherr said he'll be able to work with Bernstein on the eight-person board in order to move forward the business of the kids in Greenwich. He noted that along with moving forward as a board, the town needs to come together as well in order to help new superintendent of schools, Dr. Jill Gildea, succeed.
"I think it's very important that the town comes back together because the success of Dr. Gildea in Greenwich is critical to the success of Greenwich Public Schools."
The spot for tax collector perhaps saw the closest race of the night. Democratic candidate Howard Richman came away victorious with 6,746 votes against Republican incumbent, Tod Laudonia, who collected 6,574 votes.
As of press time, Laudonia could not be reached for comment.
The RTM, which is normally tame during election season, saw a flurry of change in what was a big shake-up to the town's legislative body.
In 2015, no seats were contested. This year, there were 274 candidates plus 10 write-ins for 230 seats. Districts three, four, nine and 12 were the only ones without competition.
Overall, 72 new members were elected to the RTM.
One major surge in RTM candidacy had to do with the group Indivisible Greenwich, which was formed after last year's presidential election and has urged members to become more involved in town government.
Town clerk, Carmella Budkins, said the election as a whole was hectic, but especially busy with regards to the RTM.
"We've had a lot of write-ins," she said on Wednesday as official vote counts were still being processed. "We've had almost 300 people running for 230 seats. We're extremely busy."
The Board of Assessment and Appeals featured five openings with all five incumbents returning: chair Jack Kriskey, Mark Pruner, Jeff Reardon, Mary McNamee and Larry Simon.
Overall, 14,186 Greenwich residents came out to vote out of a possible 36,292 eligible voters, good for a 39 percent turnout rate.
Now, the clock begins ticking for 2019.