October 13, 2017
Column: September 2017: A Good Month for High End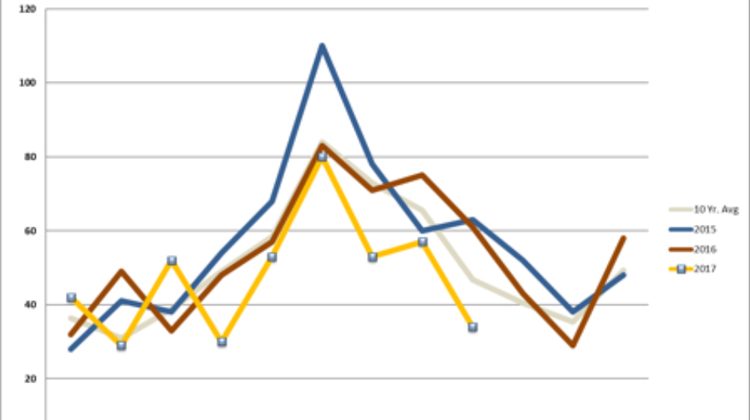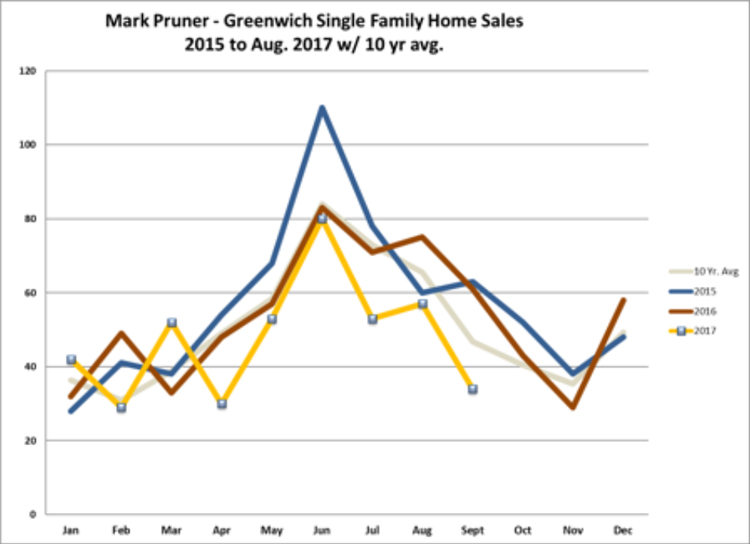 By Mark Pruner
For the last three months we've had a real estate market that we haven't seen post-recession; a good high-end and a mediocre middle. September took that up a notch. First the poor news, from $600,000 to $3 million sales are down. Under $600,000 we have no inventory. (Well, OK we do have three listings, but we had 8 listings last year). The demand is certainly there as even with this lower inventory we have the same 13 sales that we had last year.
Now for the good news; sales over $3 million are doing much better than last year. So far this year, the GMLS has reported 114 sales over $3 million up from 95 house sales last year. Some of the high-end price ranges have been particularly outstanding.
Between $ 6 and 7 million our inventory is down by a quarter and sales are up by 500%.  That calculation came from my fellow agent, Jill Marchak, here at Berkshire Hathaway, who does the internal market numbers for our Greenwich offices. The percent increase was so surprising that she initially thought it must be wrong, but sales really did go from an anemic 2 sales last year to 12 sales this while inventory dropped to only 20 listings even though this is the peak of fall market.
And, in the first few days of October, the hits just keep on coming. We had 116 Oneida close for $20,377,000 on 10/3 and then 50 Byram Drive closed for $12,650,000 on 10/5. The high end is definitely chugging along. Inventory is down in ever price category over $3 million and as mentioned above sales are up.
Unfortunately September 2017 was the third consecutive month of below average sales numbers and have cancelled out the good sales months we saw earlier this year. We are now down 5% in total unit sales year to date. Despite this drop in the number of houses sold, however, we are up about 5% in sales volume as these increased high-end sales have powered the total dollar value of all sales upward.
As I mentioned this time last month, September was likely to be a down month as contracts were down 29% year over year. This month contracts have recovered very nicely with contracts down only 3 houses when compared to the beginning of October 2016 or 4%. One of the places contracts saw a nice recovery was our busiest segment from $1 – 1.5 where we are actually up to 15 contracts which was 4 more than in early October last year.
The only major drop in contracts was from $600,000 – $800,000 where we are down 7 contracts from 13 contracts last year to only 6 contracts this year for that price range. With only 20 total listings I wouldn't expect that category to be recovering quickly.
The mood in the marketplace varies but one thing that seems to apply across a broad range of prices is that buyers are just being more thorough. They are going to more open houses and feel that they have to see everything in their price range to make sure that haven't missed anything before they put in an offer. All this research and legwork does mean that when something new comes on that they see as a good value, buyers can move quickly. Of our 491 sales and pending contracts so far this year 101 of them went to a binding contract in less than a month.
When you look at our months of supply what is generally a smoothly rising curve from only a few months of supply under $600,000 to many years of supply over $10 million is not smooth this year. We actually have a stair step arrangement with $1.5 – 2 million being a transition zone from a seller's market to more of a buyer's market. Activity at the $2 million dollar range which is usually more than at higher price, this year is about the same as around $4 million.
From $4 – 5 million we have about the same supply and demand as last year which works out to be about 24 months of supply. Then we meet the high-end sweet spot that has expanded from $5 – 6.5 million to go all the way up to $10 million. When you throw in the 4 contracts from $6.5 – 10 million we actually have a busier market from that lofty price range than we have from $4 – 5 million.
At the high-end the steadily rising stock market seems to be really helping out as people look to diversify their portfolios and take some of their gains off the table and put them in real estate. In the middle, the bread and butter of Greenwich's real estate market, our state legislature is sowing doubt and confusion (and Washington isn't helping either.)
Our contracts indicate that October should be a return to more normal sales, not the nearly 40% Y-O-Y drop in monthly sales that we saw this September. If the Connecticut legislature and the governor can get together on a budget deal, we still have a good shot at an excellent 4th quarter, but if we get past this week without a budget, the fourth quarter will be a struggle. I'm hoping for the best.
Mark Pruner is a Realtor with Berkshire Hathaway and one of the five members of the "New Team" at BHHSNE. He can be reached at 203-969-7900 or mark@bhhsne.com
Tags:
greenwich
,
real estate market