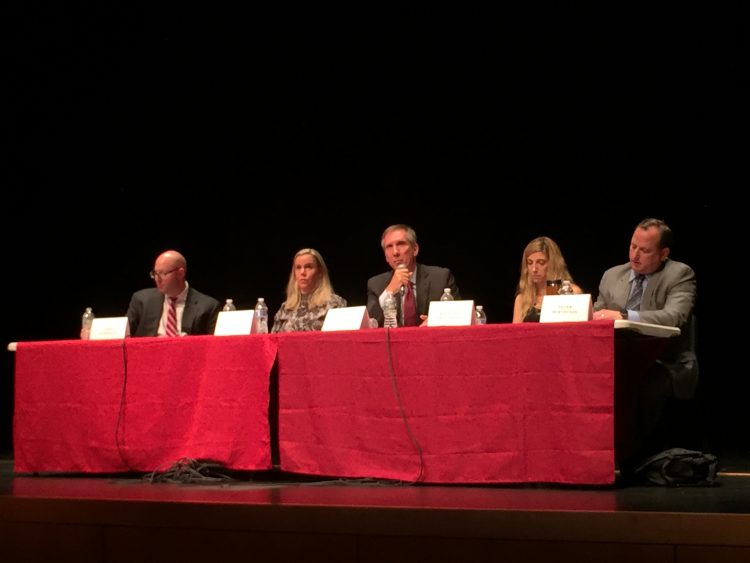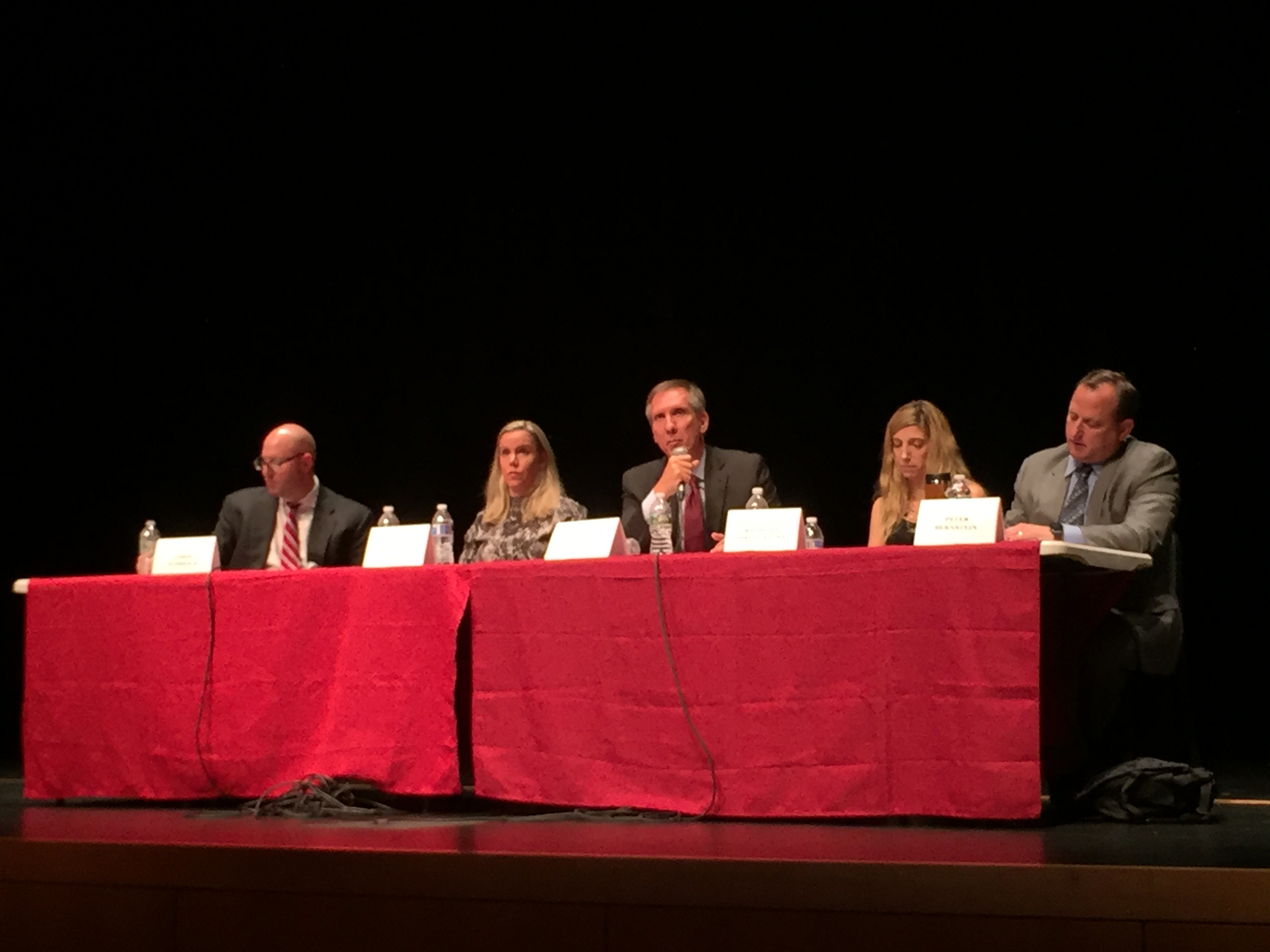 By Richard Kaufman
Sentinel Reporter
On Tuesday night at the Performing Arts Center inside Greenwich High School, candidates for the Board of Education sat ealown for a two-hour forum hosted by the League of Women Voters of Greenwich and the Greenwich PTA Council.
Moderated by Jara Burnett, co-vice president of Voter Services for the League, the candidates fielded questions submitted by public school PTA's and discussed issues such as BOE charter change, new school start times, the upcoming budget, field contamination, racial balance and equity within the school system.
The BOE is comprised of eight members, split evenly among Democrats and Republicans, serving four year terms. Four members are elected every two years.
Three Republicans will vie for two seats on the Board in November: incumbent BOE chair, Peter Sherr, incumbent Peter Bernstein, and newcomer, Jason Auerbach.
Bernstein successfully jumped on the ballot through a petition candidacy after he failed to receive an endorsement for reelection from the Republican Town Committee this past summer.
Two Democrats are guaranteed spots on the board; Kathleen Stowe and Meghan Olsson.
On the subject of charter change and how members of the board should be elected, Auerbach and Sherr stood in favor of a change while Bernstein, Stowe and Olsson opposed.
As it stands now, there is equal representation on the board between the two parties. Charter change would allow for top vote getters, regardless of party, to be elected. Auerbach pointed out that this would allow for unaffiliated voters to run.
"We have a fundamental disagreement up here on this stage," Auerbach said. "I believe in democracy. I believe it's the American way." Sherr echoed those sentiments, saying that the governance of the school system should be in the hands of parents and taxpayers through the democratic system.
Olsson and Stowe pointed out that the board has been balanced since the 1930's and it should remain that way. Bernstein agreed, saying that the current process forces members to work together.
"Changing the structure to allow a single party majority for the BOE… will detrimentally impact the governance of the BOE by removing an incentive for discussion and collaboration by its members," Bernstein said.
All candidates agreed that there have been unforeseen problems stemming from the new school start times, and that the issues need to be analyzed further and rectified with greater urgency.
"As always, what is best for the students? How can we take the right steps? I think we need to come up more discourse and come up with some real solutions to some tough problems and I think we can do that collectively as a group," Olsson said.
Sherr, who has observed the traffic patterns with Auerbach at GHS, said he'd be willing to help Superintendent Dr. Jill Gildea with addressing traffic, bussing and athletic problems. "This needs to be measured on the impact of students and their whole health," he said.
Candidates agreed that tough economic times in the state will lead to difficulty in forming the 2018-2019 budget. Bernstein praised Dr. Gildea for having a keen eye towards the budget going forward. "We've told her to take a cold hard look at the budget with an eye towards achieving savings," he said.
Stowe, who has an extensive financial background, said she can't wait to roll up her sleeves and dive into budget discussions. "We're going to have to get creative," she said
Sherr said, "Contrary to popular belief, Greenwich schools are very well-funded. We have one of the highest levels of spending in the state, but at the same time we need to get a lot better at getting return on investment on the investments we're actually making."
He said that there needs to a positive collaborative relationship between the BOE and the Board of Estimate and Taxation and the Representative Town Meeting.
Olsson specifically mentioned her support for a new New Lebanon School as something that is an important capital need. Auerbach agreed, and said the capital budgets need to be done in a fiscally responsible manner.
On the topic of field contamination throughout town, the candidates said that it's a very serious problem that needs solutions. Auerbach and Sherr agreed that building up with turf, not digging down into the ground, would be beneficial in solving the issue.
"This is fundamental for me," Sherr said. "You can't be committed to the health and safety of the kids if you're not absolutely willing to face the cold hard reality of what's happened on the fields."
Bernstein said there should be a longterm plan in dealing with field contamination. "The safety of our students is absolutely critical," he said.
Stowe said not everything can be solved at once, and as a former coach of soccer and baseball, the value of having a safe and usable field cannot be understated. Olsson said "it's just not fair" that students can't use some fields around town.
On the topic of racial imbalance in the school district, Sherr and Auerbach said they're against the Connecticut law that requires minority enrollment to be no more than 25 percentage points above or below that of the district as a whole.
"This subject really, really troubles me," Sherr said. "Personally, I find it highly, highly offensive to be categorizing kids by race in 2017." Sherr said magnet schools aren't working to reduce the issue, and that taking preschool out of Parkway School and putting it in a new New Lebanon School will only make racial balance worse.
"I agree with Mr. Auerbach, it may be the time that we need to respectfully disagree with the state and let them take action against us and worry about the Greenwich school system," Sherr said.
Olsson, Stowe and Bernstein said that a new New Lebanon School would bring more students and help racial imbalance.
"I believe that when we rebuild New Lebanon, when we have a plan in place that's executed and the fields are fixed, I believe that more students will be coming to the schools. People move to Greenwich for the schools," Olsson said.
Stowe agreed. "I think it's a great plan. I think we need to get it done, and I look forward to pushing that through."
The candidates were asked about what equity means to them and how would they close the achievement gap and ensure equity among schools?
They all agreed that equity means equal opportunities for all students. Stowe likened it to her household where one child wants to go skiing, and the other wants to play baseball.
"It turns out that skiing is a lot more expensive, but I'm going to give each one of them their individual opportunity," she said. "I think you have to at different times, allocate your resources a little bit differently to ensure that you're giving everyone a fair opportunity."
Sherr agreed with Stowe, saying that equity is one of his base principles. "For me, right now in the school system, it's about applying resources based on the individual needs of the kid," he said.
Olsson suggested that preschool would be a solution to close the achievement gap, especially since there's limited access to preschool in Western Greenwich.
"I would say that studies continue to show that the earlier a child has access to education, the more it's going to close the achievement gap," she said. "Preschool could close the achievement gap."
Auerbach noted that this issue was one of the main reasons he decided to pursue a position on the board. He said it's been "disappointing" to see the achievement gap widen in the district over the last 10 years.
"Because we keep focusing on the top 10 percent, the bottom 20 percent, the kids in the middle are getting lost in the transition," he said.
"This is about making sure we've addressed the needs of each and every student and the needs that they have specific to them," Bernstein said.
He added that the issue isn't just about students at low performing schools. "It's about each student not being where they ought to be," he said. "Are students growing how they need to be growing?" He said proficiency levels need to be beefed up. "We have the opportunity and data to actually do that now."
While the candidates may have differed on various topics and strategies, they were united in furthering the education of all 9,002 students in the Greenwich school system.
Burnett reminded those in attendance to get to the polls on Nov. 7. She also said that absentee ballots will soon be available.
"Let's have a real good turnout," she said.