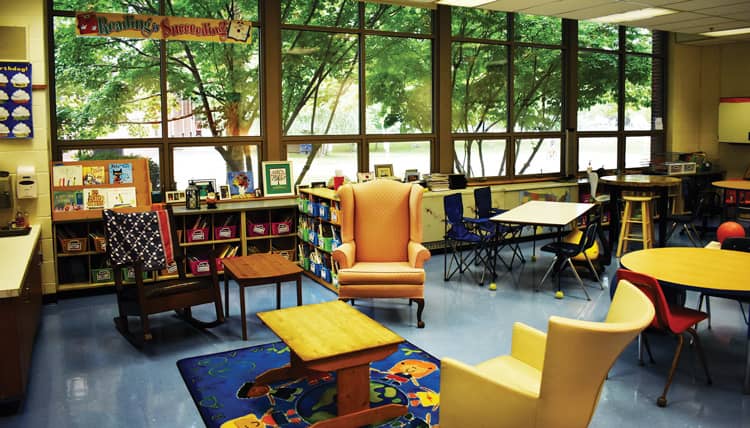 By Richard Kaufman
Sentinel Reporter
With the end of August comes the beginning of a new school year. The dog days of summer have subsided, as hundreds of teachers and students prepare to head back to the classroom.
For North Mianus School principal, Angela Schmidt, late August and early September is akin to New Year's; a clean slate for everyone.
"[Teachers] return to schools energized with new resolutions to ensure they reach every student by building relationships of trust and caring," she said. "We love walking through the building and seeing the beautifully prepared classrooms that await our students. Every year holds the promise of new beginnings and success for all students."
Schmidt said it's an exciting time in education due to the continued integration of digital devices and technology into the classroom. She noted that her staff is educating students who will one day have jobs that don't even exist yet.
"Our classrooms reflect these changes as we incorporate flexible seating, include areas for quiet reflection as well as collaboration and include space for creating and imagining," she said.
Of course, the educating of students would not be possible without the hard work of teachers. Schmidt described her teachers as being "risk takers" who put the children first. "They're always willing to take a chance if it leads to increased student success and engagement."
Although the perception with school officials and teachers is that they get the summer off, the work truly never stops.
Schmidt said that she spent part of her summer collaborating with her assistant principal, Kat Brunswick, for the school year. "Our Leadership Summit allowed us time to visit with colleagues and look at [the] district as well as building goals," she said. "I always enjoy catching up on professional reading over the summer to energize me with new strategies and ideas."
However, she said there was enough time to visit family and friends.
North Mianus school has 507 students which makes it the largest elementary school in the district. "Somehow it still feels like that close knit community school I became principal of eight years ago," Schmidt said.
Schmidt said her favorite part about being a principal is seeing her students enter school as kindergartners and leave as fifth graders ready to take on the challenges of middle school.
"Students spend the longest time in their academic careers in elementary school and in the six years they are here I feel they are a part of my own family," Schmidt said. "I love getting to know the families who are a part of our community and knowing that our staff and families are equal partners in the success of our students."