June 28, 2017
Simpson Departs Greenwich High, Takes Over Brunswick Soccer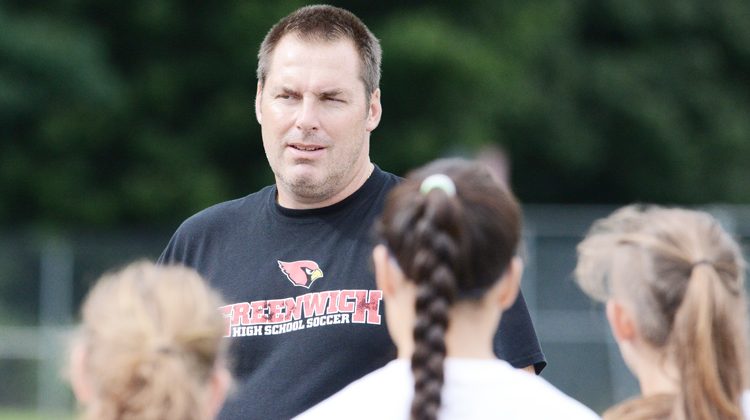 By Paul Silverfarb
Sentinel Editor
His time with the Greenwich High School girls' soccer team has been nothing short of memorable. The FCIAC titles, the numerous state tournament appearances and the countless friends he's met along the way are priceless.
However, it's time for the head coach to step away from being comfortable to accept a new adventure. Although he's stay in Greenwich, Simpson is going to be patrolling the sidelines across town, as he's been named the new head coach of the Brunswick School soccer program.
Because of his tenure in Greenwich, he has a deep-rooted knowledge of the town and has said how much he cares for the community here.
"It wasn't something that I wanted to leave," Simpson said. "There are only three or four high school jobs in Greenwich. The Brunswick job only recently came up. When I heard it was available in February, it got me thinking. I am intrigued by the school and obviously I love the town. I also felt that my body of work at the Greenwich High School girls program was pretty strong and I think I left it in a better place than I found it. After 12 years I thought it would be a challenge for me to join a different league, a different gender and a private school this time. A lot of the challenges excited me."
Simpson will be joining a Brunswick program that is hungry to get back to the top of the New England Prep School League. Last year, under head coach Christian Gonzalez, the Bruins took home a record of 8-8-1. A year prior, Brunswick had the breakout season they were hoping for, finishing 11-5-2 and qualifying for the NEPSAC tournament for the first time since 2010.
"Danny has a wealth of soccer knowledge and coaching experience," said Brunswick School athletic director Ron VanBelle. "He came highly recommended by people in the soccer community and I am excited to see what he brings to Brunswick School."
When he started at Greenwich High School, Simpson's goal was to build a program that's a perennial power and that's something that the head coach couldn't be prouder of during his time with the Lady Cardinals. Coming into the school nearly a decade ago, Simpson was determined to get GHS on the map when it came to girls' soccer.
Mission accomplished.
In 2007, Greenwich captured Simpson's first FCIAC championship, a victory over Darien High School. A few years later, the Cardinals pulled off quite the impressive title run.
In 2010, Greenwich took home Simpson's second FCIAC championship, a 1-0 double-overtime victory over Westhill High School. A year later, Big Red stayed on top of the conference, winning the title 1-0 over Fairfield Warde High School.
In 2012, Greenwich kept the good times rolling, beating Trumbull High School 1-0 the FCIAC semis. Due to Hurricane Sandy, the 2012 FCIAC championships were cut short, as the two semifinal winners, Greenwich and St. Joseph, shared the FCIAC title.
Two years ago, Big Red advanced to the FCIAC semis and the Cardinals have fared well at the state tournament level.
"Hanging a banner in the Greenwich gymnasium meant a lot to me," Simpson said. "I would like to see what I could do at Brunswick because they have a fantastic tradition. They have a wonderful baseball, hockey and lacrosse program and I would love to see if we could put the boys' soccer up there with the rest of them."
Simpson strongly believes that if people want to progress in life, they can't be in a comfort zone and have to keep on challenging themselves. Simpson was coaching the girls' team at Greenwich High for a decade. But once he started getting too comfy as the position, he was starting to think that maybe he would be up for a new adventure. The coach said that he has put himself in front of many challenges, and the Brunswick job is certainly no exception.
"This is going to be a challenge," Simpson said. "It's a different type of player that I am going to be working with. That challenge of getting out of my comfort zone is what is really going to excite me. I never sit in something where you can just go through the motions. You always want to keep challenging yourself, so when the Bruins' opportunity came up, I saw it as a huge challenge. They are looking for a program to be built there and are looking for stability. They are looking for a coach to come in that will be there for the long haul and really build a program."
Simpson has a plethora of experience coaching both girls' and boys' squads. In addition to coaching at GHS, Simpson has been the head coach of Shoreline Football Club's Liverpool squad, a boys' team that has won the U-16 Super Y National Championships, the Eastern Developmental Program's D-II and D-I League titles and a state championship at the U-17 division.
Although he's going to a boys' high school team for the first time, Simpson said that there aren't that many differences.
"At Brunswick I see some very eager kids and some very excited faces that want to learn," said Simpson. "They want to get better, want to be pushed, want to advance and want to excel. Over my years at Greenwich High School, I have had many students that have played for me that have the same confidence and desire. In a way, I feel like it reflects the institution. Not only do they want to learn in the classroom, but they want to learn on the athletic fields. That's a credit to Greenwich as a town."
It's easy to see that Simpson is excited for the new challenge ahead of him. However, the former GHS coach already misses his girls' soccer team on Hillside Road.
"The hardest thing for me was leaving the program," said Simpson. "There have been some great players that I have coached and some great players that I've watched in all sports for this school. I loved my time at Greenwich High School and I hope I'm always looked as a Cardinal."
One of the people that Simpson credits for the program at the high school being so competitive year after year is athletic director Gus Lindine.
"Having worked with Gus my whole 12 years, he has been a fantastic mentor for me," the head coach said. "Not only is he an athletic director, but I think of him as a friend. He has been a rock, and as many high school coaches will tell you, the rock of the athletic director's support of you is the foundation to build a program.
"There has been many a time where he's been questioned about me as a coach and he's always stood firm," added Simpson. "I'll always thank him for that and for his support and for him letting me run the program the way I wanted."
While Lindline has stood by Simpson throughout his tenure as head coach of the Lady Cardinals, he's not the only administrator that's been cheering the team on, as GHS Headmaster Chris Winters has been a vocal supporter.
"Dr. Winters has been a very loyal supporter of the program," Simpson said. "He's attended many games and even away games. He came to Cheshire once for a tournament game, which is something I never forgot. The support at Greenwich High School, and being a Cardinal, meant the world to me."
Leaving Greenwich High School wasn't an easy decision and surely wasn't something that Simpson took lightly. There were plenty of restless nights of sleep. While the head coach will miss his time as a Cardinal, he's more than excited to get his next chapter going as a Bruin.
"The Brunswick position is a big change for me and it's something I look forward to," Simpson said. "It's an honor to have worked for Greenwich High School. I wanted the Headmaster and athletic director at Brunswick to understand that I was looking for the long term. They put their trust in me, so it's up to me to deliver."
Tags:
Brunswick
,
Brunswick Soccer
,
ctgsoc
,
ctsoc
,
Danny Simpson
,
FAA
,
FCIAC
,
GHS
,
greenwich
,
Greenwich girls soccer
,
NEPSAC