June 27, 2017
Fairfield U. Recognizes Greenwich Students for STEM Excellence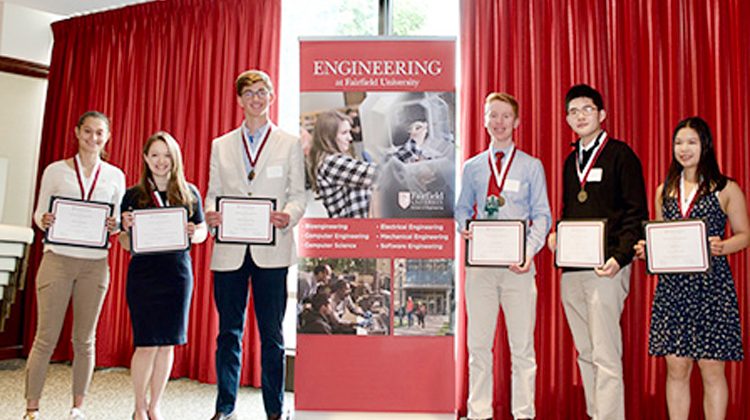 On June 6, Fairfield University held its 21st annual Excellence in Mathematics and Science Awards. Co-sponsored by Sikorsky Aircraft Corporation, the event recognized 29 juniors from public, private and parochial high schools in Fairfield and New Haven Counties for exceptional aptitude in science and mathematics.
Dean of Fairfield's School of Engineering Bruce Berdanier, PhD, and Chris Speights, director of mission system integration at Sikorsky Aircraft Corp., presented the students with medals and certificates at a lunchtime ceremony held in the University's Dolan School of Business, where the young scholars mingled with faculty from the School of Engineering, local business leaders, the admissions staff and guests from Sikorsky Aircraft Corporation.
Usman Asif '08, MS'09, who leads the combat rescue helicopter engineering team at Sikorsky Aircraft Corp. and was guest speaker at the event, said in his remarks: "The future of STEM is bright. The industry is going to be overhauled and there will be plenty of jobs in this sector compared to others."
Asif also invited students to focus on the three "E's" — education, experience and exposure.
"Fairfield prepared me well for my career in engineering. I'd say the courses [at Fairfield] even prepared me for things I wasn't sure I'd ever use, but that are a part of my job now," he said.
Tags:
awards
,
Convent of the Sacred Heart
,
GHS
,
greenwich
,
Greenwich High School
,
STEM
,
students