June 3, 2017
Julie Seton Reclaims the Heritage of Her Famous Grandfather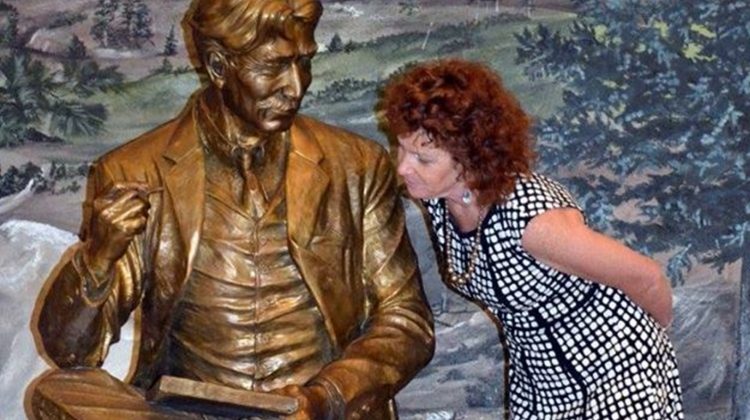 By Anne W. Semmes
Sentinel Columnist
A week from Sunday Julie Seton, the southwestern granddaughter of Ernest Thompson Seton, is due for a revelatory visit to the Greenwich roots of her famous grandfather. "I know nothing about his life in Cos Cob except what I've read," says Julie from her New Mexico home.
If only Seton, who died in 1946, could be around to give her a tour; he would no doubt be pleased as punch with his red-headed granddaughter, who is on a mission called the Seton Family Legacy Initiative to reintroduce the extraordinary contributions of her grandfather to present and future generations, in art, in literature, in nature study, in zoology, in Native American values, and yes, in his inspired role in the creation of the Boy Scouts. She will speak to all of this at a special tour, reception, and lecture co-sponsored by the Greenwich Historical Society and Greenwich Boy Scouts on June 11 at the Ernest Thompson Seton Reservation on Riversville Road.
Julie Seton is the product of Ernest Thompson Seton's second family, which came to be after he relocated from Greenwich to Santa Fe, N.M., in the early 1930's. Julie now makes her home in Las Cruces, 280 miles south of Santa Fe, but she grew up in the Seton compound of Seton Castle and Seton Village, and is named after Seton's second wife, Julia Moss Buttree.
Julie's initiative is well on its way. In 2015 she republished her grandfather's autobiography, "Trail of an Artist-Naturalist," in a reader-friendly version with a foreword written by all three granddaughters, and added family photographs, including one of Ernest and his nine brothers. "That is one of the reasons he escaped to the woods," says Julie. The index is rich with references to his correspondences with his friends Rudyard Kipling and Teddy Roosevelt.
Importantly, Julie's next project is to add a compendium of "the pieces that are missing from his autobiography," she says. "There is not one word about his Boy Scout experience."
That Seton experience, with its historic conflict of personality and philosophical approaches towards Scouting, had left Seton bitter, says Julie. But she has access now to a manuscript that has his version of the Boy Scouts of America.
Julie's grandmother sold her grandfather's journals to the American Museum of Natural History (for $9,500), where they can be accessed in the Rare Book Room by special permission. Julie saw them there as a high school senior when she arrived with the request, "Can I see my grandfather's journals?"
From her mother's papers Julie came to acquire her grandmother's diaries. "I've started transcribing her diaries and I will eventually publish them," she says. Acquainted as she is now with her grandfather's journals, she's found much similarity in the pair's journals. "I now imagine them sitting face to face in the middle of the night, because they've been lecturing all day and they've had interviews, and they've had dinner and drinks, and they're sitting in front of each other and relating their day to each other, and they're writing it down."
Grandmother Julia Seton was a role model for Julie, in her efforts to keep the Seton legacy alive. "I absolutely adored her," she says, "She stood 4-foot-8 and she was the biggest personality I ever knew. I loved to sit in her study. She had this incredibly humongous two-sided desk, and she had a little step stool so she could get to it. She was so short, and here was this huge stacked desk she would sit at and do her work."
Like her grandmother, Julie is also on the lecture circuit about her grandfather. She is a skilled communicator with a doctorate in rhetoric and professional communication. Her lectures include "ETS: Artist-Naturalist and Youth Educator"; "E.T. Seton and the Boy Scouts of America"; and "E.T. and Julia M. Seton: Advocates for Native American Cultures."
Julie has her mother, Beulah Dee, the adopted daughter of Ernest and Julia, to thank for republishing her grandfather's "The Gospel of the Red Man," that spells out (now with photos) the universal values from an American Indian perspective. It's targeted toward anyone "from 4 to 94," says Julie, quoting her grandfather. "He worked hard to make the Indian ideal prominent in the new American culture," she says. But during his time, she notes, "there wasn't a way for his message to become mainstream."
Seton's Woodcraft Indians, with its 1902 origin in Cos Cob as one of this country's earliest youth organizations, had its original members becoming the first Boy Scouts. It would grow internationally to become the Woodcraft Movement, advocating for appreciation and preservation of wilderness and wild animals. In 2014 Julie took herself to the Woodcraft League of the Czech Republic for an international Woodcraft gathering. "They hold them every three years. They jump back and forth between the Czech Republic and the Order of Woodcraft Chivalry in England." This August Julie will attend their Woodcraft gathering in England.
This international connection came as news to Julie. She had been kept in the dark by her parents about much of the Seton legacy. "My mom had told me that we did not want the burden of the Seton Legacy. Her entire life she felt a responsibility, a burden to continue the legacy, but she was not able to do it by herself, because the Seton Castle and Seton Village were designated a National Historic Landmark and there were tremendous restrictions on the kind of things that she could do. The Castle building was in a very, very fragile condition."
In 2003, unbeknownst to Julie and her two brothers, their mother had sold Seton Castle and Seton Village to the nonprofit Academy of the Love of Learning.
But today Julie is reinvigorating the Ernest Thompson Seton Institute. "I am in the process of recreating a 501(c)(3). I want it to become vibrant enough that we'll do programming in the various fields my grandfather had influence in—in art, in literature, in nature study, in zoology. I want to be able to fund a scholarship for any young person under the age of 18 for a $10,000 to $20,000 scholarship."
Julie has traveled far since those grade school days when she first moved into that "huge Seton Castle." "Because it was a National Historic Landmark people would come all the time and we would give tours. Here's the room he passed away in, this is a new part of the house that my grandmother built. Let me show you the inscriptions from Teddy Roosevelt, and William Hornaday," etc. She remembers the day she took a prehistoric doll to school for show and tell. "When I came home with it, my mom was going to kill me," she says; and then again in college, "I had one of my grandfather's original paintings of birds—a cactus wren. My mother went bonkers. 'Do you have any idea how valuable that is?'"
"No. We just didn't appreciate all of this. It was just stuff. We had a famous grandfather. We didn't understand what that was all about."
It was in college that Julie found herself drawn into her grandfather's animal stories. "I was going through his journals translating and transcribing and learning what his process was to understand the animal behavior, particularly in the wolf hunt that changed his life." Her doctoral dissertation would feature his story of "Lobo: King of the Currumpaw," and discuss "how nature writing can be analyzed for its use as social praxis, for social action." She has a lecture, "The Wolf Hunt," that describes Seton's scientific observation and how it translated into the tragic story of "Lobo: King of the Currumpaw."
"In the end, I do a reading of part of the story, and everybody is crying at the end, including me."
Postscript: Admission is free, but reservations are required for the Julie Seton tour, reception and lecture beginning at 3 p.m. on Sunday, June 11, at the Ernest Thompson Seton Reservation, 363 Riversville Road. RSVP to shealy@greenwichhistory.org, or call 203-869-6899, Ext. 10.
Tags:
Cos Cob
,
Ernest Thompson Seton
,
Greenwich Boys Scouts.
,
Julie Seton
,
Philmont Scout Ranch
,
Trail of an Artist-Naturalist