June 2, 2017
Column: May Market Wrap Up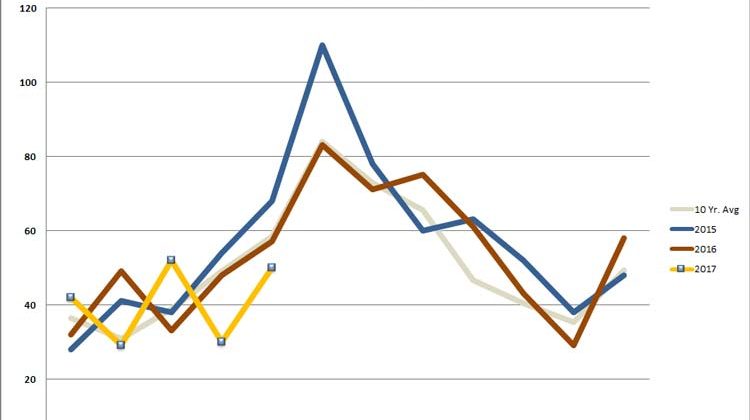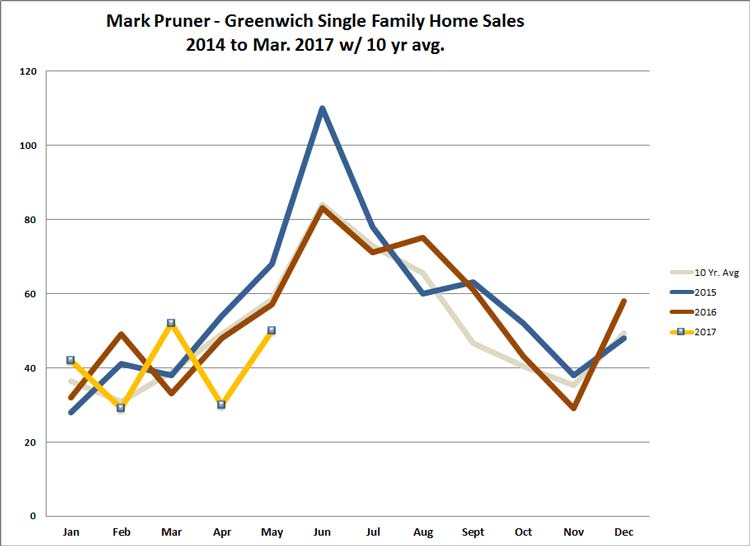 By Mark Pruner
The general consensus has been that there is been a steady movement of people from Greenwich to avoid high Connecticut taxes, however our inventory numbers don't support this. At the present time, we have 654 single-family homes on the market. This is down slightly from May's mid-month high of 665 listings, and it is substantially down from the 696 listings that we had on the market at the beginning of June last year.
This big drop in inventory would be even more dramatic were it not for a significant bump-up in listings between $2 and 3 million. In that price range house listings are up to 148 houses from 117 last year or an increase of 31 properties. If you ignore that price range then we are down 73 listings from last year or more than 10% so sellers are not rushing to list their properties for sale.
Listings are down or flat across the border, except for $2-3 million. Now I don't know what's causing people to list their houses from $2 to 3 million in such numbers but the rest of the market does not support the idea that large numbers of people are selling out and moving out of Greenwich.
On the year-to-date sales side, we are up to 205 sales from 191 last year or an increase of 14 sales. On the good news side for those 148 sellers between $2 and 3 million, the extra inventory has resulted in extra sales this year. We have 45 sales this May compared to 38 sales last May. At the high-end, the $5 to 6.5 million seems to be the new sweet spot as we are up eight sales to 13 sales from only 5 sales last year.
As I mentioned in the April report we did see a drop in contracts last month and this resulted in lower sales in this May compared to last May. When you look at our sales by month it's been a wild ride in 2017. January was up, February was back down to average, March was way up, April was down and May was back up. The 50 sales in May are however still below last May and below our 10-year average of 58 sales in May. There are always a few late reported sales so we may well end up closer to our 10-year average, but it is our second below average month for sales.
Contracts are down again this month compared to last May. But it's not across the board with several price ranges actually seeing small increases in sales. The one exception is the same $2 to 3 million range where we were down 13 contracts from last year's 33 contracts leaving only 20 contracts waiting to close.
Now if you talk to some people in the real estate business they feel that it was a slow May but while there were some decline we are not falling off a cliff. The market under $800,000 was very competitive and even more so than last year. The $4-5 million market is also looking up with six more contracts and two more sales than last year which equates to a total of 18 property sold or 5 more than last year.
The feeling on the seller side is one of concern at the high-end. Above $4 million we have 225 listings and as of the end of May we have only sold 26 properties YTD. Our government is not helping as people are concerned with what is going on in Hartford and Washington, so sellers seem to be taking a wait-and-see approach resulting in an inventory drop.
On the buyer side, the ratcheting up of interest rates resulted in a lot of sales in March and significantly less urgency in May as interest rates once again dropped back below 4%. The political uncertainty affecting sellers also is having an impact on buyers. Once the budget is settled in Hartford and once the new administration in Washington gets past it's steep learning curve, we could see a sudden release of demand, particularly if the Fed keeps talking about raising interest rates.
The one thing you can be pretty sure of is that we are going to see a bumpy ride with ups and downs this year. Having said that things are doing better than last year and there are some real bright spots in the market.
Mark Pruner was the #1 Connecticut agent for Douglas Elliman in 2015; mark.pruner@elliman.com, 203-969-7900.
Tags:
greenwich
,
real estate market
,
sales