June 2, 2017
Matsui, Addressing Young 'Global Citizens,' Stresses Teamwork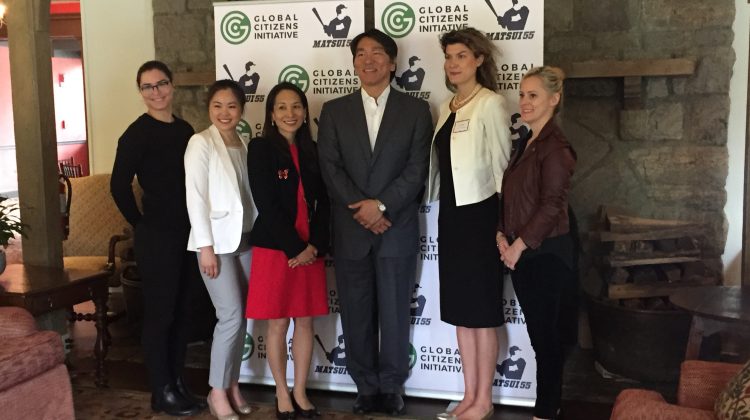 By Richard Kaufman
Sentintel Reporter
It's often said that baseball is a universal language—that it can reach people far and wide, across boundaries, to bring them together through a common bond. After all, Major League Baseball is a melting pot, with players from all over the globe playing in the same league.
That's why the Global Citizens Initiative, a Greenwich-based nonprofit educational enterprise which aims to empower young global citizens from all sectors of society to be lifelong leaders of positive change, chose MLB and Yankees legend Hideki Matsui to be the keynote speaker at their "Champion A Champion" event at the Greenwich Field Club on May 24.
Matsui became a national hero in Japan, playing 10 seasons for the Yomiuri Giants—the country's most storied franchise. He came over to the U.S. prior to the 2003 season and spent seven years with the New York Yankees, and one year apiece with the Los Angeles Angels of Anaheim, the Oakland Athletics and the Tampa Bay Rays before retiring in 2013 as a member of the Yankees.
Over his MLB career, Matsui hit .282 with 175 homers and 760 RBI in 1,236 games played. Matsui was selected to two all-star teams, and was named the 2009 World Series MVP after winning the championship with New York.
Not only has Matsui been a champion on the field, he's made sure to be one off the field as well. He's remained connected to the game in the role of special advisor to Yankees General Manager Brian Cashman. He has also given back to the youth through his Matsui 55 Foundation, a nonprofit organization that encourages healthy and active lifestyles through the game of baseball.
It's Matsui's championship pedigree and his foundation that made him the perfect choice for the GCI.
Yumi Kuwana, founder of the GCI, noted that Matsui and the GCI, although on different scales, transcend borders. They are also passionate about what they believe in, and pursue that passion through their respective foundations. Kuwana also said that the GCI and Matsui 55 foundation identify young peoples' talents and try to nurture that talent to find their passion.
"He definitely is a global leader," Kuwana said. "He's just a really decent human being. He is somebody that people aspire to be."
Matsui gave a brief presentation about his career and his experience in baseball. He mentioned how his Yankees manager, Joe Torre, and teammates Derek Jeter and Jorge Posada made profound impacts on him. He acknowledged that when he came over to the U.S., he was fortunate enough to be a part of a group that put the team first rather than the individual. This is something that both the GCI and Matsui 55 Foundation strive to teach.
"There's no individual champion," said Matsui, who hit .615 in the '09 World Series and drove in a record six runs in the clinching game six against the Philadelphia Phillies. "One person can't be champion. It's all about the team becoming the champion."
Although Matsui's background revolves around baseball, he wants to teach the youth more than just the X's and O's. "It's not just baseball I want to pass on, but I want to pass on the ability to think critically and be individuals," Matsui said. "Live life the right way. I think those are the similarities with the GCI."
Kuwana established the GCI in 2012. Having been born in the United States and raised in Japan, Kuwana didn't speak Japanese well enough to fit in with everyone else. Because of this, she said, she was bullied and ultimately had to transfer schools.
With that experience ingrained in her, she vowed to make sure her children could be successful in both countries, speak both languages and be culturally sensitive.
"I found my own method of raising [my children]. But I did more and more research regarding that. How do you raise bicultural, bilingual people? So that turned into how do you raise multilingual, multicultural kids that have a moral compass?"
The idea for the GCI formed while Kuwana was attending Harvard University—and the rest is history. "It's really to engage, educate and empower the next generation of global citizens from all sectors of society, all walks of life, to be citizens of the world," she said.
In order to put all of these thoughts and ideas into action, the one-year program begins when the 28 students selected from around the globe come together to attend a nine-day mentorship summit at the end of July, which is held at Harvard. At this summit, students launch their own service projects in order to give back to their community.
David Shepley, who was a part of the GCI in 2015 while at Exeter, created an electronic waste removal program for his boarding school, which sent unwanted devices to the proper recycling locations. Under the school's cooperation, the program became mandatory, and there is now a buyback program for working electronic devices—a direct result of Shepley's vision.
Seeing his school rally to take part in something he helped create, and seeing the buyback program continue even though Shepley just finished his freshman year at Columbia University, was very gratifying,
"Even though it's a small impact, it really gives me a sense of what's possible with coordination and the initiative," he said.
Shepley said after the presentation that the initiative helped make the world smaller, allowing him to put faces in places, and understand world conflicts outside of the bubble he lives in at home.
"I think it's really important because It's easy growing up to sort of distance yourself from those conflicts rather than have a head in it," he said. "So for me, this has allowed me to develop empathy and also a global view of my potential in my job and what I can do in life.
"For people [outside of the country], this gives them an opportunity to be serious voices of change and help in their countries. It also gives them connections and tools to develop their education and their opportunities."
Shepley introduced Matsui at the event, and said after that he enjoyed listening to Matsui share his life experiences.
"[I enjoyed Matsui] sharing the importance of relationships and how that impacts your view and decisions on life and also what he's learned along the way," Shepley said. "As a successful athlete, not focusing on the fame, but focusing on what that has done to his character to enable him to do good."
Tags:
gci
,
global citizens initiative
,
greenwich
,
Greenwich Field Club
,
Hideki Matsui