June 2, 2017
Jamaican Olympic Bobsledders Coming to Greenwich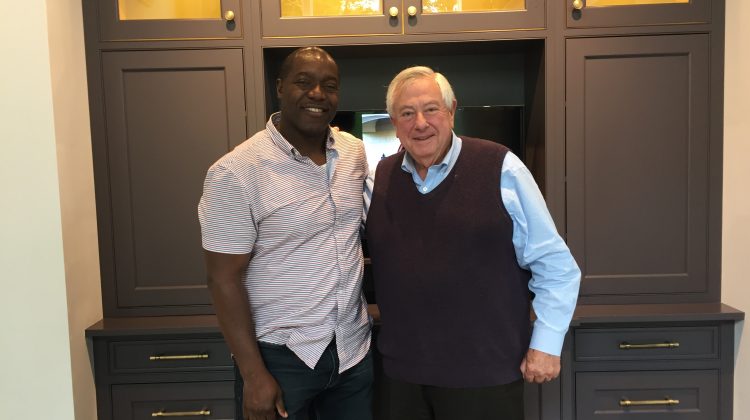 By Richard Kaufman
Sentinel Reporter
What started out as an offer to help quickly turned into a budding friendship—even an unlikely brotherhood.
Three and a half years ago, Louis Van Leeuwen, owner of Greenwich Construction, Greenwich Power Systems and Kingston & Curry, wrote a letter proposing support for the Jamaican bobsleigh team to the Jamaican Olympic Committee and to Devon Harris, secretary general of the Jamaica Bobsled Federation and one of the original members of the famed team that inspired the feature film "Cool Runnings."
Van Leeuwen, whose parents escaped the Nazis during World War II, was born in Jamaica and has always had a love for the country and the culture. He had read about Harris and the team and wanted to help.
"My brother from another mother," Harris said with a laugh, pointing at Van Leeuwen. "He's older than I am, so he's my older Jamaican brother. Can you imagine that?"
Now, on June 10 at 6 p.m., Van Leeuwen and Harris are set to hold their third annual fundraiser for the Jamaican bobsleigh team.
Held at the Riverside Yacht Club, The Greenwich Jamaican Jam will feature a night of dancing, authentic Jamaican music, food and entertainment, and silent and live auctions.
Musical performers include Eklipse Steel Band; master drummer I & I Drumlink; Braata (extra) Folk Singers; The Caribbean American Dance Group; folklorist, poet and story teller Janice Heart; and various Reggae performers.
There will even be an authentic pig roast.
Attendees will also have a chance to mingle with team members and get inside an actual bobsled.
All proceeds from the fundraiser will go directly to the team as they prepare for the upcoming 2018 Winter Games.
Sticking to his roots wasn't the only thing that attracted Van Leeuwen to help. It was the story of the Jamaican team and its trials and tribulations.
"To me, it's the epitome of the human spirit," Van Leeuwen said.
Growing up in the slums of Kingston, Jamaica, Harris wasn't supposed to survive. How could a kid from such a violent neighborhood make anything of his life when so many kids around him had failed?
It's amazing what dreaming and believing can do.
Growing up, Harris set his sights on the Olympics—the grandest stage, the brightest spotlight for professional athletes where pride for country and passion for sports collide.
But first, Harris served in the prestigious Royal Military Academy in Sandhurst, England, the UK's equivalent to West Point. Harris ended up graduating with honors.
As a young kid, he took to the 800 and 1,500-meter sprint events on the track, with dreams of cracking the Jamaican team for the 1984 Summer Olympics, which never happened. A few years later, George Fitch and William Maloney, two Americans who lived in Jamaica, saw a traditional pushcart race on the island and thought it resembled the winter sport of bobsledding, minus the ice.
When Fitch and Maloney figured out a key component to bobsledding was the initial push of the sled down the ice, they thought sprinters would be ideal athletes for a bobsled team.
After creating the Jamaica Bobsleigh Federation with Fitch as president, in conjunction with the Jamaica Olympic Association, they began to search for a team for the '88 Winter Games in Calgary, Alberta, Canada.
After the sprinters on the summer team declined, they turned to the army to look for recruits. Harris' colonel suggested he try out for the team, and so he did—although reluctantly.
"When I first heard of this idea to start a team I thought it was ridiculous, that I would never do it. It was dangerous," Harris said. "But I had Olympic dreams."
A team was formed, along with Dudley Stokes, Michael White and Samuel Clayton—who later suffered an injury and left the team. A man named Howard Siler was named head coach.
Harris was vaguely familiar with bobsledding only because he was on the quiz team in high school—a jeopardy-like club. The newly formed Jamaican bobsleigh team first laid eyes on a sled in September of 1987.
Ninety-one days. That's all the team had to train and learn a brand new sport in order to compete with well-funded countries who have devoted years to bobsledding. "The learning curve is steep," Harris said with a smile. "Pretty steep."
However, their collective Olympic dream was realized during the opening ceremony. For Harris, who watched the event growing up, it was surreal to be a part of it in person.
"You're living that dream, and it's awesome. And you know some little kid in some remote part of the world is wondering, imagining that you're one of the best athletes in the world and you're like, 'I hope I can live up to that,'" he said.
The team began to gain popularity and media attention, although some wondered if it was just a media stunt.
Along with the two-man event in which Jamaica finished 35th, they entered the four-man—something they had never done before. They even had to borrow a four-man sled from the Canadians and had to find a fourth team member.
Dudley Stokes' brother, Chris, was in Calgary cheering on the team. Chris was a sprinter and had a noteworthy track career at Bronx Community College and the University of Idaho.
"So we taught him everything we knew about pushing a sled in three days," Harris said. Chris slotted in as the brakeman in the fourth position. Ahead of him was White, Harris and Dudley, the driver.
Their first run wasn't spectacular, although they finished. On the second run, the team struggled to get into the sled as it began to speed down the ice. However, on their third run the next day, it all came together.
The Jamaicans pushed the seventh fastest start time for all competitors.
Dudley was now dealing with speeds he had never seen before. Shooting down the ice at 80 miles per hour in a sled they had only been in for a few days didn't mix well.
"Bobsled is a little bit like driving a car in the sense that every car has a different feel. It's even more so with a sled," Harris said, admitting that the sled was in rough shape, although not quite as bad as the portrayal in "Cool Runnings."
The whole day just wasn't going well from the get-go.
Earlier, White had left his helmet in his room and rushed back to get it. And just before the run, while walking the track, Dudley had fallen and sprained his collarbone. To make matters worse, just before they went down the ice, Fitch had come to Dudley to complain that the head coach had left the Olympics to go back to work in the U.S.
"If you add all those little things, that little distraction, and you give [Dudley] a track he's never seen before because [the sled] has never gone that fast off the start with inexperience… disaster," Harris said.
Near corner nine, the speed was too much for the sled to take, which flipped and crashed, pinning the teams' heads up against the side of the ice. As they careened down the rest of the track, the crowd got silent and emergency personnel rushed to the scene as the sled came to a stop.
For the Jamaicans, the Olympic dream had crashed as well.
"What I remember thinking was, wow, how embarrassing," Harris said. "As I'm skating down on my head at 80 miles per hour, all I'm thinking about is people all over the world are seeing this.
"We're representing our country, we're embarrassing the country. People back home are going to be mad. How are we going to go home? We're failures."
The clock was still ticking. In a sport where first and last is separated by mere seconds, the Jamaicans knew it was over. "We were so far behind that it would take us like 10 Olympic games to catch up," Harris added.
The team escaped unscathed, and walked across the finish line. "I just remember walking off the track feeling dejected, feeling like a loser," said Harris, who pointed out that the people in Calgary were very gracious in the face of the embarrassment. "We were just trying to exit stage-left, because we just experienced the biggest failure in our lives."
But true to Harris' and the team's character, they didn't let that define them. They had already reached the mountaintop by doing the impossible—by even making it to the Winter Olympics from Jamaica.
The Stokes brothers returned to the games in 1992 and finished 36th in the two-man; Harris and newcomer Ricky McIntosh finished 35th. The four-man team of the Stokes brothers, McIntosh and White finished 24th.
"Cool Runnings" was released in 1993, and gained popularity across the globe. "A good human interest story," Harris calls it, who also said he could never have imagined in his wildest dreams that Hollywood would make a movie about a part of his life.
Harris returned to the Olympics in 1998, his final games, and finished 29th in the two-man event. Upon retiring from athletic competition, Harris became a motivational speaker, often giving presentations to Fortune 500 companies about his life experiences.
"Doing what you need to do, going through the process in order to achieve your goals," he said of the content of his speeches, which he gives three to four times a month.
"Making sure that you're constantly growing to put yourself in a position to achieve your goals and then understanding that there are always obstacles," he added. "Anyone can virtually live their dreams, their best life personally and professionally if they just keep on pushing."
Harris started the Keep On Pushing Foundation in 2006, which aims to support and enhance the education of kids in disadvantaged communities around the globe.
Harris is now tasked with cultivating and training the next wave of Jamaican bobsledders, with the hopes of garnering more worldwide attention, supporters and sponsors. He has revived the women's program, and has added a skeleton sled program as well.
Looking back, Harris says it was mind-boggling that his team competed after just 13 weeks of training. It usually takes about seven years to develop a world-class driver. The current Jamaican driver on the four-man team has three years experience.
"I always tell them, 'You guys don't understand how good you ever had it!'" Harris said.
It wasn't until 2010 when Harris finally started realize the impact that he and the team had on so many people, although it's a continuous learning process. From a young kid in California who grew up watching "Cool Runnings" telling him what the story meant to them, to a woman from Eastern Europe who told Harris how his story helped her life, Harris' impact is truly far-reaching and never-ending.
"What it does is reinforce this belief in my mind that you and I have a responsibility to do our best to be the best we can possibly be because you just don't know how it's going to impact somebody else's life," he said. "I'm fortunate to have met many of the people who my deeds have impacted their lives. You just never know who, where and when."
For tickets and more info about the Greenwich Jamaican Jam, go to www.jamaicanjam.com, or contact Louis Van Leeuwen for further details at louis@greenwichconstruction.com or 203-223-0634.
For more info on the Jamaican Bobsleigh Team, go to www.jamaicabobsled.com
Tags:
bobsled
,
greenwich
,
Jamaican bobsleigh team
,
Jamaican Jam
,
olympics
,
riverside