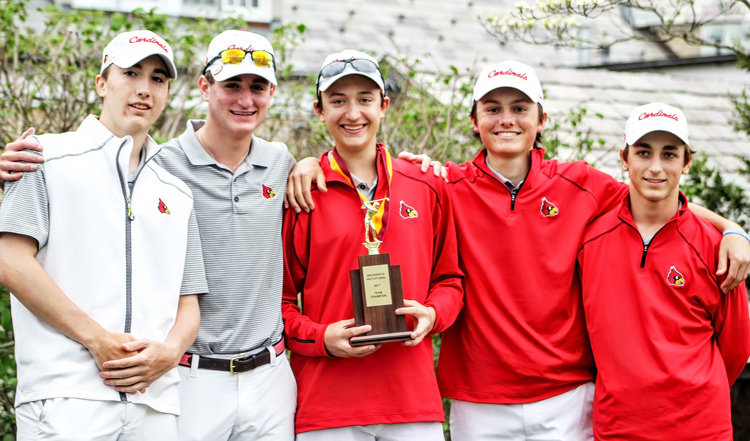 By Paul Silverfarb
Sentinel Editor
So far, this has been the kind of season that Greenwich High School head coach Jeff Santilli has been hoping for.
With a slew of highly talented underclassmen and a strong senior leader both on and off the golf course, the GHS boys' golf team is eyeing quite the championship season.
"I am thrilled," Santilli said. "I am excited for the way we started, but in my opinion we have a lot of work ahead of us. I think, at this point, it's about how we focus going forward and stay in the moment. It's also about going out and competing in 18 holes instead of nine. They need to understand that they can have a bad nine and pick it up in the other nine."
So far, so good for the Cardinals, as they have plowed through the regular season as of press time. They upended the powerful Darien High School and also took care of solid teams like Trumbull, Fairfield Ludlowe and St. Joseph. This past week, Big Red took care of New Canaan High School and Ridgefield High School to keep its undefeated record in tact.
In addition, Big Red won the Brunswick Invitational for the first time since the 2013 season, beating Brunswick, New Canaan High School and Bergen Catholic.
This year, Big Red has been so successful with only one senior and four sophomores.
As the lone senior on the roster, Jake Moses has been a top-level captain for Big Red and has come up huge on the golf course this season. Santilli said that Moses had to fight for a starting position his sophomore year and watched other players in front of him, so he knows what it's like to battle and knows what it's like to rise to the top of his game.
"It's always fun to be on the golf course and play with the younger guys on the team," Moses said. "The big thing with our team is that we have five or six really good guys. So even if one guy can't play in a match because of a tournament or one guy has a bad day, the other four or five guys are going to pick him up and cover for him. I know I've had my share of days where I don't have the best days and the team has gone three or four strokes lower. We all support each other and that leads to a successful team."
To get ready for this season, Moses stopped playing basketball during the winter and focused on golf, going to the driving range and also working a lot on his chipping and putting.
"For me, I haven't had the season that I have been hoping for, but it still hasn't been awful," Moses said. "For me it's about focusing every day and just trying to get a little better and get into a rhythm every time I go out on the golf course. It doesn't matter if it's a match or a practice round."
Santilli said that he has had a plethora of discussions throughout the season with Moses and relies on his senior quite a bit.
"I think he's been an outstanding captain, one of the best that I've ever had," Santilli said. "He's really supportive of the younger guys and understands my philosophies and knows what it takes to compete at the varsity level. Jake gets the program's traditions and has been a great support staff for the younger guys."
One of the key sophomores on the team is Jackson Fretty, who has been lights out this season.
"It's a lot of fun to be on this team," Fretty said. "Just going through the grind of school, knowing at the end of the day you get to go out there and compete with my buds on the team, and the fact that we are having so much success to go along with that, is great. Even last year, when we knew we weren't playing as good, it was still fun to go out there. To combine the camaraderie with my buds out there with the success that we are having has been great."
Not to be outdone are three other sophomores, Billy Nail, Ben Ropiak and Chris Magliocco.
"When I was a freshman we were already a good team, so there's kind of a pressure to keep that us," Ropiak said. "But it's still really fun to be on a team where everybody is just as good, or better than you, because it makes you better and everyone around you better. We focus on chipping and putting. Last year we had three freshmen on varsity, and I was one of them, and we really didn't hit the ball far. It was tough to keep up but this year we grew and got stronger. We have more power and that gives us better chances at pars and birdies."
Last year, Greenwich High had four freshmen make the varsity program, with three of them regular starters. Gaining that year of experience has only helped the team become mentally stronger.
"Last year when we had four freshmen make the squad, I saw some talent right away," Santilli said. "So since their numbers were just as good, I figured to put them in the lineup and get them some varsity experience early, hoping that for a few years to come, they will be a little ahead of the game and know what to expect at the FCIAC and state championships."
And it's those younger athletes that have made the program so successful and they have all contributed in a big way during at least one of the matches this season.
"Ben was huge for us at the Brunswick Invitational, and Billy was a medalist for us last week," Santilli said. "Jackson leads the team with his differential. Chris is coming around nicely and has gained a lot of momentum from last year. He's becoming very consistent. They can all shoot really good scores and if they can put it together on the same day, I think it's going to be very tough to compete with them."
And having that year of experience during the postseason will do nothing but help GHS this season. The Fairfield County Interscholastic Athletic Conference championship will take place at the Fairchild Wheeler Golf Course in Fairfield, the same venue where the Cardinals took fourth last year.
"Since FCIACs is at the same golf course, we already know what we are going into," Santilli said. "Some of the other teams will have some first-time players. Practice rounds do you solid, but it doesn't tell you what to expect when you're in the tournament. We should be in a position where we should feel comfortable about competing."
One of the disadvantages for Big Red during the state tournament is location. Greenwich, being in the Southwest corner of the state, needs to travel close to 75 miles away to Hawrinton and the Fairview Farms Golf Course.
"Schools that are in that area, and they know they are going to make the tournament, can probably get a couple of practice rounds in," Santilli said. "It's a challenge for us to find the time during the season and get the team together on a weekend to get up there. We did find a date that works, so that's good. Also, I know the golf course well and have some good notes that I will pass on to the players."
However, when it comes to the teams at the state level, the Cardinals will see some familiar foes.
"I think the FCIAC is the toughest league in the state," Santilli said. "If you look at the state rankings, you will see that a good amount of those teams in the top 10 are from this area. The Brunswick Invitational was a huge boost for us because we won it with four sophomore scores.
And people need to think twice if they just assume that Greenwich is a lock for States. Look no further than the 2012 Greenwich boys' golf team. They were, on average, 11 strokes up on the second-best team heading into the state tournament.
"It's funny because in 2012 the Simsbury coach said that they should just give Greenwich the trophy now," Santilli said. "We only won that state championship by three strokes. No matter how we enter this year's tournament, I told the kids that it's going to come down to one or two strokes. I honestly believe that the championships this year will only be won by more than a few stokes."
Moses said that the team's mental game will go a long way into deciding the state title.
"I think we need to stay focused," Moses said. "A lot of golf is about staying focused and positive, especially in the 18-hole tournaments. It's big because we are all going to have bad holes. We just need to drain every shot and think every hole through. I think, especially the younger guys, if they can get it in their heads that every shot matters and that you can't give up on a hole or round, we will be successful."
"For this year, it is going to have to be mental, in a sense that in the FCIACs and States, it's all about who can hang in there during that specific day," Fretty said. "Even if we feel like we are the best team, anybody can win on any given day. We know we must not get upset with early deficits if you're not playing well early. We have to hang in there and know that every shot counts. It seems like the FCIAC and state tournaments always come down to one or two strokes."
While Ropiak would love to say that the team's goal is to win the FCIAC and state championships, he is more focused on playing the best round of golf on those days.
"We need to just go out there and shoot the lowest score that we can and also play as smart as we can," Ropiak said. "We are certainly trying to win FCIAC and States and we think we have a good chance, but we want to have all five of us score really well and we will accept whatever happens."
The FCIAC tournament will take place on June 1, with the state tournament teeing off two days earlier.
And, at least on paper, Greenwich is poised to have some standout seasons for several more years.
"We know we are a good program and we have a lot of talent to win a title, but for us we need to just get one and get it over with," Santilli said. "We can win three in a row and we can get shut out. It's a lot of luck that is involved during the postseason tournament. It's more than just talent. One kid on another team gets hot and a couple of kids on your team go the other way, and that's a big gap to fill when it comes to adding up the scores. I do think that we have the depth that is a benefit versus other teams."
Although Moses won't be around the next few seasons, since he's graduating in less than a month, he couldn't be more pleased to know that he's leaving Greenwich in great hands.
"I think we are going to be awesome," Moses said. "I am sad that I have to leave this team behind, but it's awesome to know that the next couple of years we are going to be really good. In addition to the kids on varsity, our JV kids are strong too."