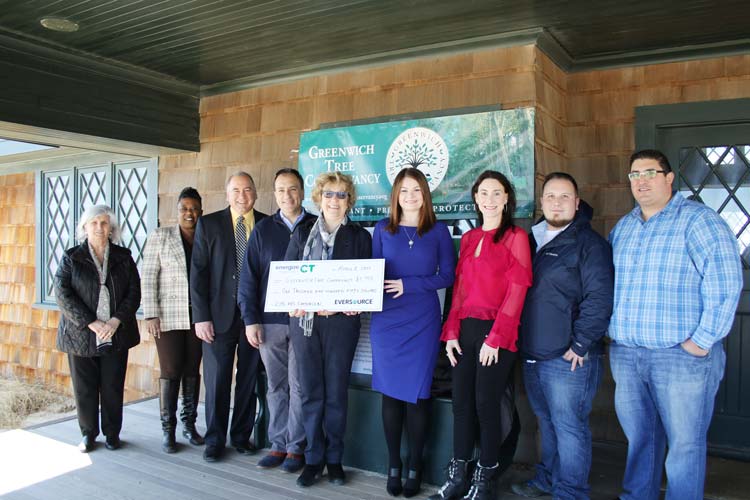 The Greenwich Tree Conservancy recently received a $1,950 donation during the town's Earth Day Month Proclamation event. The donation came from residents' participation in Home Energy Solutions (HES), a popular in-home energy improvement service provided by Eversource and Energize Connecticut.
Eversource-authorized contractors CT Weatherproof Insulation, New England Smart Energy, and New England Total Energy donated $25 to the Greenwich Tree Conservancy for every household that completed the HES service.
At the kick-off event, First Selectman Tesei announced an additional Earth Day opportunity for Greenwich residents. On Saturday, April 22, Eversource will partner with Greenwich and the Greenwich Conservation Commission to host a light bulb swap from 10 a.m. to 2 p.m. at the Arch Street Teen Center. Greenwich residents, with identification, may bring up to five incandescent light bulbs in any condition and exchange them for new, energy-efficient ENERGY STAR LED bulbs, free of charge while supplies last.
"We're excited to team up with the Greenwich community and help residents learn about energy efficiency, especially during their month-long Earth Day celebration," said Eversource Energy Efficiency Spokesman Enoch Lenge. "Switching from incandescent to LED light bulbs is a great first step to improving your home's energy efficiency."
Lenge added that Greenwich homeowners and renters alike are still encouraged to sign-up for HES.
"Customers pay just $124 for this energy-saving service even though the work done costs an average of $1,000. The difference is covered through Energize Connecticut and the fee is waived for income-eligible customers," he explained. "Residents who participate save $200 annually, on average, from the improvements installed on the day of the service visit, and can continue to save even more by completing further recommendations from the Eversource-authorized contractor. Additionally, Home Energy Solutions delivers water conservation measures that can save an average home 1,000 gallons of water per year."
During the service, homeowners and renters receive:
Sealing pipe and electrical penetrations leading into the unheated attic (a common cause of ice dams) or basement, around doors, windows, and any other areas where air can escape (this service alone is valued at an average of $600)
Energy-saving LED light bulbs
Health and safety tests on heating equipment
Water-saving showerheads and faucet aerators, and hot water pipe wrap
A report detailing your home's performance before and after the service, which includes educational tips on how to further reduce home energy costs
Information on available financing
Exclusive rebates on upgrades including insulation, windows, appliances, and heating and cooling equipment