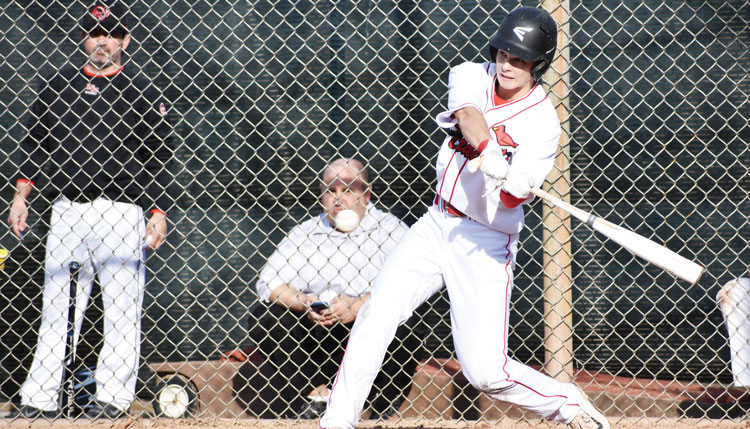 By Paul Silverfarb
Sentinel Editor
Although the Greenwich High School baseball season didn't get off to the fast start he was hoping for, head coach Mike Mora isn't too concerned.
On Monday afternoon, the Cardinals opened the season at home against New Canaan High School. With the score tied late in the game, the Rams pushed across five runs in the sixth inning to upend the Cards, 8-3, in the first game of the season for both schools.
"It was nice to get it going again," Mora said. "It was our time on this field this year. We practiced at Julian Curtiss a few times. But it's New Canaan's first time on this field as well. Everything was equal and they played better than us today. They deserved to win today."
Although New Canaan took the victory, it was Greenwich that started out on fire, scoring two of its three runs in the bottom of the first inning.
After Mark Sunoo singled to center to lead off the inning, he advanced to third with one out, as Erik Mini hit a grounder and reached base on an error by the NCHS second baseman. Up next was Paul Williams, who hit the RBI single to right field that plated Sunoo, moved Mini to third and give GHS the 1-0 lead.
After Mark Circelli walked, Greenwich struck again. Aaron Shurr came up and hit a soft fly ball single to shallow right field that scored Mini for the 2-0 lead.
Although the combination of Connor Langan and Anthony Ferraro got into some trouble on the mound through four innings, they combined to keep New Canaan off the scoreboard.
That was until the fifth inning. New Canaan scored twice with two outs to knot the game. Burger hit a sacrifice fly to shallow right field. However an error by the Greenwich right fielder on the throw home drove in two runs for the tie.
New Canaan blew the game open in the sixth inning and did it with two outs. After a double by Pat Diamond to start the inning and a balk that advanced him to third, Mike Svagdis singled to center to score Diamond for the 3-2 lead.
With two outs and the bases loaded, Nate Bozzella earned a walk that forced in a run. Still with two outs, Matt Burger connected on a single to right that drove home two runners. Next up was Austin Pelli, who doubled to deep left field, scoring two more runs to make the tally 8-2.
Greenwich got one run back in the bottom of the seventh. Back-to-back singles by Henry Saleeby and Langan gave GHS a chance and they delivered when Mini singled to right field and scored Saleeby to cut the deficit to 8-3. But that's as far as GHS would go on the day.
"We have a lot of work to do," Mora said. "We're young. Not a lot of these guys started last year, or even played at this level. We have to get ready to go."
Mini was the lone GHS batter to record two hits on the day. The team of Sunoo, Saleeby, Langan, Williams, Schur, Perez and Ferraro netted the other hits on the day for Greenwich High.
On the mound, Langan started the day for GHS and went three innings and gave up only one hit while striking out five and walking three. Ferraro lasted two and one-third innings and gave up seven hits and three strikeouts while walking three and giving up five earned runs.
Bass went two-thirds of an inning and gave up two hits and two runs while walking one batter. Schurr closed the game out in the seventh giving up no hits and one walk, while striking out one batter.
"We fell behind in counts and that hurt our pitchers," Mora said. "All three of them did not get ahead in key situations and then you eventually have to throw strikes. At that point, you can't throw a 2-0 curve or 3-0 curve. You have to throw a fastball, and they are good enough hitters to know that if it's a fastball count and they get a fastball, they put a good swing on it. They did some damage."
With the loss, Greenwich fell to 0-1 on the season and will be back in action tomorrow when they stay home at Greenwich High School and host Xavier High School at 2 p.m.
"They have seven weeks to learn what it's like to play in the FCIAC and get better," Mora said. "It's unfortunate that we don't have a lot of time to practice, but that's the way it is here. It's Northeast baseball. We can't make any excuses. This is the time that we have, and any work that they've put in during the offseason would help as well. We're going to work with them, coach them up, and just get back out here Saturday."
In order for Greenwich High to be successful this season, Mora said that his pitchers need to throw strikes and the team defense needs to step up.
"We're not going to be the type of team that is going to put up 10 runs, that's the thing," Mora said. "We might, but against a good pitcher we are going to have to scrap for some runs. We're a fast team in certain areas and we are going to have to pitch and play defense."
Despite the outcome of the opening game, Mora was thrilled with being back with the team. With Phil Tarantino stepping down, Mora came back to the program that he once played in and coached and said it's always great to try and help the team win.
"It's great," Mora said. "I love it. I grew up playing baseball here and coached it before. To come back is an honor to work with these kids, this school and this coaching staff. It's a lot of fun to be back and I am excited. Hopefully we can get them going in the right direction. It's not a bad thing to lose your first game if you can learn from it."