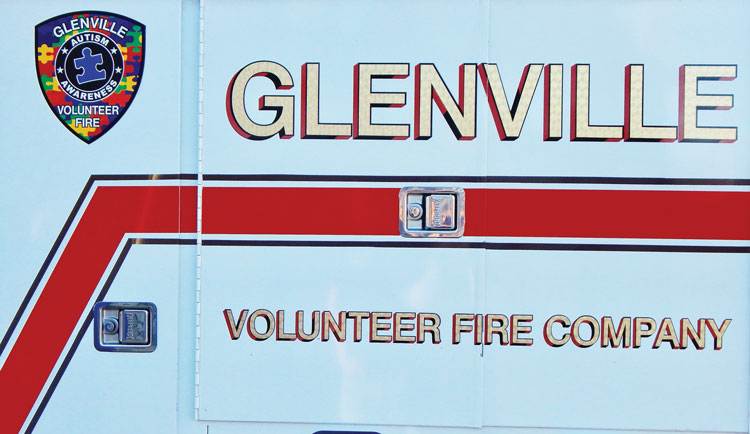 By Paul Silverfarb
Sentinel Editor
The Glenville Volunteer Fire Company is known for giving back to the community. Whenever there's a cause that needs attention, it seems to be doing whatever it can to help raise awareness.
And the month of April will be no exception. Several emergency vehicles will have a different, and much more colorful, Glenville Volunteer Fire Company logo, as the department is helping raise awareness during Autism Awareness Month.
Leading the charge in Greenwich is Steven Caldwell, a lieutenant in the Glenville Volunteer Fire Company.
"I decided that this would be a great way to spread awareness throughout our community within the town the Greenwich by participating in the Autism Patch Challenge that they created," Caldwell said.
The Glenville Volunteer Fire Company is no stranger to being closely involved in the community. They have volunteered their time with Touch-A-Truck events, the ALS Bike Ride, Relay for Life.
"That's exactly what us volunteers in Glenville like to do," Caldwell said. "We volunteer our time and definitely want to give back to the community that we serve. Joining the Autism Patch Challenge is another way to do both."
The Autism Patch Challenge was started in New Rochelle earlier this year. New Rochelle police Det. Chris Greco's 10-year-old son, Christopher, is autistic and non-verbal. He attends school in New Rochelle. Greco's wife, Tracy, is heavily involved in the school's PTA and wanted to do something in the school to raise awareness for autism.
Chris Greco wanted to do something bigger, so he came up with an idea to design a magnetic patch to put on the police vehicles that showed the community that the New Rochelle Police Department was raising awareness for autism.
So Greco went up to the police commissioner and asked if he could use those patches on the police cruisers for the month of April. Greco couldn't be happier that he got the approval. However, it got him thinking that his idea could be bigger still. After he got the thumbs up from the vendor of the patches, knowing that they could handle the possibility of increased volume, Greco put a small post on Facebook, and it's taken off since then.
"We have been taking calls from agencies all over the New York area and some from out of state," Chris Greco said. "We've taken calls from fire departments and ambulances, so it's really taken off to be a true first responder unification to support autism."
Back in Glenville, Caldwell heard about the challenge and wanted to help, so he then contacted New Rochelle to see if the Glenville Volunteer Fire Company could participate with them and they gave the okay—so the fire department ordered four patches to put on two of their vehicles.
"It's not only spreading awareness about autism, but a portion of the sale from selling the magnetic patches gets donated to an autism research charity," Caldwell said. "It's overall a great thing to do. For people like myself, that wasn't aware that the month of April is Autism Awareness Month, it's great because hopefully we can spread the word about it throughout the community and town and hopefully people can understand what it is."
So far, around 50 agencies, from police, corrections, fire and EMS all joined the challenge to help spread awareness.
The goal of the Autism Patch Challenge really wasn't all about raising money.
"The biggest complaint that I've received, form being involved in the autism community here in New Rochelle, being on some of the blogs and being a police officer, is that the concern from a lot of parents is that police officers or other first responder agencies don't have all, or a lot of the necessary training on how to deal with encountering kids or adults with special needs, specifically with autism," Chris Greco said.
Part of the plan for this challenge was not only for first responders to put the patches on the vehicles throughout the month of April, but to have the agencies take a look internally to make sure they have the proper protocols, or improve upon protocols when responding to individuals with special needs.
The National Autism Association has a program called Autism Wandering Awareness Alerts Response and Education (AWAARE). On its website, Awaare.nationalautismassociation.org, are valuable resources for first responders, as well as caregivers and teachers, that help people better understand how to communicate with a child with autism spectrum disorder.
"A new study released by NAA illustrates how children and adults with autism face unique risks, particularly when they are lost or missing," said National Autism Association President Wendy Fournier to the Sentinel. "First responder training and familiarity with the specific individual is key in decreasing overall risk, including secondary risks, such as restraint. It is recommended that first responders be trained on the signs of autism, its associated risks, and interaction techniques."
The Autism Patch Challenge that the Glenville Volunteer Fire Company is a part of goes along the same timeline as Autism Awareness Month and Autism Acceptance Month.
Autism Awareness Month was started nearly 25 years ago by the Autism Society. According to its website, the month is a nationwide effort to promote autism awareness, inclusion and self-determination for all, and assure that each person with Autism Spectrum Disorder is provided the opportunity to achieve the highest possible quality of life.
This year, the Autism Society says they want to go beyond promoting autism awareness to encouraging friends and collaborators to become partners in a movement toward acceptance and appreciation.
According to the Autism Acceptance Month's website, they focus on sharing positive, respectful and accurate information about autism and autistic people. They promote acceptance and celebration of autistic people as family members, friends, classmates, co-workers and community members making valuable contributions to the world.
The Glenville Volunteer Fire Company will have the patches on their vehicles throughout the month of April.
They plan on this being a yearly occurrence, and also plan on seeing more emergency vehicles throughout town bearing the patch next year. As part of Greco's Autism Patch Challenge, organizations that are participating are supposed to challenge three other organizations to help raise awareness.
Caldwell plans on challenging the other volunteer fire service companies in town, as well as the Greenwich police and fire departments.
"We are hoping that they would hop on board and accept the challenge," Caldwell said. "The more first responders we get on board with this, the better. What better way to spread awareness throughout the town of Greenwich than have these patches on all the town's emergency vehicles."