April 7, 2017
A Love Letter to the Bruce Museum's Science Side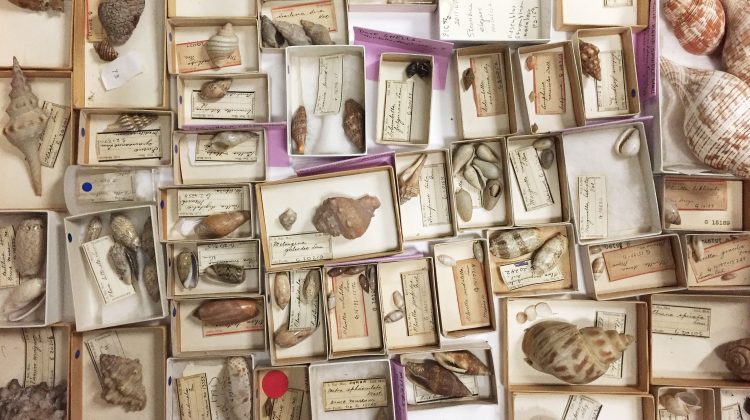 By Anne W. Semmes
This is a love letter to the less known and historic science mission of the Bruce Museum. For lo and behold, it is science that was the bedrock upon which our museum of art and science grew. Its art profile is now legendary, with scholarly director Peter Sutton bringing us world-class art exhibits. But on Sunday last, the exotic truth was told of the two naturalists who first took Robert Bruce's legacy and ran with it.
To begin with the Museum building, in its porch-wrapped days of the mid-19th century, was known as the "Hawk's Nest" for the frequent sitings of red-tailed and red-shouldered hawks—and for its first owner, the Rev. Francis Hawks. So told Tim Walsh, the museum's manager of Natural History Collections and Citizen Science and "a conservation biologist by trade," who is hard at work on a book about this museum's early history.
The museum came into being with Robert Bruce, a wealthy cotton merchant, deeding his home in 1908 to the town, with $50,000, to be used as "a natural history, historical, and art museum." Enter Stamford naturalist-writer Edward Fuller Bigelow, a honeybee enthusiast, who steps up to an advertised need to help develop this new institution. Bigelow's three interests were microscopy, astronomy and honeybees, said Walsh.
Bigelow already had made his mark in Old Greenwich with a hands-on nature study institution known nationwide called ArcAdiA on Arcadia Street, off Sound Beach—land given him by his supporter J. Kennedy Tod of Tod's Point. Bigelow, with his bee-loving ways, was apparently so beloved by children in the neighborhood they called him "Daddy Bigelow." His ArcAdiA would serve that community for nearly 30 years and have visitors like the naturalist and essayist John Burroughs.
Bigelow quickly brought to the Bruce another Stamford naturalist, Paul Griswold Howes, who had turned his own home into the Maplewood Museum of Natural Sciences with his propensity to collect things. His bird specimens and eggs followed him to the Bruce, along with butterflies. Howes had done his collecting on expeditions to Florida, Columbia and to British Guiana with the likes of William Beebe and Louis Agassiz Fuertes. Walsh showed us a vintage photo of Howes supping with Beebe and Teddy Roosevelt.
By 1919 the Bruce's natural history collection was growing steadily, with new acquisitions of animals, fossils, fish, reptiles and 1,900 mollusk shells! The shells were a gift from the apparently unloading Smithsonian Institution.
When Howes wasn't preparing snake specimens he was authoring books like, "Tropical Wildlife," "Handbook for the Curious," "Photographs in the Rainforest." Howes was also described as "a highly talented artist who painted dioramas of natural scenes." Slides showed an Andes landscape, and another with Native Americans in the same class, by this eye, as some in the American Museum of Natural History. But by 1964, with Howes retirement, the museum's animal collection was phased out.
Fast forward to today. "We have 8,000 objects," said Bruce Museum Curator of Science, Dr. Daniel Ksepka. "Tim [Walsh] and I are adding things all the time—turtles, bird skeletons, fossils." Ksepka, with an expertise in the evolution of birds, presides, he said, over four main science areas: biology, chemistry, physics, and geology.
Ksepka revels in the twin missions of the Bruce. "It's very rare to have both science and art in a museum," he said. "It's more intellectually compelling when you can cross so many more boundaries." He cites as example last summer's exhibit of "Electric Paris," showing Paris' transition from gas lights to electric lights, and how artists responded to this transition. "We're looking for those interconnections where you can find new ways to explore a topic."
"The Bruce is teaching all ages about science and art," added Ksepka, starting at age 10 months to 2 years with Bruce Beginnings Jr., where Ksepka's four-month-old son, Michael, is headed, "after which they 'graduate' to Bruce Beginnings for ages up to 5." Count thousands and thousands more through high school via the Brucemobile—and through college, said Ksepka.
While Walsh told his historic tales of the naturalist beginnings of the Bruce, the museum was offering its Fred Elser First Sunday Science Series at the Seaside Center at the Innis Arden Cottage at Greenwich Point, with an Earth Day kickoff and live small animals, and sharings by that visiting Swiss family, the Schwoerers, about their Top to Top Global Climate Expedition. Earlier that day, the First Sunday Bird Walk was given at Greenwich Point by the Museum's Cynthia Ehlinger.
Add to the Museum's outreach the Astronomical Society of Greenwich meetings at the Bruce that introduces all ages to the stars with help from the Bowman Observatory. Add also the many fruitful years the Archeological Associates of Greenwich (AAG) had their meetings at the Bruce, though they have now had to move off to the Byram Shubert Library.
It was the AAG that inspired my interest in archaeology that has me journeying in to New York this week to hear world famous British archaeologist Irving Finkel speak on his discovery of ancient clay tablets describing animals entering an ark "two by two" in cuneiform—"the world's oldest and hardest writing."
Tags:
art
,
Bruce Museum
,
greenwich
,
science