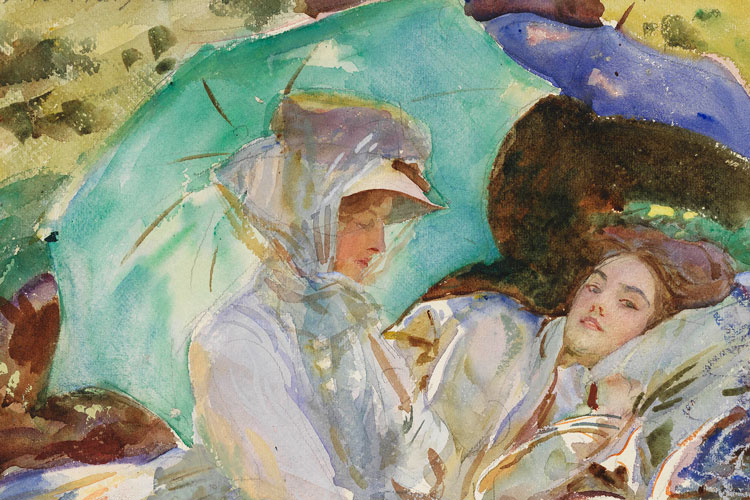 By Anne W. Semmes
Sentinel Columnist
The Bruce Museum brought winter to a standstill two weeks ago with an outstanding immersion into the impressionistic watercolor magic of the American painter John Singer Sargent (1856—1925).
Bruce Museum director Peter Sutton, in his introduction of our speaker, Dr. Erica E. Hirshler, Croll senior curator of American paintings at Boston's Museum of Fine Arts (MFA), spoke a bit wistfully about his earlier days as curator of European paintings working alongside Hirshler in that museum, rich as it is with the art of Sargent.
We are all familiar with Sargent's grand portraiture—his Madame X portrait still stops people in their tracks at the Metropolitan Museum, but it was Sargent's escape into watercolors we were treated to by Hirshler's standing-room-only slide lecture. An early slide of Max Beerbohm's cartoon showing Sargent peeping out of his London window at a lineup of lady dowagers in pursuit of their portraits showed full well his pressures.
It was the outside world beckoning Sargent, landscapes that included alpine imagery and the mountainous far west of America. Being a sturdy fellow Sargent could place himself with his painting equipment anywhere he wished. Hirschler, full of glee over the Museum's new and rare cache of photographs of Sargent at work in the field, showed us one of him seated with easel in a picturesque summer Alpine setting before a group of two females settled in their long dresses in the grass, with their umbrellas, one of them reading to the other.
Hirschler expounded on Sargent's bravura brushwork seen in the voluminous skirt of the lady reading, the luminous washes of paint. And then there was the backstory of Sargent's lovely young niece, Rose-Marie, looking toward the painter, whom he painted numerous times.
She was killed, aged 24, during World War I when the Germans bombed a Paris church where she was attending a Good Friday service. She had been working with soldiers blinded by gas during the war. Her death brought Sargent into the war and away from his escape in the American West.
He accepted a British Commission to paint the war. His extraordinary oil painting "Gassed," which depicts a line of blinded soldiers, eyes bandaged, stumbling forward, can be seen in Britain's Imperial War Museum.
Other work shown that arrested the eye were Sargent's way of painting water, in waterfalls or rushing over rocks, as in his watercolor "Mountain Stream" (Metropolitan Museum), showing a craftily drawn nude boy with back to the painter testing the water with his foot. Sargent is using blue and indigo washes to make the water come alive. I can see his way of painting luminous water in his watercolor, "White Ships," with those brushstroke slashes of blue on white.
Sargent was friends with Monet and painted "Claude Monet Painting By The Edge Of A Wood," as Hirshler shared in a slide. Which takes me to Sargent's occasional visits to this side of the pond, visited with our own Cos Cob impressionists, notably J. Alden Weir.
Sargent is known to have spent time, noted lecture attending art historian Susan Larkin, at Weir's landscape-rich Weir Farm in Wilton that is now the only national park in Connecticut and only national park dedicated to an American painter.
What it was like painting there at Weir Farm was described a day before the Sargent lecture, by a present-day Impressionist painter of watercolors, Deborah Pierce Bonnell, whose artworks from her time at Weir Farm are on exhibit at the Greenwich Historical Society's Storehouse Gallery Museum Shop through Feb. 28.
Bonnell, who became interested in American Impressionism as a docent at Bush-Holley Historic Site, where she studied and has lectured on Cos Cob art colony history, was an artist-in-residence last September, spending three weeks exploring those same paths, meadows and woods that those artists walked a century ago.
Bonnell, whose paintings are rich with color and nature, gives us a green world to glory in in harsh wintertime and expresses the "positive bliss" that Sargent found in landscapes. "As a landscape painter," she's written, "I was able to immerse myself, not only in the beauty of the place, but in being removed from our hectic, modern sense of time and to imagine what it must have been like there at the turn of the 20th century."
But Bonnell is very much a painter of her own time. On display were a series of iPad digital paintings of landscapes luminous in color, constituting "iPad Artistry." Bonnell referred those curious to the wondrous Brushes App she uses on her iPad.
"David Hockney has been doing iPad painting for years," she said.
So, what would John Singer Sargent have thought of painting on an iPad—a new tool to escape with, in between those inevitable portraits?
The John Singer Sargent lecture at the Bruce Museum was held in conjunction with the exhibit of "Alfred Sisley (1839-1899): Impressionist Master," on view through May 21. For more information visit www.brucemuseum.org.