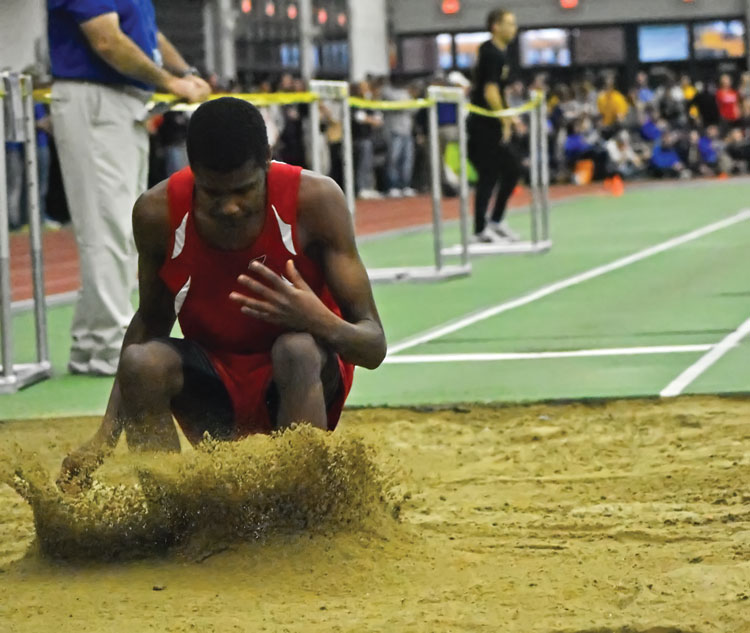 By Paul Silverfarb
Sentinel Editor
The number four was the theme of the day for the Greenwich High School indoor track teams, as both the boys' and girls' squads finished fourth at Monday's Connecticut Interscholastic Athletic Conference state open championship meet.
The girls' team took home fourth place honors with a total of 26 points. They were only two points shy of Tolland, which took home bronze with 28 points. Bloomfield High School won the state open title, posting 83.50 points. Danbury High came in a distant second, with 30 points. Rounding out the top five was Hamden, which posted a score of 18 points.
"We were productive," Greenwich High girls' head coach Evan Dubin said. "People that we expected to do well going into the meet stepped up and did well. I am proud of the performances that we had."
On the boys' side, the Cardinals grabbed a total of 24 points, good enough to join Trumbull and Windsor in a tie for fourth place overall. Leading the way was Danbury, which took state open gold with 55.25 points. A distant second place was another tie, as both Staples and Shelton high school were runners-up with 28 points.
"Coming into the meet we wanted to be in the top five and that's where we are going to finish," GHS boys' head coach Brian Robbins said. "I am happy with everybody's performance and how they came out here and competed as hard as they could."
For both the boy's and girls' team the key was to place top six at Opens, as that would automatically qualify an athlete for the upcoming New England Indoor Track Championships, taking place next week in Boston, Mass.
Once again the girls' team was paced by junior Emily Philippides, as she was tops in Connecticut in the 1,000-meter run, posting a time of 2:58.99. Right on her heels was Tolland's Katherine Deloreto, who netted second overall and a time of 2:59.27.
"Emily ran a more tactical race for us," Dubin said. "She wasn't running necessarily for time. She is a little disappointed in the time that she got, but she ran the race she needed to so she can get the result she needed. She got the win and that's what she wanted going into the meet. We will see what happens for New Englands and the seeding for that."
Not to be outdone in the 1,000-meter run was fellow junior Hetty McMillan. Her time of 3:05.92 was good enough for fifth on the day.
"Hetty did such a good job," Dubin said. "She was in the slower heat, so for her to qualify for New Englands and finish fifth overall was great. We wanted that for her and we knew she could do it. But it was just a matter of going out and executing the game plan."
Philippides also competed in the 1,600-meter run and earned a top six spot. Her time of 5:15.72 placed Philippides fifth overall.
Another athlete that grabbed high honors was junior Lia Zavattaro. Competing in the pole vault, Zavattaro's height of 11-06 helped her reach third place on the day.
"For her to get 11-06, that ties her career best," Dubin said. "Unfortunately she missed out on second because of misses, but for her to consistently get that height is a real testament to all the hard work that she puts in. I am proud of see it prosper in an actual competition."
Weston's Danielle Cass took second overall with the same height; however, Cass was able to clear the 11-06 mark in fewer attempts.
"It was a lot more relaxed here than my class LL meet because I was with some of my really close friends and it was good competition," Zavattaro said. "Overall it was a much better feel for me. While I was jumping, I definitely kept in mind a few things. I didn't want to think too much. I wanted a clear mind and wanted to be optimistic about my results. I wanted to win today, but didn't mind third place because it was against some of my very good friends."
Joining Zavattaro in the field events for Greenwich was junior Olivia DiLascia. Although she didn't advance to New Englands, her height of 4-10 in the high jump tied Bloomfield's Cheyenne Brown and Conard's Allison Schneider for 13th overall.
When it came to relays, Big Red excelled, advancing two teams to the New England championships and having one team miss out by mere inches.
In the 4 x 800-meter relay, the foursome of freshman Zoe Harris, sophomore Jordan Numme, junior Genevieve DeWinter and senior Kristen Lodato finished fourth overall, posting a time of 9:38.35. Weston came in a distant fifth with a time of 9:45.82.
Competing in the 1,600-meter sprint medley relay, the team of Numme, DiLascia, DeWinter and junior Maggie O'Gorman took home fifth place on the day, posting a time of 4:21.67. Big Red was a hair away from fourth place, as Plainfield just edged out GHS by netting a time of 4:21.66.
The Lady Cardinals had heartbreak in the 4×400-meter relay. The team of Harris, Numme, DeWinter and Philippides were placed in the second-fastest heat in the event.
Racing against the time, Greenwich posted a top time of 4:08.18. However, in the quickest heat of the relay, Ridgefield's time of 4:08.13 was good enough for the sixth place and final spot for the New England championships.
Harris also competed individually in the 600-meter run and had a time of 1:41.80 that placed her 14th overall.
On the boys' side of the state open championships, it was once again senior Safir Scott that led the way.
"It feels great," Scott said. "I'm glad to two-peat from last year's outdoor season to this indoor season and hopefully I can bring it at New Englands. I knew I had to get a lot of my jumps on my first or second attempts and I luckily did that."
Scott took home top honors in the high jump, posting a height of 6-04. His height tied Classical Magney's Yafari Boland, however Scott was able to clear the bar in two attempts, while Boland needed three tries.
"I'm glad that I kept my body in good shape so I didn't have a lot of season fatigue," Scott said. "Overall I am happy because a lot of my teammates made it here and a few of us are going to New Englands. It's a proud moment."
Scott also had himself a day in the long jump. Netting a personal best by six inches, he ended the day with the silver medal and a distance of 22-00.25. Windsor's Jason Pinnock grabbed top honors by going only one inch farther than Scott.
"It was a great day for Safir," Robbins said. "He got a PR in the long jump. Jumping 22 feet is nearly a foot further than he's ever jumped before and that was quite the surprise. He then came back to take first in the high jump. That was a lot of good, hard work and came here knowing what he had to do."
Fellow GHS senior Issac Floyd also competed in the long jump and had a top 10 performance. His distance of 20-04.25 was good enough for ninth place in the state.
Another stellar performance for the boys' team was senior Tyler Farris, who ended the day in third-place overall, posting a time of 6.64 seconds and beating his preliminary time of 6.67. Farris just edged out Danbury's Chris Cledera, who took home fourth with a time of 6.67.
"Tyler had himself a nice performance," Robbins said. "He was seeded fourth coming in and finished third place. I think he could have done a little better, but I am thrilled with him getting third. Coming in third is the best he's done at the state open his whole career."
Taking home a top 15 time was the foursome of seniors Matthew Collins and Bastian Dequeker, junior Georgios Karakadas and sophomore Thomas Rouffiac. The foursome's time of 8:34.28 placed them 12th on the day and were over t second faster than New Fairfield.
Both the boys' and girls' teams will be back in action next week when they travel to the Reggie Lewis Track Center for competition in the New England Indoor Track and Field Championships.