February 23, 2017
Brunswick Hockey Back in Familiar Territory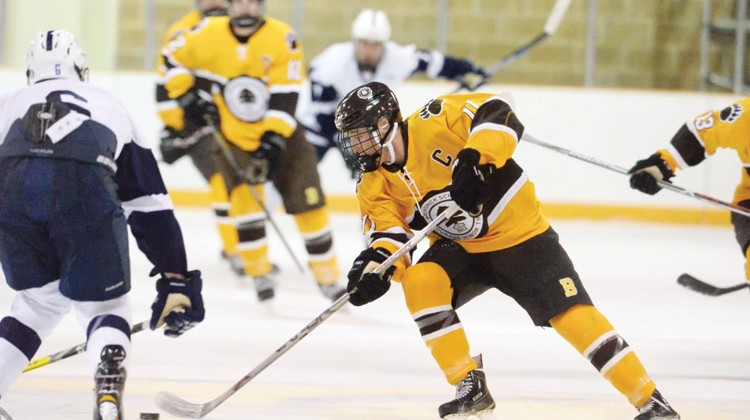 By Paul Silverfarb
Sentinel Editor
The Brunswick School ice hockey team is in a familiar place, and head coach Ron VanBelle couldn't be more pleased.
With only two games this weekend in the Empire Cup left to close out the regular season, the Bruins are looking into a possible Elite Eight appearance. They sit 15-9-4 this season and are currently eighth in the Elite Eight standings.
If they remain in that eighth spot, Brunswick will compete in the Elite Eight for the second time in as many years. If they are the odd team out, the Bruins will most likely battle in the Large School tournament.
"There's a really good atmosphere on the team right now," Brunswick School sophomore Cooper Moore said. "Everyone is really excited, and we're following [United States Hockey Report] really closely, seeing where we are at. We are really excited and are hitting the Empire Cup with a good stride. I think we are playing well right now. We hit a couple of rough patches along the way, but we came together really well."
Brunswick will be in action today, when they play its first game in the Empire Cup against host team Trinity-Pawling. On Saturday, Brunswick will play the winner of the Millbrook versus Albany Academy game to close out the season.
"Those two games are going to count for us and Sunday the playoff seedings come out," VanBelle said. "Going up to play Trinity-Pawling, in their barn, will be hard because they always play tough up there. They aren't a playoff team, so they will play that much harder to try and win the Empire Cup. It always seems like we go into this weekend needing these games and it's always a battle."
Two years ago, Brunswick was hovering around the eighth and ninth seeds heading into the final weekend games and fell into the ninth spot, which put Brunswick as the top seed in the large school tournament.
Last year, Brunswick School was seeded ninth heading into the Empire Cup, and on the last day of the season the team jumped up to eighth and qualified for its first-ever Elite Eight appearance.
"This is the third year in a row that we are in the exact same spot heading into the last weekend of the season," VanBelle said. "It's unbelievable that we are going into the Empire Cup with two games that count as the eighth seed heading into the tournament. You couldn't make this up.
And VanBelle stated that all three seasons had three different types of teams.
"They were all so different, in terms of personality and abilities," VanBelle said. "Last year we were older and more talented. The word to describe this year's team has been grit. They'll take a beating like they did today against Northwood, but bounce back. My guess is that they will learn from Northwood and be a better team because of it."
Going by the United States Hockey Report standings, if Brunswick wins both games over the weekend, they would be in solid shape to remain in the Elite Eight.
However, with around 60 teams competing for playoff spots and every game having meaning during the final weekend of the regular season, an Elite Eight trip is far from a certainty.
"I feel like we are kind of in charge of our own destiny," VanBelle said. "If we could get two wins this weekend, we might have another Elite Eight bid. That would be really special for this group of kids. With have eight sophomores out there and only four seniors on the roster."
With several practices taking place throughout the week leading up to the Empire Cup, VanBelle plans on working on reinforcing some of the keys Brunswick has been working on throughout the long season.
"We really improved our defensive zone coverage this year and we have done a better job taking care of the puck in the neutral zone," VanBelle said. "This week we are focusing on defensive zone coverage early in the week and then, as we get closer to the weekend, the focus will be on energy and high-energy shift. We need to play an aggressive, focused weekend."
For Moore, it's all about teamwork.
"We need to play more as a team," the sophomore defender said. "We are getting a little more individualized right now, but we need to come together, play from the defensive zone out, help our goalies out and that will help us out a lot on the ice."
Although Brunswick's final regular season home game of the season was a hard-fought 5-0 defeat to Northwood School, it wasn't from a lack of effort. Northwood School, from Lake Placid, N.Y., entered the game with a 36-6-3 record and has been dominating its competition throughout the season.
"They are very talented," VanBelle said. "They are older, bigger, faster and finish every check. That's one talented team over there. We knew that we were in for a tough one today. It's their 46th game of the year and it's one of those teams that plays year-round. And it shows."
Northwood scored once in the first period and twice in the second and third periods. In net for Brunswick was Dan Dachille, who made 30 saves in the defeat.
The loss, however, did not hurt the Bruins in their playoff chase, as the Huskies were a non-conference opponent.
"It's not bad to play a team like that, especially now that we are heading into the last weekend of the regular season," VanBelle said.
Throughout the season, VanBelle has noticed the improvement in his team, mainly with handling teams that are a little bigger and stronger than Brunswick is currently.
"I think they have matured a bunch this season, so our physicality when we run up against a team that's physical, we hold our own," the head coach said. "We are not a physical team to begin with, but this year we got a little bit better responding to the physicality of it."
For Brunswick to have this tournament run was expected for VanBelle. The head coach said that the team's success this season is due to the type of athletes on the roster.
"There's a lot of chemistry in the locker room," VanBelle said. "What they lack in maturity, they make for in effort and grit. It's been easy to coach this team, from that perspective. They show up to play every day. We might make some mistakes and get out-muscled sometimes because are not that big, but most days we are not going to get out-worked. That's pretty special."
Regardless of whether Brunswick qualifies for the Elite Eight tournament or the Large School tournament this season, VanBelle is going to enjoy the ride, as the possibility of a playoff run with such a young team seemed almost like an impossibility at the start of the season.
"I think the goal at the beginning of the season for this team was to play a postseason game," VanBelle said. "That would have been considered a successful bid. I think it's mission accomplished from that point of view. It's not over, but I think we will have a postseason bid this year. That's a pretty good accomplishment for this group. I couldn't be more pleased with how things turned out this year."
However, that doesn't mean that the Bruins aren't hungry for another spot in the Elite Eight postseason tournament.
"We all want to make the Elite Eight," Moore said. "We have a lot of senior leadership here and everybody really wants to make the Elite Eight, especially for the seniors on the team. It's their last year and we want to make that for them. This is my first year here and I didn't know what to expect. Now that we are here, I am really excited and everybody is pumped up. It's a lot of fun."
Tags:
Brunswick
,
Brunswick Hockey
,
cthk
,
cthockey
,
greenwich
,
NEPSAC
,
Ron VanBelle
,
USHR
,
Wick Puck