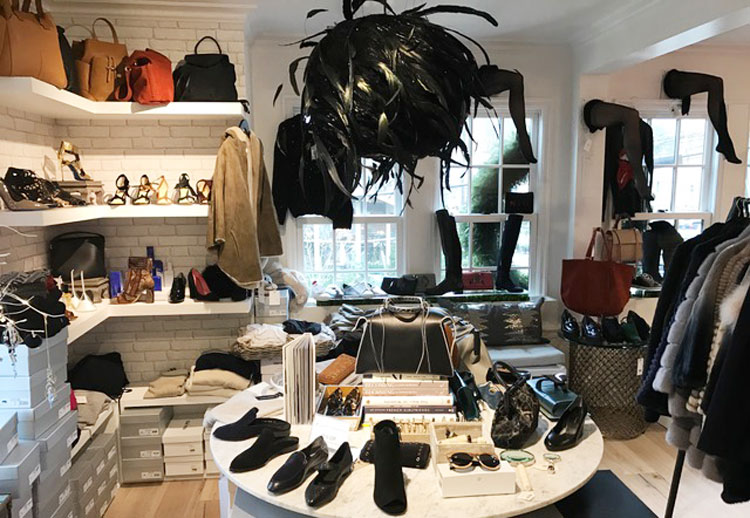 By Michelle Moskowitz
Sentinel Correspondent
While holiday shopping may be behind us, why not start the new year with an inspirational gift just for you? Then be sure to visit The Perfect Provenance, a one-stop shopping lifestyle boutique in Greenwich that has something special for everyone.
On entering The Perfect Provenance, located in a three-story refurbished Victorian townhouse on 47 Arch Street (on the corner of Grigg Street), one has the feeling of entering a charming French oasis, filled with beautifully crafted items from around the world pleasantly displayed throughout its varied thematic rooms, such as "The Versailles Room," "A Moveable Feast Room," and the "Game Room."
The store opened this past June, and new items arrive on a regular basis. The current holiday display of gift items will be sure to delight all who walk through its doors.
The proprietor, long-time Greenwich resident Lisa Lori, had the vision to create a curated concept store where everyone would be welcome to explore, shop, nosh, and feel artistically inspired.
Fueled by more than 20 years of high-level marketing and public relations experience at reputable firms such as Ogilvy & Mather, Reuter Finn, Body Shop International (IFF) and Seagram Americas, as well as running her own communications firm in both Greenwich and New York City, Lori developed a keen sense of what the luxury market had to offer.
But it was her ultimate vision to create an interactive retail destination infused with art, culture and luxury in the town that she has loved for almost 15 years.
"I have always loved what I did for a living, but this shop has never made me happier," said Lori.
During this reporter's interview at the shop, Lori was pulled away by several clients who were keen on getting her expert opinion on all things fashion and help in selecting the perfect gift for a loved one.
The shop incorporates both men's and women's fashions and accessories, home décor, beauty, and art, including paintings, photography, and sculptures.
In addition to showcasing some of her favorite designers and craftsmen (some from California, where she grew up, and others from Paris, one of her favorite sources of inspiration), the shop carries one line of products very near and dear to her heart called "The Smile Collection," featuring items such as whimsical linen tote bags.
Her cheerful demeanor and the lightness with which she glides throughout the store suggest that this is Lori's true calling.
Despite her many career accomplishments, her journey has not always been an easy one.
In her early 30s, Lori was diagnosed with myasthenia gravis (MG), an autoimmune disorder that leads to muscle weakness.
While she endured varied medical treatments and surgeries that have helped her to manage her illness over the years, Lori had experienced numerous setbacks and disappointments, such as turning down job opportunities or travel plans when her health was compromised.
But she continued to work tirelessly, enjoying much success, got married and went on to have three sons over the years.
But that too presented more than just the complexities of juggling parenthood responsibilities and managing the work/life balance, as all three of her sons were born with a rare medical condition called facial paralysis.
Understandably, the family faced many difficulties and tribulations that came along with this rare diagnosis, but Lori and her husband continued to persevere for the sake of their family.
"You just get up and move forward," said Lori.
On a continual quest to help their young boys with their health challenges, they continued to do extensive research and eventually pursued a path that would change their lives forever.
This path opened up when they were introduced to Dr. Ronald Zuker, a Canadian surgeon with Operation Smile, an international children's medical charity helping kids with disabilities in 60 countries.
Dr. Zuker performed complex transplant surgeries on all three boys, utilizing muscles from their legs that would enable them to gain facial movement and ultimately their independence.
Over the course of 16 years, the boys have endured a total of 18 surgeries, numerous doctor appointments and health issues, but are all doing great today.
Since 2010, Lori and her family have raised more than $2 million through fundraising events and now every product in the shop's "Smile Collection" benefits the charity.
In addition to creating the ultimate shopping experience, Lori wanted to infuse another one of her great passions into the shop, food.
Nestled within the main floor of the shop is their café, '47', serving lunch and dinner prepared by Chef Arik Bensimon.
Chef Bensimon gained his culinary expertise at some of the country's most respected restaurants, such as Le Cirque and Picholine in New York City and Le Farm in Westport.
The menu is an on-going reflection of the current art exhibitions at the store, which changes every few months.
Currently on the menu are appetizers such as salt cod fritters, shaved brussel sprout salad with black truffle, hazelnuts and pecorino, and entrees such as the lobster club and "the perfect grass-fed burger."
"Living a life with purpose is so important," says Lori. "Being an entrepreneur, I get to take all the things I have learned, culminated into the shop."
Store hours are Mon. through Wed. 11 a.m. to 6 p.m., Thurs. through Sat., 11 a.m. to 7 p.m.
Café hours are Tues. through Sat. 11 a.m. to 6 p.m., dinner Fri. and Sat. nights 6 p.m. to 9 p.m.
Please visit theperfectprovenance.com for more information.