January 6, 2017
Brunswick's Parkin Sails to Aon Youth Sailing World Title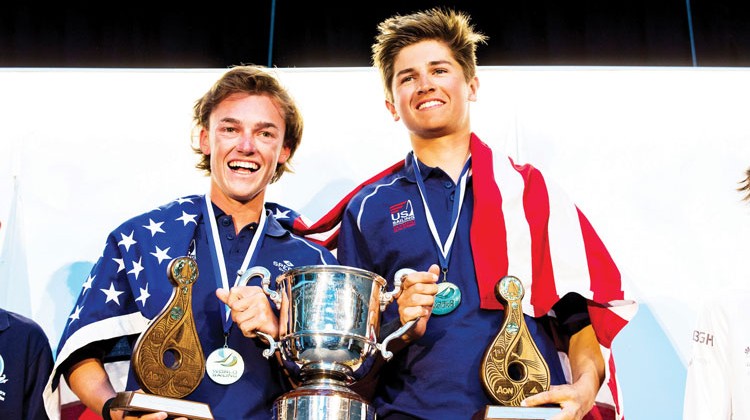 Brunswick's Jack Parkin, part of Team USA's U-19 sailing contingent, won the 2016 Aon Youth Sailing World Championship in Auckland, New Zealand back in late December.
Parkin, sailing with national teammate Wiley Rogers in the Boys 420-Class, won the challenging five-day event by navigating past 24 other teams from across the globe.
The Americans won five of nine races during the championship, including both races on day four to secure the title.
Adding to five first-place finishes, the duo finished fourth, sixth and seventh during the first four days of competition. At no point did the American team trail at the end of any day of the championship.
Points are rewarded in descending order in terms of finishing position. During the nine races, the worst finishing score is discarded from each of the teams total score. The racers with the lowest cumulative score at the end of the five-day event are the champions.
After the fourth day and a total of eight races, the American team, with five wins along with a fourth, sixth and seventh-place finish collected a combined 22 points before even eliminating the lowest finishing score. The second-place Israeli team, after eliminating their lowest finish, also had 22 points after eight races.
Interestingly, the American team could, and did, disregard their finish in the final race, keeping their total points at 22 to secure the 2016 championship. The Israeli team won the ninth and final race, but lost the overall championship to Rogers and Parkin by one point, 22 to 23. Team Argentina took bronze with 42 points.
Parkin, who usually skippers double-handed boats when racing for Brunswick in the spring, worked as the crew at the World Championship, allowing his teammate from Texas to handle the helm.
The 420-Class dinghy is a two-person, or double-handed, sailing vessel. In double-handed sailing, excellent teamwork and communication are vital to success on the open water.
In 2014, Parkin, with a different crewmate, skippered the U.S. entry in the World Championship to a 13th place finish.
Tags:
Aon
,
Aon Youth Sailing
,
Aon Youth Sailing World Championship
,
Aucklane
,
Brunswick
,
Brunswick Sailing
,
ctsail
,
greenwich
,
Jack Parkin
,
New Zealand