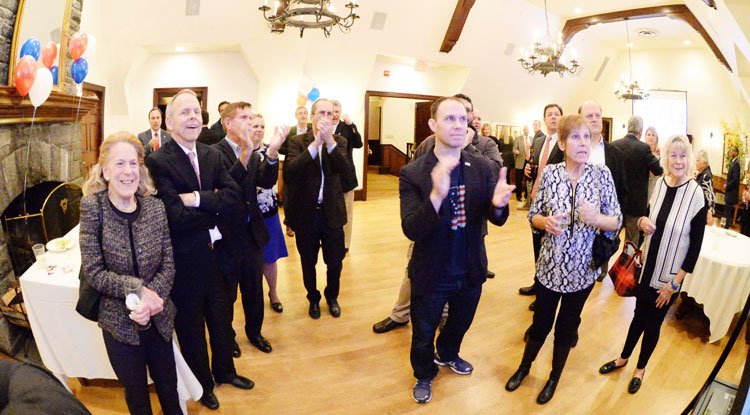 By Evan Triantafilidis
Sentinel Reporter
While all eyes at the Republican Town Committee Headquarters were on the incoming (and favorable) election results, RTC Chair Stephen Walko listed off a few key numbers of his own before introducing the local GOP candidates.
"Seventy-two, 54, and most importantly, four," said Walko. "Seventy-two is the number of days left in the current Presidency. Fifty-four is the number of seats we hold in the U.S. Senate that we need to maintain. Four is the number of Republican state delegates that the town of Greenwich is sending back to Hartford."
A lively crowd responded with laughter, applause and cheers as Walko introduced each of the four GOP delegates that won their local re-election bid—two uncontested races and two successful campaigns that ended in convincing victories.
"If Hartford and Washington ran their government like Greenwich does, with the fiscal responsibility that we hold so dear to us in Greenwich, this state and this country would be much better off," said Walko.
In the 36th Senate District, which includes Greenwich and parts of Stamford and New Canaan, Republican state Sen. Scott Frantz won his fifth term with 60.41 percent (16,637 votes) of the vote in Tuesday's local election.
The Riverside resident was challenged by Democrat John Blankley, who received 10,462 votes or 37.99 percent of the vote. Green Party candidate Ed Heflin was also in the race.
"What a great night for Greenwich as well as the city of Stamford and New Canaan," said Frantz to a crowd gathered at the Milbrook Club. "You should feel really good about this election result for the town of Greenwich."
Walko gave high praise to Frantz, his campaign, and his promising future following his acceptance speech.
"Maybe in fact, some day, we will be saying Governor Frantz, not state Sen. Frantz," the RTC Chair said proudly.
In the state House's 151st District, it was Republican Incumbent Fred Camillo who took home 59.98 percent of the vote in winning a fifth term. The 6,245 votes cast for Camillo made for a comfortable margin over Democratic challenger Dita Bhargava, who won 4,166 votes.
"Thank you all for your hard work," said a humble Camillo. "We certainly can't do it without you. It can be a lonely thing when you run for office and it doesn't get any easier. When I look out and see all the friendly faces, and when I walk into the headquarters and see Linda, Irene, Jackie and Steve… It really picks you up, no matter what kind of day you are having."
Camillo thanked his fellow delegates and family for putting up with another campaign that will send him back to represent his district in Hartford.
"In a Presidential year in Connecticut, we normally lose seats," said Camillo. "It started to change a few years ago. This year, we were saying if we could pick up three or four seats, we would set up 2018 to take over. I truly believe in 2018 the house will be in Republican control."
Walko and Camillo also congratulated the "dean of the delegation," state Rep. Livvy Floren, for her uncontested victory in the 149th House District.
"Being elected for a ninth term is really an honor and a privilege," said Floren. "Running unopposed is a rare treat. It's great to have a debate, especially when you never get an argument."
Floren thanked the RTC members and the voters of the 149th District, which includes parts of Stamford, for the trust in her and her "team." A total of 5,329 votes were cast for Floren.
"Our four members act as a team," said Floren. "I think the reason that the four of us were successful is because we did what Albert Schweitzer said. We sought and we found a way to serve. That's how we live our lives and that's how we govern. We stick together, and I think that's why we're successful."
In the 150th House District race, Mike Bocchino took 6,761 votes in the uncontested race. The incumbent, who will serve a second term and spent the majority of his acceptance speech thanking his family and the Republican ticket.
"It's an honor to be serving the 150th District and the Town of Greenwich," said Bocchino. "When I talked before about us being a family and about being a team, it really resonates when it comes time for campaign season. The people we had in our RTC Headquarters have been fantastic and outstanding. When push came to shove, we needed to do something and they got it done. It couldn't have happened without the guidance of Jackie Budkins."
Greenwich tallied an 80 percent turnout on Election Day as the four re-elected GOP state delegates will resume their work in Hartford for another term.