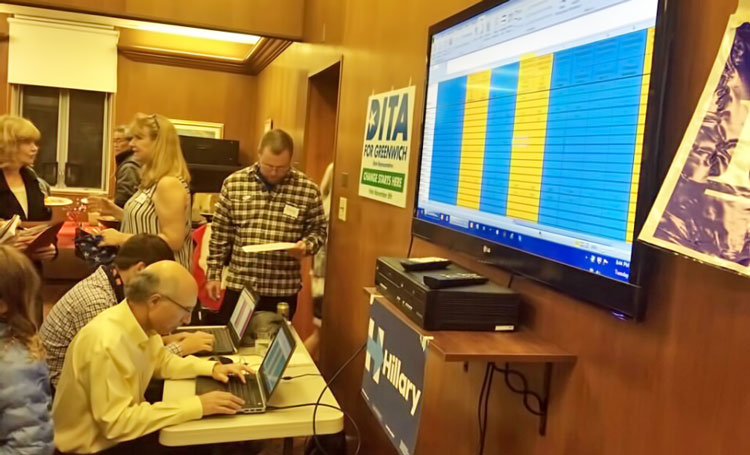 By Rob Adams
Sentinel Reporter
The mood at Greenwich Democratic Headquarters was subdued as the election results came in Tuesday night. Dita Bhargava, running for state representative in the 151st District, and John Blankley, looking to take the 36th Senate District seat, both fell to their respective incumbents.
A little over 80 percent of eligible Greenwich voters went to the polls, with Republican Fred Camillo taking nearly 60 percent of the vote, 6,245 to Bhargava's 4,166. Blankley received 10,462 votes—about 38 percent—compared to Republican incumbent L. Scott Frantz's robust 16, 637, or about 60 percent of the vote.
"The job—the burden in a sense—of a minority party in a town like Greenwich is to try and run competent candidates who are able to frame issues and create a public discourse on the issues," said DTC chairman Jeff Ramer. "I think that was done.
"I think the it becomes a job of Democrats to understand the job of becoming the loyal opposition."
Ramer described the mood among the Democrats at their Greenwich Senior Center headquarters as good, although there was obvious concern for the race for President, as well as the otherwise clean sweep that was occurring in town.
"We are winners in every way," Bhargava said as she addressed attendees. "I am so humbled by the amount of support that I got. We are making headway. We're shattering those glasses, little by little."
Bhargava, who worked for over 20 years in the financial sector as a senior trader and hedge fund manager, thanked all of the people who helped her campaign.
"The stronger we become, the better the chance," she said. "This was a tough race. He (Camillo) is a very well-liked incumbent.
"We have a strong voice now and it's getting stronger. Let's pick a race that we're going to win and win it. We really raised some issues. Even Fred can't ignore some of the things that we brought up to him."
Despite a few uncounted ballots as of time for speeches, Blankley felt it was time to concede.
"Enthusiastic this morning, I arrived at the polls at five to six this morning," he said. "It was democracy in action. Win or lose, that's what it's about.
"It does seem like it is a loser," he added before announcing that he spoken to Frantz to end the race.
"Let us not be down about it," he said. "I think, as Dita said, our mood should be good. We are moving the needle."
The crowd—a mix of young and old, including Bhargava's two young children—were beginning to head for the exits, but stayed to hear the words of their candidates. Many in the room stayed to watch the national returns, hoping for a victory for Hillary Clinton in the Presidential race.
Mrs. Clinton won nearly 57 percent of Greenwich voters, outpolling Republican Donald Trump by almost 20 percent.
"It's impressive to see that Hillary is outpolling both Jim Himes and Dick Blumenthal," said Ramer. "It suggests to me that moderate Republican voters in town, at the end of the day, they find it hard to vote for Donald Trump, and hard to deny the logic of someone who comes to the office with the background, experience, and level of preparation that Hillary has. And they don't love Hillary, for sure, but clearly there's something there that makes it appropriate to vote for her."
Both Frantz and Camillo will be serving their fifth terms in office.