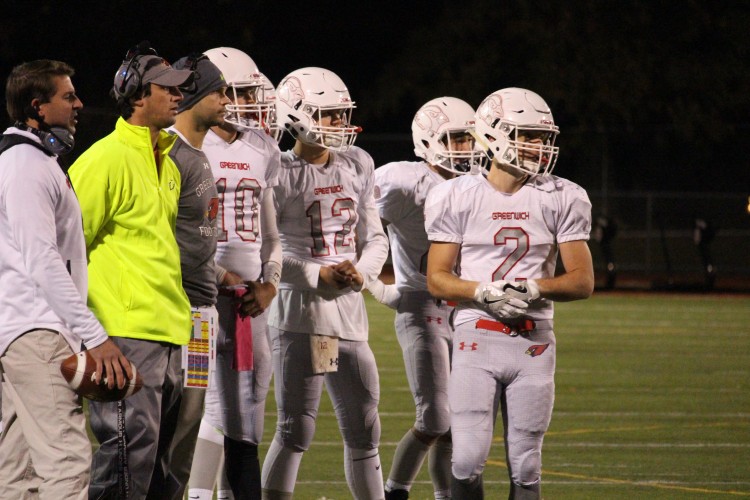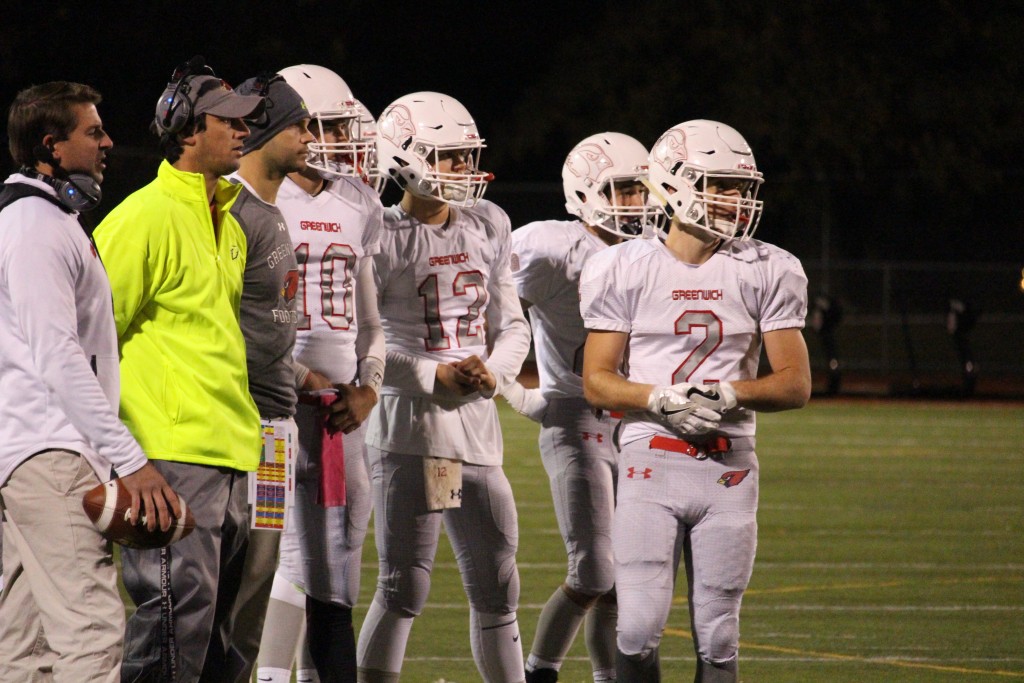 A balanced offensive attack led Greenwich High to a 62-34 victory over Norwalk on Friday night, pushing their record to 6-2 with their playoff chances still alive for another week.
Behind nine touchdowns (five rushing and four passing), the Cardinals came out on top of what was a shootout at Testa Field.
Senior running back Kevin Iobbi led the way with 25 carries for 267 yards and three touchdowns.
"We're definately coming together," said Iobbi after the win. "We know teams are going to come out here and try to stop the run. When we got the passing game going early, we knew the whole offense was going to open up." 
Connor Langan and Gavin Muir split snaps on offense for the Cardinals, as both flashed their unique skill set in heads-up scenarios.
Langan went 8-for-12 for 130 yards and two touchdown passes. Muir, a sophomore, threw 3-for-7 for 64 yards and a pair of touchdown passes.
Norwalk quarterback Krishtjan Frrokaj had himself a solid performance, accounting for five of Norwalk's scoring plays. His 23-for-42, 280 yards through the air, and 33 yards on the ground came up short as the visiting Cardinals used a combination of onside kicks and explosive plays to earn the victory.
"Their quarterback is a hell of a player," said GHS head coach John Marinelli. "He makes some good plays and throws and puts his players in good situations. My hat goes off to Sean Ireland and their quarterback."
Putting up 41 points in the first half, Greenwich came out on a mission to prove themselves playoff-worthy.
However, a sobering moment would put their momentum on pause just before the half ended. Offensive lineman Kyle Woodring would leave the game, being carried by Marinelli and players, and wouldn't return due to a leg injury. As the Cardinals left the field for halftime, players touched the EMT ambulance on its way out of the stadium, as a symbolic gesture to the injured lineman.
"It's a tight knit group here," said Marinelli. "It's a family atmosphere. It was kind of a somber moment. They play for one another. Just like when Henry [Saleeby] went down, everyone kind of picks each other up. You can't replace him. It's a next man up mentality. They're picking up the slack and playing for each other."
In the second half, Cole Hartley would score on a 10-yard rushing touchdown and a 44-yard rushing score.
The aerial attack was also working wonders for the Greenwich offense as four different receivers caught a touchdown pass. Anthony Ferraro, Matt Morganti, Tyler Farris and Jeremiah Harris all found the endzone as they combined for 172 yards receiving.
"It's important to us to get everyone involved," said Morganti. "We're not a very selfish group. We mesh really well together and we were looking for everyone to get their touches and it happened tonight."
Morganti, who has become a go-to target for his quarterback, praised the balanced offensive game and younger players for stepping up.
"It felt really good to be able to throw the ball and run the ball like we did," said Morganti. "Kevin had an amazing run down our sideline and Cole added two himself. Our offensive line played great even when our center, Kevin Woodring, went down. Nolan Connerty, a sophomore, came in and really picked it up for us."
Iobbi's 50-yard run down the right sideline, after evading a handful of tackles, was undoubtedly the play of the game which gave Greenwich a spark for the second half.
"The play was stretch right and our left guard was pulling," said Iobbi. "Chase Piro made a great block. I had one guy to beat and I kind of just spun off him."
Norwalk's AJ Hall had a game-high 17 receptions for 229 yards and two touchdowns.
On defense, Zhaire House came up with an interception while Ben Kraninger recorded two sacks.
With two games remaining in the regular season, the FCIAC's premier running back knows the importance of the next two matchups against Ridgefield and Staples.
"Since we lost to New Canaan, coach been saying we're 48 minutes closer to December," said Iobbi. "We treated tonight like a playoff game and we'll treat our last two as playoff games."
For Marinelli, a one-game mindset going into next week is what he wants to preach to his team.
"Our backs are against the wall every single week," said Marinelli. "The schedule speaks for itself. We just have to keep on grinding and get a little better defensively. We have to get back to basics. It's one at a time. We're going to a very tough place to play against a very tough team. We have to focus on one game at a time."