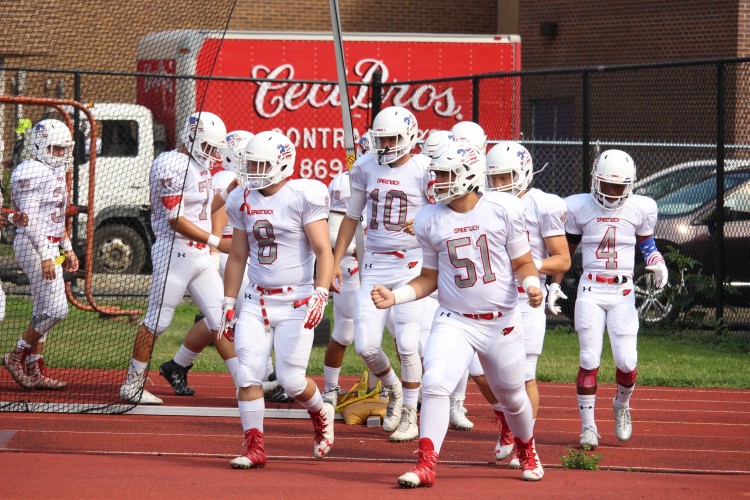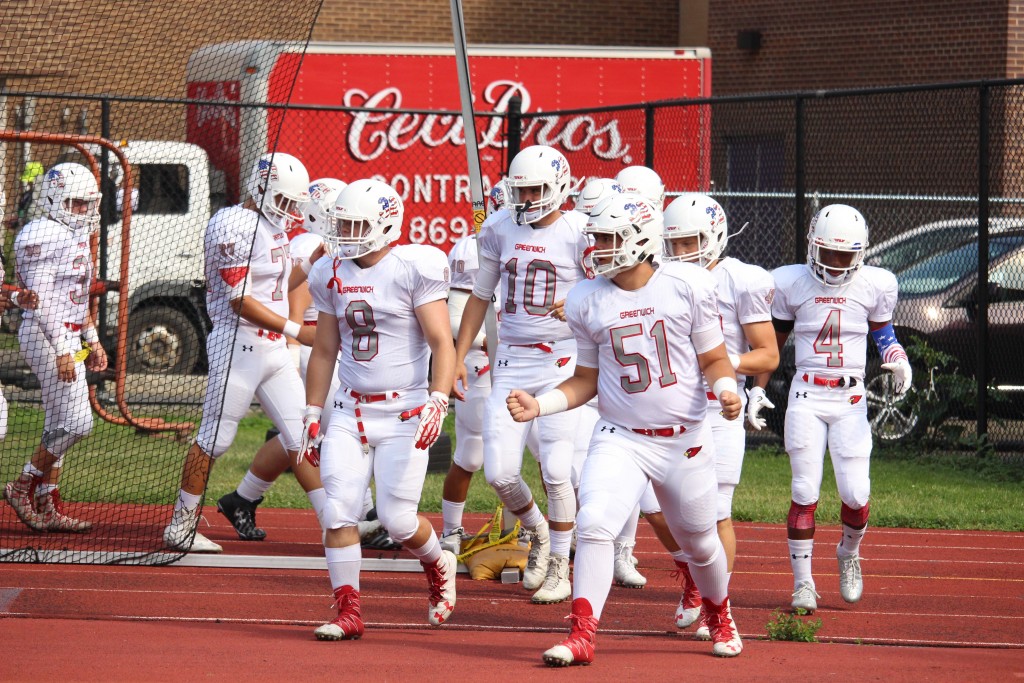 Greenwich High School's bye week has been anything but a week off of football for the 3-1 Cardinals.
For head coach John Marinelli, who refers to the bye as a "teaching" week instead, using the time to get back to basics in the weight room and practice field has been a point of focus for his team.
"We've shortened practice and made it really high tempo," said Marinelli, who prides himself on an efficient and fast offense.
Players also received a three-day weekend, without a game to play last weekend.
"As a coach, it's a little scary when you give your kids three days off," said Marinelli. "We really gelled last week. They came back with some hunger and they weren't really happy with how they played against Bridgeport Central. We try to put a heavy focus on the team, not the individual. Trying to take the individual out of the ultimate team sport was what the bye week was about. I felt like it was pretty successful. Now, we're back in gameweek mode."
Coming off a 49-22 win over Bridgeport Central, the Cardinals have been refining their game since their last gridiron matchup. Their upcoming game against Trumbull on Saturday, October 15 at 3:00 pm will serve as Homecoming for the Cardinals.
On offense, Cardinal fans have been given the treat of watching senior running back Kevin Iobbi tear up opposing defenses while senior quarterback Connor Langan is learning to control the offense under Marinelli's system with his numerous weapons (Tyler Farris, Anthony Ferraro, Matt Morganti) at receiver.
On defense, it has been Ben Kraninger and Sam Colandro on the defensive line providing pressure, while Paul Williams and Mike Ceci have been leading the linebacker corp through a solid four games so far. Zhaire House has a couple of interceptions already this year in a defensive backfield that has been a no-fly zone at times this season.
Then, there is special teams.
A staple of Marinelli's coaching style, the onside kick has made an appearance after nearly every Cardinal score and even to begin games.
"I hear the cheers every time we kick it deep," joked Marinelli. "It's obviously not conventional, but I've never been a conventional coach. I've always tried to do something different to give our team an advantage."
According to data compiled by Marinelli and his coaching staff, the average starting field position for opponents when Greenwick kicks it deep lands at about the 37-yard line.
The second-year head coach also says kicking it deep can put the coverage team at a disadvantage when the timing isn't right.
"We haven't had kickers that can kick it deep," said Marinelli. "When we have had a kicker that can put it deep, it's typically getting down there too fast, so you're outkicking your coverage."
For Marinelli, the difference lies in giving his team a chance to get the ball back at the cost of just a handful of yards.
"What's the difference in if they start on their 40 or 45-yard line," said Marinelli. "It's the difference of six or seven yards. If they are going to score on that drive, they are going to score picking up that six or seven yards or not. Why not give our guys a chance to get the ball back?"
Through four games, the Cardinal head coach has noticed opposing teams throwing out a onside recovery unit comprised of their most talented players, setting up an opportunity he wants to take advantage of as well.
"Now, teams are putting their best players on the front line," said Marinelli. "So those kids are taking an extra hit per game and we're kicking it right to them. It's football. I'm not trying to injure anybody but I do know the physical contributions and sacrifices that kids make with their bodies in order to make a tackle or whatever. You're adding a couple more hits per game to their better players. As a football coach when you're trying to gain an advantage for your team, how can that not be looked at as an advantage from a football aspect?"
Marinelli says the target onside recovery rate is about 25 to 30 percent, and his team is currently recovering 15 percent of their onside kick attempts. A hurdle in the process has been trying to simulate onside kick scenarios in practice.
"We're a little bit under where we need to be," said Marinelli. "How do you practice that? We're teaching it the right way, we're being safe and we're playing within the rules of the game. We're getting a lot better at it. We're spending a lot of time during the bye week on it. I think we'll be more efficient in getting the ball. Even if we don't, the average starting field position doesn't really change."
After Friday's matchup against Trumbull, Marinelli and the Cardinals will visit New Canaan for the second rendition of the "Marinelli Bowl" as the son and father coaches battle it out in James Dunning Jr. Field on Friday, October 21.
You'll see a mix of it going forward," said Marinelli of his onside kick strategy. "We have two big games coming up. I want to run as many plays as possible, and I know you can only do that when you have the ball in your hand."