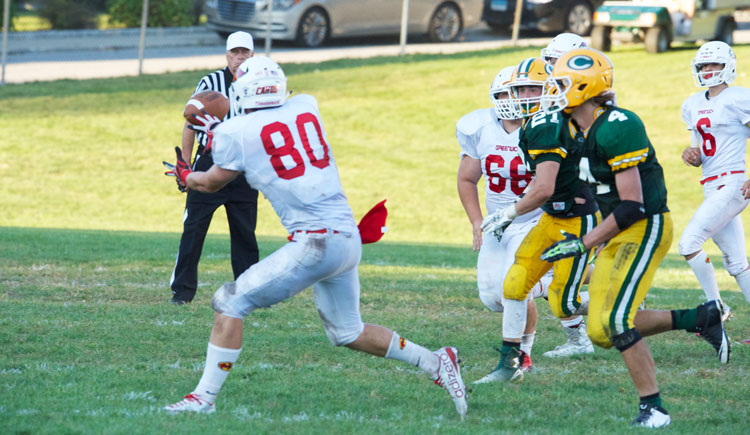 Scooter Harrington, a former Greenwich High School tight end and defensive end, was recognized last week as one of five recipients of the 2016 National Football Foundation High School Scholar-Athlete Award.
Chosen from more than a million high school football players across the country, Harrington's achievements on and off the field will be recognized with one of the most prestigious high school honors in New York City on Tuesday, Dec. 6 at the Waldorf Astoria Hotel in New York.
Harrington, now a freshman on the football roster for Stanford University, was a two-time All-State selection who also played on Greenwich's lacrosse team. After winning a tournament-style fan vote, Harrington was invited to play in the Under Armour High School All-America Game in Orlando, Fla.
Even with only one season played under GHS head coach John Marinelli, it's clear to the current coaching staff where the bar is set in becoming a great student-athlete.
"He is the bar," said Marinelli. "He is exactly what we're trying to get our kids to be."
Graduating with a cumulative 4.4 GPA, Harrington is a member of the National Honor Society and appeared on the high honor roll every semester throughout his high school career.
"It's probably one of the most desired acknowledgement or accolade that without question is one of the most difficult to be recognized for," said Marinelli, who still keeps in weekly contact with his former standout player. "He is everything that our staff and I have been preaching. He showed up to practice every day and he showed up to class every day. He never complained and always went about his business. He went above and beyond, and it's that part that has to do with why he is so successful."
For the second-year head coach, this isn't his first go-around with coaching a player who later received the NFF honor.
Zach Allen, a defensive end for New Canaan High, earned the recognition during Marinelli's time on the Rams' coaching staff under his father, Lou.
"Seeing two Fairfield County players in consecutive years who were acknowledged by the National Football Foundation, that's incredible," said Marinelli. "I'm still kind of in shock and awe over it, because it's not supposed to happen to two kids in the same small part of the world."
Harrington's role in Under Armour All-America Game only increased his exposure at the national level; weeks later he was the recipient of a scholarship offer to play for Stanford.
His former head coach insists that there was just as much work done in the classroom by showing up for class, seeking out teachers and even mentoring kids on and off the field to be credited to him for his overall success.
"I think the National Football Foundation saw just how well reviewed and respected he was as a person," said Marinelli. "It speaks well of Scooter, and he deserves this. I think the way he conducts himself, by not only doing what you're supposed to do, but then some, is the reason why he is so successful."