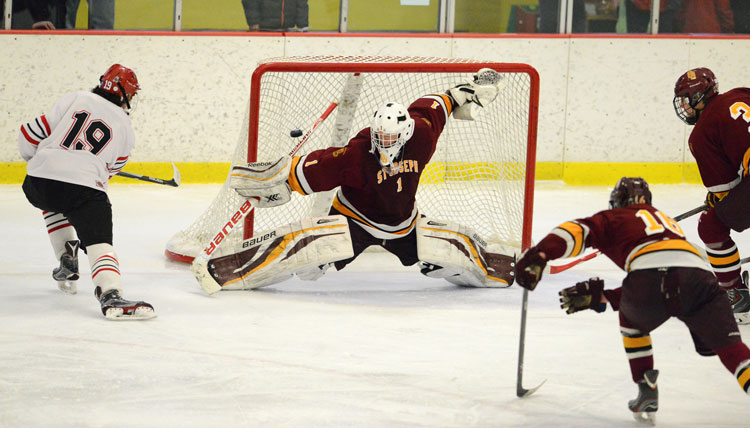 The Greenwich High School boys ice hockey vividly remembers the feeling last year, coming ever so close to capturing the FCIAC title, only to watch Darien High School celebrate a championship.
A determined group of Cardinals weren't going to let that happen this time around.
Playing in its second consecutive conference championship game, Big Red took home the hardware in dominating fashion, blanking St. Joseph High School 5-0 Saturday afternoon at the Terry Conners Ice Rink.
"This feels amazing," GHS forward KC Cunningham said. "The feeling is so hard to describe winning a championship, but most of these guys are so happy that this finally happened to us. So many of us were here last year standing on this very rink and had to feel defeat."
During this year's FCIAC title game, Michael Mozian finished with two goals and an assist. With his performance, Mozian was named the tournament Most Valuable Player.
"This feels awesome, especially after last year," Mozian said. "Obviously losing to Darien hurt and after that game, all the kids returning remembered the feeling and wanted to make sure that nothing like that happens again. This feeling is awesome. It's kind of surreal. We had a great crowd here and obviously we fed off the support from them.
"He's a beast," Russel said. "He finished checks, he got the power play goal and the second goal. He's come through for us. He scored the winning goal in the game against Ridgefield and got the empty-net goal. When you look at overall effort, there's so many guys they could have picked. They could have picked Cunningham, Colin Kelly or a bunch of other guys. But Mike Mozian is a pretty damn good choice."
In addition, Cunningham finished with a goal and an assist. Rounding out the scoring for Big Red was Alex Mozian and Owen Johnson. Teammates Colin Kelly, John Lawrence and Calvin McKinney were all credited assists in the game.
"It's great," Greenwich High School head coach Bob Russel said. "I am just happy that we had a good game plan, we executed incredibly well on our game plan, we brought the puck out clean, we got it deep, our checking was really solid, our power play came through when it had to, penalty killing was excellent and goaltending was strong. So all around we had a fantastic game."
In net, Big Red's Nick Buzzuto was once again lights out. In addition to standing on his head to hold off Ridgefield High School in the FCIAC semis, the senior goalie was unbeatable in the finals, stopping all 19 shots that he faced on the day.
"It's a great feeling," Buzzuto said. "Losing to Darien last year was tough and we worked hard all year because this was our goal. We knew this wasn't going to be easy and [Ryan] Wilson is an incredible goalie, but he didn't have his stuff today. We crashed the net and came up big."
With the victory, Greenwich improved to 18-4-0 overall this season. The FCIAC championship was the team's first since the 2008-09 season in which the Cards beat Darien. Since 2000, this is Greenwich's fourth conference title.
"For this group that was there last year and worked hard, to be able to come through and get this win is really defining for them," Russel said. "They should feel the same way if it went the other way with how hard they worked and how successful they were. If you go up to bat enough times, you're going to your share of hits. We came back today and there was a lot of pressure of these guys and they were feeling it, but they came through with a big game."
In a hard-fought first period, Greenwich had a few chances at an early goal, as both Kelly, Alex Mozian and Mike Mozian blasted shots that St. Joe's goalie Ryan Wilson made stellar saves on.
With less than three minutes to play in the first, Cunningham got a stick on the loose puck in front of the net on a rebound and missed the left corner of the net by mere inches.
Finally with nine seconds to play, Big Red broke through, as Kelly fired off a perfect pass to Johnson on the break, who connected on the one-time shot for the 1-0 lead.
"Any time you score in the last minute, it's huge," Russel said. "You're facing a team that has only given up a few goals. When it's a game on the line and in a big game, St. Joe's doesn't give up a lot of goals. We know Wilson is good and solid and we had to come in and get second chances and low shots. Sure enough Johnson's goal was a deliberately low shot across the crease."
While getting the lead was obviously important for Greenwich, Cunningham said that the confidence the goal gave was crucial to Big Red's success.
"That was huge for us," Cunningham said. "Going into the second with that lead meant so much to us, knowing that we could break through this goalie. Wilson is a great goalie and made so many saves against Darien in the semifinals, so we knew it was going to be tough. So getting that first one made us feel confident."
From there, Greenwich stepped on the gas and controlled play.
With 11:11 to play, Mike Mozian lit the lamp when he grabbed the puck deep in the St. Joe's end and unloaded a shot that beat Wilson for the 2-0 lead.
It didn't take Big Red long to add its third goal. With 9:34 to play in the period, the Cards were on the power play and capitalized. Working the puck patiently around the St. Joseph zone, McKinney dished the puck to to Mike Mozian, who struck again by drilling the shot low and snuck it past Wilson for the goal.
Shooting low was the key again for Greenwich's third goal of the second period and fourth overall. After Lawrence and Mike Mozian had shots at the net, Alex Mozian grabbed control of the rebound and went five-hole on the goalie for the goal.
"Owen's shot was low, driving the net," Russel said. "The next one was put in hard and low and it went off the goalie's skate. Some times you make your own breaks. The power play came through on the third goal and Alex Mozian does a good job fighting off a guy and gets a low goal. Everything we did today worked. It doesn't
Only 18 seconds after the third started, Greenwich got on the scoreboard again. After controlling the faceoff and pushing the puck quickly into the SJHS zone, Mike Mozian uncorked a blistering shot from just inside the blue line and Cunningham was there in front of the net to tip the puck to the top left corner of the net for the 5-0 lead.
"This was a really good game for us and maybe one of the best games we've played all year," Cunningham said. "We got the puck out, we took care of the front of the net and got the puck deep. We didn't take too many penalties, but when we did our penalty kill was strong. We got that big power play goal in the second and overall it was a solid game for us."
Greenwich came out at the FCIAC title game this year with revenge on its mind. Back on Feb. 9, Big Red traveled up to the Shelton Rinks and were bested by the Cadets 3-0 in a game where Greenwich didn't play well at all.
"This was huge because we didn't play the greatest game the last time," Buzzuto said. "We couldn't score and Wilson was unbelievable. I think it was definitely motivation for us today. We knew it was going to be a challenge today and we came up hard."
Russel said that Greenwich's second game against the Cadets, the 3-0 defeat was quite frustrating.
"I thought we had a lot of scoring chances, but Wilson's glove is really good," Russel said. "Every time we put the puck up in the air, the play ended. We knew that wasn't the formula. Today it worked."