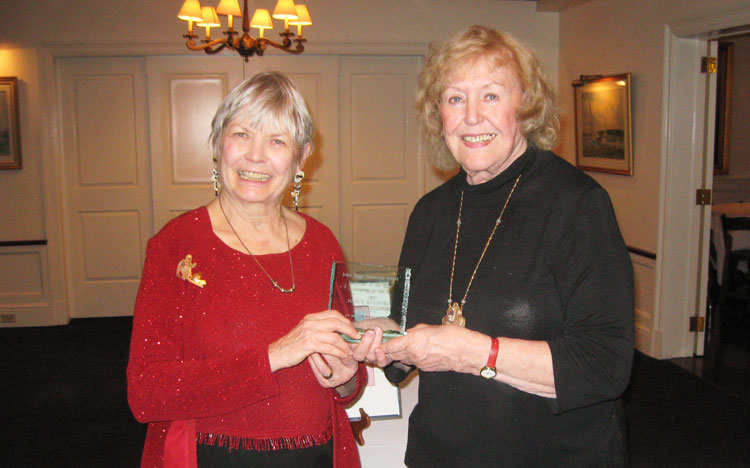 On Feb. 12, the Art Society of Old Greenwich presented an award to current ASOG Treasurer, Nancy Kulinski, for her exceptional volunteer service. The "John Tatge Memorial Award: Volunteer of the Year 2015" was presented by Barbara Stretton, ASOG Co-President, at the 2016 Winterfest dinner and art show, held at the Riverside Yacht Club.
"This award should be for 'Volunteer of the Decade,'" Barbara said, praising Nancy, who is leaving ASOG due to a move out of state, for her many years as a dedicated ASOG volunteer in various capacities. In addition to her role as Treasurer, Nancy has been a Board Member in charge of Membership, and has chaired many ASOG art exhibits, including the annual Sidewalk Art Show outdoors in Old Greenwich. She is also a past ASOG President.
Last year the annual "Volunteer of the Year Award" was renamed to honor, the late John Tatge, a devoted advocate of the arts, who passed away in 2014. John served as ASOG President for several years, fostered significant growth of ASOG membership, designed and developed the first ASOG website, and, for 20 years, chaired the annual Sidewalk Art Show.