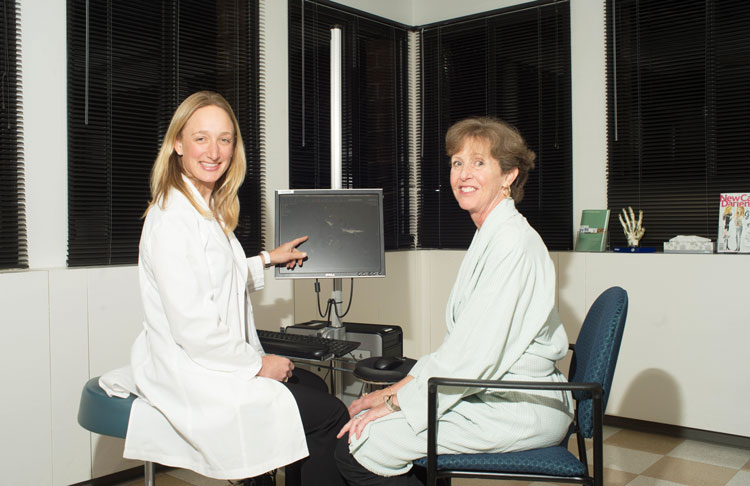 By Sara Poirier Correa
Sentinel Business Reporter

When Orthopaedic and Neurosurgery Specialists first opened its doors in 1998, its "novel" concept of pairing patients with doctors specializing in what ailed them was a way to improve medical care, according to its founders.
Now, 18 years later, ONS is at the top of its game, attracting doctors with top accolades in their sub specialties—knee/hip, hand/wrist, spine, knee, foot/ankle, elbow, shoulder, sports medicine, physical medicine and rehabilitation, and joint replacement. It also has spawned an independent research foundation and formed a partnership with schools and universities whereby its doctors can advise and care for sports teams when athletes get injured.
"We thought at the time that for the long term, for [doctors who wanted to continue working in their sub-specialty fields] and in the name of providing better patient care, that that was the thing to do," said Dr. Mark Camel. He is one of three founding principals of ONS, along with Drs. Seth Miller and John Crowe.
"We were looking at new ways to deliver healthcare and do it more efficiently," Camel, a neurosurgeon specializing in the spine, added.
A combination of two existing orthopedic practices in town, ONS started small with nine doctors, and has grown through the years to include 22 doctors (2 doctors—including Crowe—retired in the past few months). It has also expanded its footprint beyond Greenwich borders, recently opening a satellite office on High Ridge Road in Stamford. The office space needed for ONS services has quadrupled in size since it first opened—going from 15,000 square feet to 60,000.
The Greenwich office is at 6 Greenwich Office Park at 40 Valley Drive.
"We really have top doctors in the area, which is something wonderful that we're able to offer to the community," said Dr. Katie Vadasdi, sports medicine specialist and shoulder surgeon.
Many of the ONS physicians are consistently ranked in the top of Castle Connolly's annual top doctors survey, among other top lists.
"By attracting really great young people, it enables us to grow and set ONS up for the future," Camel said.
The doctors at ONS work together, he said, using cubicles instead of offices to better consult with their peers about patients, and discuss the best treatments for achieving optimum results. Offering doctor visits, imaging services, physical therapy and ambulatory surgery (outpatients procedures related to hands, wrists, knees and herniated discs, for example), ONS doctors saw patients nearly 52,000 times in 2015. More than 26,000 visits were made to the ONS physical therapy department.
Camel, who trained at Washington University's School of Medicine in St. Louis, Mo., said the number of patients he and his colleagues are expected to see in 2016 is estimated to triple from 1998.
"It takes everyone's efforts to keep this going in the way that it's been so successful for so many years," Camel said, adding customer service is a key element of the ONS model.
Most patients, he said, are seen within 24 hours of a requested appointment.
"Patients leave with a good feeling that they can call with a question, and that the staff is on their side," Camel said. "[The goal is to make it so patients] don't feel like they're intruding on us when calling the office."
Community access
One way to promote quality customer service so important to the practice is Ortho Access, a collaboration of ONS doctors and area sports teams.
"We know that access to doctors and healthcare is difficult and challenging," said Vadasdi, who did her fellowship in orthopedic sports medicine at Columbia University. "If we can help that and make it a little easier in an area that we know and can help, we're happy to."
"We wanted to make sure everyone working with the athletes had direct access to us at any time," she added.
Coaches and athletic trainers sign up for the Ortho Access program, and get a centralized phone number they can call when there's a situation on the field or in the gym.
"We can't always be on the field," Vadasdi said, adding that when assessing the circumstance, doctors on-call can advise the trainer or coach to send the athlete to the emergency room, urgent care center or do whatever may be needed. There is no obligation to then use ONS doctors as a caregiver after the fact.
Vadasdi said her own background as a triathlete and alpine skier has helped her understand her patients and what they are going through. She even has picked up skimo racing [ski mountaineering] in the past few years to introduce her kids to skiing.
"It makes a big difference. I'm out there, I get it," she said. "I try very hard to tell a patient not to just stop completely [but rather try to come up with a plan to remain active]."
The most common sports-related injuries, she said, are ankle and knee sprains, and she has already seen a few anterior cruciate ligament (ACL) ruptures this winter. Also, inflammation and tears of the tendons on the shoulder (rotator cuff), as well as tennis and golf elbow are also prevalent.
While athletes are a big part of the patient base at ONS, the Women's Sports Medicine Center within ONS provides an even more focused type of care.
"The female body is a little bit different," Vadasdi said.
She added, "It's having a local focus placed where we help organize and manage the care for our female patients."
Vadasdi said doctors and physical therapists working with women at the practice work with their individual needs to get them back on the field, back in the gym or help them recover  in a way that works with their active lifestyles.
"Our goal is not to just get you the right outcome, it's to get you the most optimized outcome as an individual," said Dr. Paul Sethi, also a sports medicine specialist and shoulder surgeon.
Building a foundation
Dr. Sethi is president of the ONS Foundation for Clinical Research & Education, an independent research and community outreach component of ONS. It started about seven years ago after about two years of planning.
"Long before the world and our government said outcomes matter, we decided outcomes matter and thought how to improve them," said Sethi, who previously served as orthopedic consultant to the Los Angeles Dodgers baseball team, and was assistant team physician for the Los Angeles Lakers (basketball), Los Angeles Kings (ice hockey), the Dodgers and the University of Southern California football.
"We thought how can we take all of our individual efforts and collectively make statements about healthcare and make outcomes better?"
The foundation is donation based, with money coming from private donors, physicians and the ONS practice itself.
"What we're doing from a relatively small organization without a big university background is contributing to the wealth of knowledge in orthopedics," said Sethi, who was a leading supporter of the foundation at the beginning.
The foundation's work has been published internationally, and competes among top researchers at Harvard University, Yale University, the University of California in Los Angeles and Johns Hopkins University, to name a few.
The foundation doctors host meetings with the public and physicians, nurses and physical therapists, all free of charge, to educate on relevant topics, such as a recent joint effort with the NFL on concussion safety and protocol. More than 300 people attended, Sethi said.
Online there are about 50 lectures of varying topics available in the media library of the foundation website.
"Our goal is to have a better educated community and better access to healthcare in the community," he said
Upcoming seminars sponsored by the foundation include a March 9 concussion injury prevention panel at Greenwich High School; a discussion—"Play Ball, Play Safe"—on April 5 in conjunction with the Greenwich Junior Babe Ruth League; and workshops with physical therapy assistant students at Norwalk Community College.
For more information about ONS, call the office at 203-869-1145 or visit onsmd.com. To learn more about the ONS Foundation for Clinical Research & Education and to sign up for one of its free workshops, visit onsf.org.