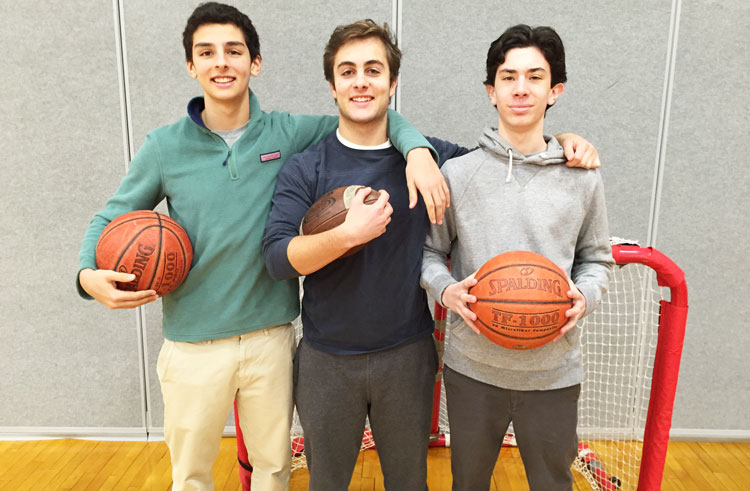 A group of Greenwich High School students, led by three ambitious sophomores are doing their best to make athletics a little more of a reality for people that might not have the chance to play sports.
The YES club, which stands for Youth Equipment Sharing is currently hosting a sports equipment collection drive that will last until Feb. 5.
Co-presidents of the YES club, sophomores Greg Goldstein, Romano Orlando and Brian Fagella, as well as close to 20 dedicated GHS students, comprise the club.
"Greenwich is looked at as a town where there's a lot of wealth, but yet there are kids that don't have equipment to play what they want," Goldstein said. "Everybody that I have talked to has been super excited about this and has asked where they could drop off equipment."
The YES club will have a bin at the Greenwich YWCA and three more bins at Greenwich High School. Drop off times at the high school is on weekdays from 7:30 a.m. to 2:15 p.m., while at the Greenwich YWCA people will be able to fill the bin from 6 a.m. to 9:45 p.m. weekdays, Saturday from 8 a.m. to 4:45 p.m. and on Sunday from 9 a.m. to 3 p.m.
"We are hoping that these two weeks are really going to bring us a huge amount of equipment," Goldstein said. "The bins at Greenwich High will be located in the main office, outside of Folsom House and in the gym hallway. A bin will also be in the YWCA main lobby, right where everybody walks in. You can't miss it."
And the YES club is doing its best to get the word out, as a massive banner at the high school lets students know about the event. In addition, the trio of Orlando, Goldstein and Fagella have been aggressive on social media and are talking to anybody that will listen about the club and its mission.
"Being an athlete myself and being on sporting teams at the high school, I see some teams that we play are unequipped," Orlando said. "Being able to help kids out feels really good. A lot of time it's hard to keep the eye on the prize and know what we are doing is really for the kids, but once you give a kid a piece of equipment that he or she really needs, and is so appreciative, is a really good feeling. I love helping people out."
The YES club did what Goldstein called a "test drive" two weeks ago at the Greenwich YWCA. They didn't advertise the bins too much, and much to the club's surprise there was a mountain of sports equipment.
"I was worried," Goldstein. "I said to Romano and Brian that this would be so embarrassing if we didn't get anything during the test run. We went the first day and it was mounding with equipment. We have a storage facility at my house that is full from one week. We just want to collect as many as possible so we could help as many kids as possible."
Once the athletic gear is collected, the YES Club will focus its attention on getting the equipment out to young athletes from around the area.
"Now our gears are shifting to who we are donating to," Goldstein said. "We have reached out to a few people and organizations and we have received a bunch of positive responses back. The feeling of helping the community is amazing. It's amazing to see how much need there really is and how you could just put a little effort into putting together a donation drive and see such a positive outcome come out of it. It makes my heart feel good."
Just organizing this event is a challenge, however Orlando and the rest of the YES club is certainly up for the task. The club divided into two groups. Marketing ran around the school, and made signs and posters to catch the eyes of parents and students. Headmaster Chris Winters will be sending out emails and the club is being featured on the Cardinal News and the GHS web site.
"It takes a lot of stuff," Orlando said. "When we first took over the club, we really didn't know how much it would take. We pretty much had to split our club into two parts, marketing and communications. Marketing is setting up everything around the school and we have been going nuts with that. Everybody has been so helpful and supportive and it's great to see."
Both Orlando and Goldstein see firsthand the importance of the YES club and giving back to the community.
Goldstein went through his family's garage and noticed all the sports equipment that was just collecting dust. Knowing that those items would, most likely, never get touched again, it was then when he realized that he had so much sporting equipment that he could give away to kids that could put it to good use.  
"There are kids that need help, not only in our town, but in surrounding towns around us," Goldstein said. "Sports equipment is expensive and you could spend $700 on lacrosse equipment. So for kids that are athletic or just want to play a sport, this can help them play a sport. That was really what we saw the need around the neighborhood."
Romano, who plays football for Big Red in the fall and the nationally-ranked GHS rugby team in the spring, said that he s
"I grew up playing football for the BANC Raiders and there were kids that didn't have the best equipment," Romano said. "We would see some teams that always had the new equipment and others would have helmets that were really old. Now it's really easy to see the importance of having a sports equipment drive."
To reach out to the Greenwich High School YES club, email Orlando, Goldstein and Fagella at ghsyouthequipmentsharing@gmail.com.