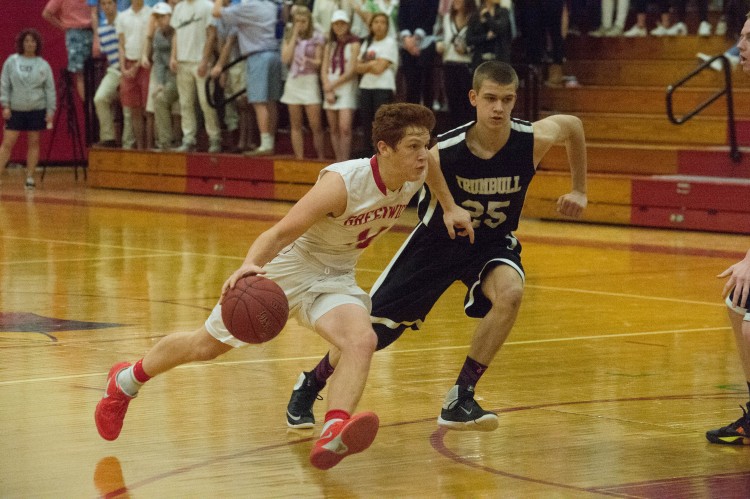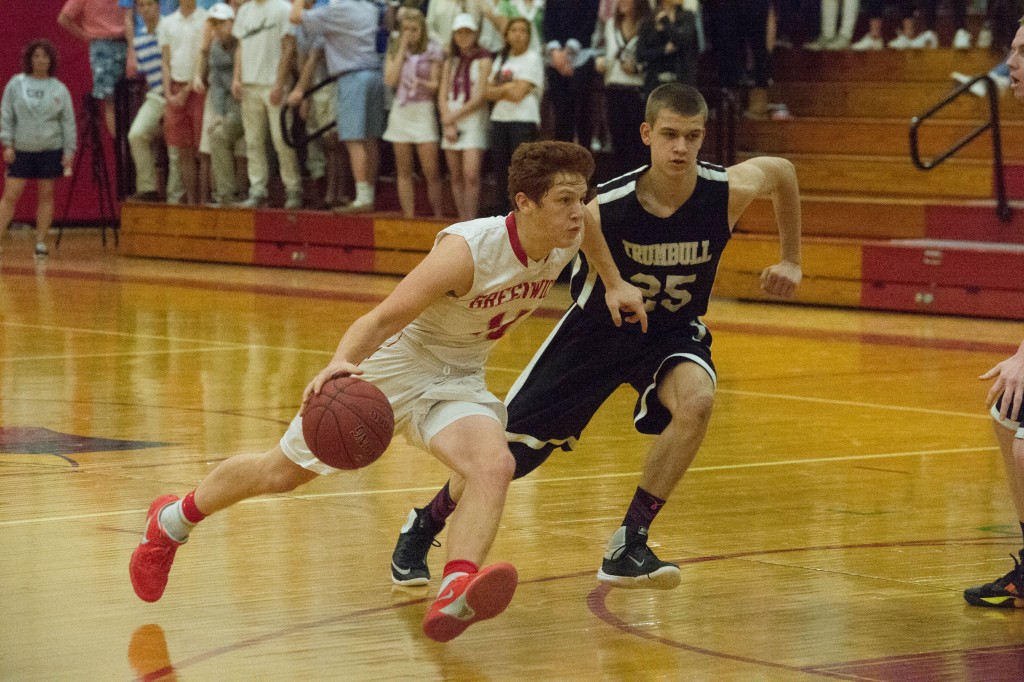 Big Red may have been out in full effect Tuesday night as Greenwich High boys basketball took on Trumbull High, but it took a few green lights from long range as the Cardinals escaped with a 69-64 win to hand the Golden Eagles their first conference loss of the year.
Greenwich High (6-3, 4-2) was able to hang with the height and strength of a competent Trumbull High team (9-2, 6-1) thanks to persistently contesting the Golden Eagles' inside game while making the most of their own opportunities when it mattered the most.
With a two-point lead and about two minutes to go, Michael Gianopoulos stole the ball from a sloppy Trumbull pass and led teammate Conor Harkins with a pass to the opposite side of the court. A wide open layup was open for the taking, but Harkins instead took one dribble across halfcourt and lined up a 22-foot 3-point shot with no defender on his side of the court.
The two-point advantage was quickly (and confidently) changed to a five-point lead.
"I caught the ball and knew no one was around me," Harkins said following the game. "Coach thankfully gives me the green light whenever I have the open shot and I let it go knowing it was going in."
Trumbull would pull back to within a point down the stretch, but the Cardinals defense proved to be too much for Trumbull to handle.
The Golden Eagles were led by Jack Moore, who caught fire in the first half where he scored 25 of his game-high 27 points, and by Bennett McCullough who finished with 20 points with his dominant performance in the paint all night long.
"We gave up 38 points in the first half and that's the most we've given up in a half this year," said head coach Patrick Heaton. "After Jack Moore had 25 points in the first half, we were able to slow him down a little bit and hold him to two which was a big difference. He's a hell of a player and I underestimated how good he really is."
Leading the Cardinals in the win was Kieran Carroll (21 points), Conor Harkins (19 points including 5 three pointers) and Henry Golden (14 points) who all made key plays down the stretch.
Michael Gianopoulos caught himself in early foul trouble but was commended by his coach for being a consistent threat to score all night.
"When we were down by 10 points, I felt like we had to get [Michael] back in the game," Heaton said. "He usually picks up a charge but he did a good job of controlling his body. Henry Golden stepped up in the first half while Kieran Carroll and Robert Clark stepped up in the second half."
Gianopoulos finished with nine points, Robert Clark added eight points and Kevin Woodring played an important defensive role picking up the assignment of Trumbull's McCullough.
"They were in first place, so we feel pretty good about it. As of today, it's a great win. Tomorrow we'll go back to work because we know it's a wide open league."
Big Red takes on Norwalk at home on Friday at 7:00 pm.