December 16, 2015
Board of Selectman Rejects Site Plan Option 1 for New Leb
[jwplatform ueihMfrG]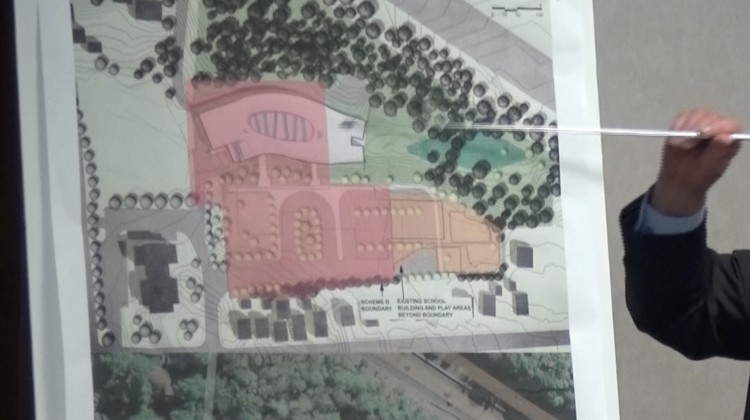 The Board of Selectman voted unanimously in a special meeting on Wednesday afternoon to reject site plan Option 1 for a new, New Lebanon Elementary School.
"Plan 1 remains the closest in proximity to I95 in comparison of the two plans. I have yet to receive formal correspondence from the Board of Education that I have been asking for for almost a month now about housing kids in school during school construction," said Selectman Drew Marzullo.
The Board approved municipal improvement status for a 140,000 square foot area of land outlined in the pink. The Board says it would like to the architect Tai Soo Kim to try his best to stick to that boundary.
"I think you've made a conscious effort to apply your techniques to what we approved. Granted your not there. I'm really torn in the sense that my preference would be that you would bring it in. But, if we're hearing that that's not possible or not desirable, then we are at a stalemate," said First Selectman Peter Tesei.
Option 1 currently has about 8,000 square feet of the building outside of the MI outline. The New Lebanon Building Committee will be meeting on Wednesday evening. Chairman Steve Walko says the committee will still consider choosing a construction manager even without a definite site plan.
"Although it seems a little backwards, we are trying to stay ahead of the curve and not find ourselves at a lag in the backend. My goal, although I have to talk to Tai Soo Kim, is to still try to have good estimates to the Board of Estimates and Taxation by their vote in March," said Walko.
This will help move the process along for a new school to open in fall of 2018.
Tags:
board of selectman
,
byram
,
greenwich
,
new lebanon elementary school
,
Tai Soo Kim Architects