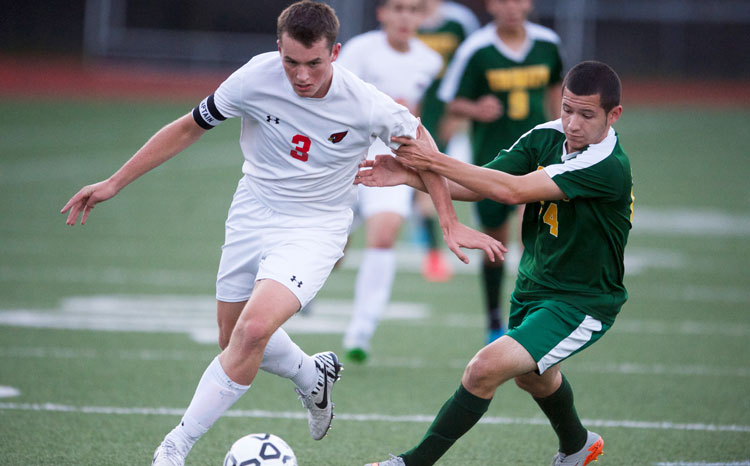 It's not uncommon for Nick Bartels to get a lot of attention on the pitch. It just comes with the territory when the Greenwich High School boys' soccer standout makes a living out of cracking opposing team's defenses at will.
Now Bartels gets the honor of trying to crack the defensive skills of some of the best high school soccer players in the country. He has been selected as one of the 40 top high school soccer athletes and will play in the High School Soccer All-American Game on Dec. 5 in Raleigh, N.C.
"It's a dream come true," Bartels said. "It's something I dreamed about as a kid and it's a high honor. I know a lot of the kids in this game and some of them have been players that I've looked up to in my high school career. It's a real blessing knowing that December 5 I will be spending my weekend with them and playing soccer with them. It's a real cool feeling."
The game will be played at Cardinal Gibbons High School. According to its website, the players selected are seniors who have finished their high school careers and represent their high school teams during the fall season.
Bartels finds himself in elite company. Not only was he one of only 40 athletes selected to play in the game, but he is one of only six soccer standouts from the Nutmeg State, and the only one who plays the sport at a public school.
Bartels will be joined by fellow Connecticut forward Alex Alexis from South Kent School on the East All-American Team. Midfielders on the team will be Daniel Amo from Salisbury School and Emmanuel Twumasi from Kent School. The goalie position for the East All-American Team is all Connecticut, as Jack Bacon is from Pomfret and Detre Bell is from South Kent School.
Monday started like any other day for Bartels, as he packed up his books and hurried off to start another week of school at Greenwich High School. But an email he received about being named to the event during his school day changed all that.
"After I got the email it kind of just blew up on social media, and I was extremely excited," Bartels said. "They hinted to me about a week ago that I was one of top 50 finalists, but being top 40 is such an honor. It's a big shock."
It's very obvious that Bartels is excited for this rare opportunity.
"It's going to be interesting," Bartels said. "It has six of the best coaches from around the nation and the top 40 kids around. It's going to be a great experience and I can't wait. I'm going to learn a lot and it's going to be a taste of what the next level is going to be like in college."
For the game that will be played on Dec. 5, Bartels plans on bringing some of his trademark energy, skill and intensity. And the best part is that Bartels won't be alone in this journey; a friendly face, Michael Heitzman from River Hill in Maryland, also made the top 40.
"I want to enjoy the experience and get takeaways from the coaches for improvements on my game," Bartels said. "Most of all I want to make friends so I have connections all over with these guys. I have another friend that made it, so we will be roommates together and it's going to be a lot of fun."
In addition to competing with some of the best athletes from around the country, Bartels will experience the best collegiate soccer being played. As part of the experience, Bartels and the rest of the All-Stars will take in the semifinal games of the women's NCAA Division I College Cup on Dec. 4.
While the game is still a little over a month away, there's still the remainder of the boys soccer season to be played. Granted it won't be as much game time as Bartels hoped. During Greenwich's game against Darien, Bartels went down with a knee contusion.
Bartels is hoping to return for the Connecticut Interscholastic Athletic Conference class LL tournament, but that would mean he most likely won't be available for Big Red's FCIAC postseason appearance.
"I am going to be resting up," Bartels said. "I'm doing therapy for it three times a week to strengthen it. I am hoping to come back for state playoffs, but the main thing for my body is rest, and I am going to do everything throughout the FCIACs to get these guys going. I've been taking a good hit every game recently, so the rest is good to regain my body strength. I was starting to get worn down by the season with all the hits I was taking."
That doesn't mean that Bartels isn't itching to get back on the field and contribute to Greenwich's success.
"It's really important to help my team," Bartels said. "Unfortunately, there's a huge pressure on the program that we go far every year, no matter what the team is or who is on the team. I think that's a good pressure on every one. No matter who you're playing with out there, you know that you're playing for Greenwich and that should be an honor in the first place."
With his high school soccer career winding down, being name to the All-Star team is just icing on the cake.
"I don't go into the season expecting anything," Bartels said. "All I want to do is win with my best friends on this team. This is the only other thing that I could ask for. This is a high school soccer player's dream. It's going to be an amazing experience."