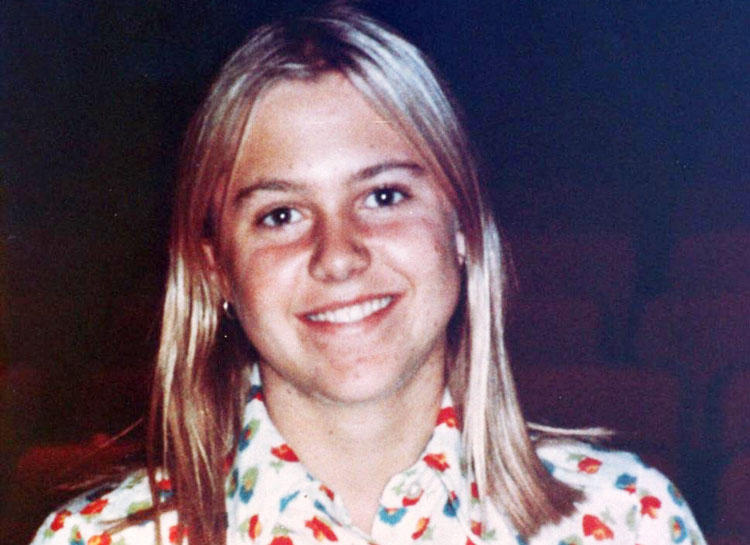 By Timothy Dumas
Contributing Editor
Forty years ago this evening, Martha Moxley, 15, stepped out of her house in Belle Haven to join friends in making a little light mischief before Halloween. She never returned, and the case of her murder never ended.
"This is a bad one," Dorthy Moxley said of today's bleak anniversary. "It's been 40 years, can you believe that? Forty years. Martha would be 55 today. I don't torture myself by thinking what could have been and so forth. But all this hanging and waiting, it makes it harder."
The "hanging and waiting" refers to the countless legal twists and turns in her daughter's case. The last big twist caught Dorthy unhappily by surprise. Two years ago Michael Skakel, the man convicted in 2002 of savagely killing Martha with his late mother's six-iron on Oct. 30, 1975, went free on bail, after the judge presiding over Skakel's last-ditch appeal, Thomas A. Bishop, ruled that his attorney, Mickey Sherman, had performed incompetently at trial.
State prosecutors are appealing that decision, and arguments will be heard before Connecticut's Supreme Court no sooner than January 2016. If the state wins, Skakel will go back to prison; if the state loses, it will have to decide whether to try Skakel a second time more than four decades after the crime. Skakel's status now is that of an arrested man assumed to be innocent and
awaiting trial.
As far as Dorthy Moxley is concerned, the matter of her daughter's killer is settled. "I'm sure that Michael Skakel is the one that swung the golf club," she said by phone from New Jersey, where she lives now. "In my mind he's still a murderer, running around out there."
Martha was attacked with multiple blows in her own front yard as she was making her way up her driveway, and then her body was dragged to a pine tree near the rear of the property.
Judge Bishop's ruling, in October of 2013, shocked many legal experts. Traditionally, "incompetence" denotes an attorney who shows up for trial egregiously unprepared—perhaps even missing hearings or falling asleep in them. Some speculated that Bishop was actually trying to right what he considered an unjust verdict. Bishop did list Sherman's alleged failures, but he also seemed to be saying that Connecticut got the wrong man. In his decision, he took a very hard look at Michael's older brother Thomas, who was 17, two years older than Michael, at the time of the murder. Evidence of Thomas's "direct involvement with the crime was powerful," Bishop wrote. "Sherman's failure to point an accusatory finger at [him] was and is inexplicable."
And Michael? "It would be an understatement to say that the state did not possess overwhelming evidence of
[his] guilt."
Susann Gill, a state prosecutor who took part in the criminal trial in 2002 and is now handling the appeal of Bishop's ruling, wrote in a brief last month that Bishop's decision was rife with errors. The thrust of those errors, the state claims, is that Bishop did not find Sherman incompetent so much as disagree with his strategy, which falls outside the bounds of his charge.
For example, at trial Sherman pointed to the Skakels' live-in tutor Ken Littleton as a viable alternative murderer—not to Tom Skakel, as Bishop would have had him do. Sherman maintains that the admissible evidence against Littleton was by far the stronger, and that offering "a buffet table" of other suspects would not have helped his argument.
Two New Books
The Moxley case has inspired at least one novel (by Dominick Dunne) and three non-fiction books (by Mark Fuhrman, Leonard Levitt, and this reporter, respectively)—to which Skakel's cousin Robert F. Kennedy, Jr., will soon add a fourth: "Media Lynching: The Persecution of Michael Skakel." The book is due to be released on Feb. 2. Kennedy is expected to argue, among other things, that Martha's real killers might have been two New York "ghetto" teenagers: Adolph Hasbrouck, who is African-American and allegedly was obsessed with Martha, and his friend Burton Tinsely. Kennedy has described them as "big, gangster-type guys," though neither is known to have a criminal record.
The only source for this story is Gitano "Tony" Bryant, once a student at Brunswick School in Greenwich. Bryant said that he, Hasbrouck and Tinsley visited Belle Haven on the night of the murder and that the latter two were intent on "getting a girl caveman style." Bryant named several neighborhood youths they hung out with near the Skakel house—including, briefly, Michael—but not one of them has verified the New York trio's presence in Belle Haven on Oct. 30, 1975. At least two people Bryant claimed to have seen said they were not out that night. Another, whom Bryant said he dropped in on, said he received no such visit. Bryant also said Hasbrouck and Tinsley behaved so boorishly that they upset the girls in the group—a detail that should have been memorable in the aftermath of the murder.
But Bryant has proved unreliable in the past. He was once involved in a robbery in California, according to court documents. And in the early nineties, in order to get hired by a law firm in Austin, Tex., Bryant falsely claimed that he'd been admitted to both the Maryland and Washington, D.C., bars. He then hid from his bosses the fact that he'd failed the Texas bar exam, Richard Alexander, one of the firm's partners, testified in 2013. "My opinion of his veracity is that he cannot be trusted," Alexander told the court.
In 2003 Kennedy, before learning of Bryant's story, wrote a lengthy piece in the Atlantic Monthly in which he made aggressive cases against both of the male "help" who lived with the Skakels in 1975: Ken Littleton, the tutor, and Franz Wittine, the gardener-handyman. Kennedy made no case, however, against Judge Bishop's suspect of choice: Thomas Skakel.
There is now a fifth nonfiction Moxley book in the works, by a New Hampshire documentary filmmaker named Robert Drake. The book, titled "Shameless," is about "the many efforts made to scapegoat Ken Littleton," Drake said by-email. Drake came to the story through his sister, Anne, who was Littleton's second wife; the couple divorced several years ago.
Littleton began suffering from substance addiction and perhaps the early stages of mental illness in 1976, and later emerged as a top suspect in the Moxley killing. Littleton was given immunity in 1998 in exchange for his grand jury testimony. "A lot of people have asked me why Connecticut gave Ken immunity," Robert Drake said. "Hopefully the book will put that question to rest."
Littleton and those who know him claim his entanglement in the case brought out a hereditary disposition to mental illness that dogs him to the present day; certainly he is one of the case's several secondary tragedies. "This absolutely ruined Ken's life," said Eugene Riccio, his attorney at the time of the grand jury proceeding and the criminal trial. "Ruined it, no question. And he'd been so promising."
A Vivid Memory
Though the night of Martha's death is four decades in the past, Dorthy remembers it vividly. "I remember them going out the door," she said of Martha and her friends Geoffrey Byrne and Jackie Wettenhall. "It was cold, very cold. Martha was going to wear her shearling lamb jacket. She just loved it. She'd just gotten it, her shearling lamb jacket. But she thought, 'No, there's going to be mischief, so I think I'd better wear my old down parka.' So she went out in her old blue down parka."
Later that night Dorthy went upstairs to paint the trim around some windows. While doing so, she heard a commotion down in the yard, on the side of the house where Martha was killed. "You know, I was aware of voices outside the house that night, and I'm sure that's when it happened. There were several voices. That is cause for wonder."
Dorthy sometimes jokes that she's become "a tough old bird" as Martha's case wears on like Jarndyce v. Jarndyce, the interminable lawsuit at the center of Charles Dickens's "Bleak House." But when asked if there's a particular thing she does or thinks when October 30 comes around, she began to cry. After recovering, she laughed lightly and said, "Well, I'm not tough as I'd like to be, but I'm still working on it."