June 28, 2015
Boys and Girls Club of Greenwich Golf Outing a Runaway Hit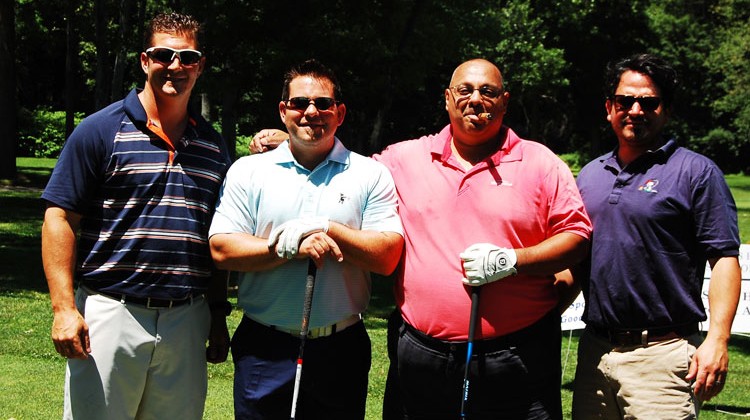 By Liz Leamy
Sentinel Correspondent
Last Monday the weather was nearly perfect, warm and sunny without a cloud in the sky, as more 105 people gathered at the local links to support the Boys and Girls Club of Greenwich.
This year's 12th annual BGCG golf outing, held at the Griffith E. Harris town golf course, was a runaway hit on every front.
It drew a host of its own executives, board members, employees and volunteers, along with local business owners, executives, first responders and other supporters who were on hand to help raise funds for the national non-profit organization, whose famous red-brick Greenwich site has provided young children with after-school education, recreation, and leadership opportunities since 1910.
"It was an outstanding tournament in every regard," said Sukie McFadden, Boys and Girls Club of Greenwich's Chief Operating Officer, who created the event in 2003. "The atmosphere was fantastic and it was great to see everyone come out to show their support for the Boys and Girls Club of Greenwich, which helps to benefit children here in the community."
Throughout the day, golfers could be seen laughing, chatting and cheering one another on as they traversed the 51-year old course, partially designed by the late, great golf course architect Robert Trent Jones.
"It was a phenomenal event," said Joe Felder, who has been the head professional of the Griffith E. Harris course for more than 26 years. "Everyone seemed happy to be playing to help support the club and appeared to really love the course."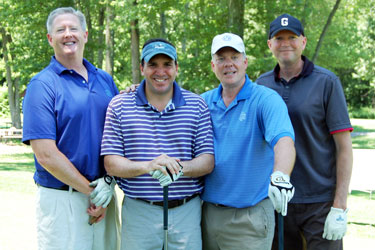 Certainly, participants played as if they were right at home there.
"It was great being out there," said Dave Corbo, a co-proprietor of Corbo's Corner Deli, which has three locations in Greenwich and one in Stamford and was a sponsor of the event.
"I grew up here and love the Boys and Girls Club," added Corbo, who, along with his fellow golf mates Justin Valenti, Mike DeCarlo and Mike Trangucci, racked up the best total of the tournament, a 60.
Valenti, a member of the winning foursome, also agreed the event was first rate.
"Everything about it was great," said Valenti. "The people, the prizes, and seeing so many people we have known for years from the Boys and Girls Club made it outstanding in every way."
This year's tournament was sponsored by such prominent area-based companies as Stone Point Capital, Griffith E. Harris Insurance Services LLC, Miller Motor Cars, Stone Harbor Project Advisors, and Wine Wise of Greenwich, and featured a lively after-golf party complete with delicious food and prizes.
"It's all about participation and camaraderie here, and what unites it is the mission of the club," said Bobby Walker, Jr., chief executive of the BGCG.
The BGCG offers young people ages six to 18 after-school programs in sports, the arts, computer technology and leadership every weekday, with activities on Saturdays, for just $35 per year.
In addition to activities at the club, members can also take part in Camp Simmons, an expansive and beautiful recreational site on Lake Avenue reputed to be one of the most popular warm-weather destinations for young people in the area.
"The after school programs at the BGCG and Camp Simmons are exceptional, as are so many of the people there," said Matthew J. Crawford, a former BGCG member and an event sponsor, who is a real estate and trust and estates attorney at the firm of Gillbride, Tusa, Last & Spellane.
Perhaps more than anything, golfers who participated in this event seemed to understand they were helping to support an organization that represents a home of sorts to so many young people in Greenwich.
"It's a home away from home for so many people around here," said McFadden, "and that means everything."
Tags:
BGCG
,
Boys and Girls Club of Greenwich
,
ctgolf
,
greenwich
,
Griffith E. Harris town golf course
,
The Griff