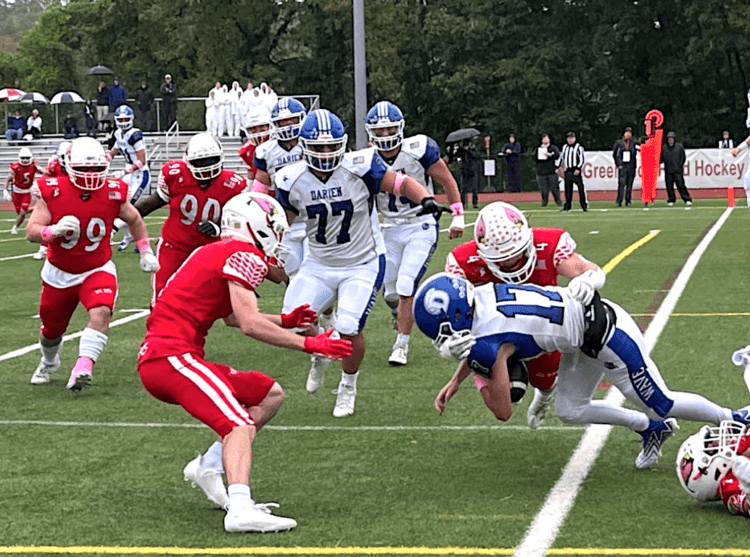 By David Fierro
Five games into the season, the Greenwich High School football team is 5-0 and if that's not impressive enough, the Cardinals have some unsettling news for their future foes – they keep getting better and better.
Greenwich continued to raise the bar on Saturday, flourishing on both sides of the ball, resulting in a Happy Homecoming.
Behind a 20-point second quarter, Greenwich, ranked No. 1 in the GameTimeCT Top 10 Poll, defeated FCIAC rival Darien, 30-14, before a big Homecoming day crowd at rainy Cardinal Stadium.
"We're playing excellent," said Cardinals senior running back/captain George Vomvolakis, one of the offensive stars of the game. "The ceiling is definitely higher for us. This isn't even the best game we played, we've got many, many more to come."
The win marked the first time Greenwich beat Darien at Cardinal Stadium since the 2007 season. When the Cardinals topped the Blue Wave in Darien in 2022, it was their first overall win against their rival since 2007.
"Last year we lost on Homecoming (a 29-28 loss to Southington) and we took that personal," said GHS senior linebacker/captain John Insinga, one of the Cards' defensive standouts. "We wanted to win for coach Morello and the fact that Greenwich hasn't beaten Darien here in many, many years – it's a great accomplishment for this team and I'm very proud."
Senior quarterback Rocco Grillo threw touchdown passes to senior wide receivers Jake Stefanowicz and Brandon Auguste, while George Vomvolakis reached the end zone on a 65-yard run to power the Cardinals' offense. Grillo also ran for a touchdown for Greenwich, which entered halftime with a 20-7 lead, after trailing 7-0 early in the second quarter.
Completing short passes, Grillo moved Greenwich down the field on the game's first drive, but the home team's march stalled at the Darien 2-yard line. Senior wide receiver Ryan McBreairty caught three passes during the game's opening drive and senior wideout Gavyn Gennarelli also had a reception.
Greenwich also moved the ball into Blue Wave territory on its second drive, which stalled at the 35-yard line. Darien took a 7-0 lead on the first play of the second quarter. Senior William Bonner took the handoff from sophomore quarterback Benjamin Rolapp and scored on a 5-yard run less than 20 seconds into the second quarter. Rolapp relieved senior Declan Cunningham at quarterback early in the first quarter.
Scrambling to his left, Cunningham was tackled near the Cardinals' sideline on the left side, was injured and did not return to action. The Cards evened the score at 7-7 at the 8:45 mark of the second quarter.
Grillo ran left and bulled his way into the end zone for a 2-yard touchdown run. Julian Ravina converted the extra point, making it 7-7. George Vomvolakis had a pair of runs for first downs and Grillo scrambled for 19 yards all the way to the Darien 2-yard line after mishandling the snap.
"We cleaned it up after the first couple of drives and then it started clicking," Grillo said of the offensive unit. "I felt like everyone played their part today. The offense was clicking. The receivers came to play, obviously George played well in the backfield and the O-Line held it up for us."
Darien was forced punt on its next possession, then the Cardinals took the lead for good at 14-7. Grillo threw a 46-yard scoring strike to Auguste, who caught the pass on the left sideline, before sprinting to the end zone with 7:29 left in the second quarter.
"Any time you are going to give him (Auguste) 1-on-1 coverage with no safety over the top – he's going to take advantage of that," GHS coach Anthony Morello said. "I thought all our receivers played well."
With 31 seconds to go in the second quarter, Greenwich added on to its advantage. This time, Grillo threw a 12-yard touchdown pass to Stefanowicz, who pulled the ball into his grasp in the left corner of the end zone, while being tightly covered, putting the Cards on top, 20-7.
"I thought it was our best offensive performance of the season so far, a sound performance," Morello noted. "We moved the ball well in the first quarter, but came up short, got down 7-0. But we just kept humming along and responded really well, with 20 points in the second quarter, which was really encouraging."
"Rocco Grillo was making some great decisions with the football," Morello continued. "Against a defense like that, it is really encouraging for the future as well."
Meanwhile, Greenwich's defense, which shutout Danbury in its previous game, was on point once again. Linebackers John Insinga, Sebastian Parra and Jaden Scott, all seniors, made it difficult for the Blue Wave to get their running game going. Up front, senior defensive linemen Ignacy Pietryka, Yahcere Mcghee and Logan Jozwiak made their presence felt for the Cardinals throughout this physical matchup.
"We've been great at stopping the run, that's been a great thing for our defense all year," Insinga noted.
Said Scott: "Defensively we played amazing, we were locked in for the whole game, there were no plays off. They had a couple of very long drives, but our defense stuck in. We had little or no mistakes and I'm glad everyone was rallying and making plays together. We have one of the best run defenses in the state. We prepared almost two weeks for this and we did a great job of preparing and executing."
Ravina kicked a 32-yard field goal, giving Greenwich a 23-7 lead with 5:32 left in the third quarter. The defensive unit stepped up again for Greenwich on the ensuing possession. Sophomore cornerback Noah Park intercepted a pass from Rolapp. On the next play, George Vomvolakis took Grillo's handoff and dashed 65 yards for a touchdown at the 4:38 mark of the third quarter.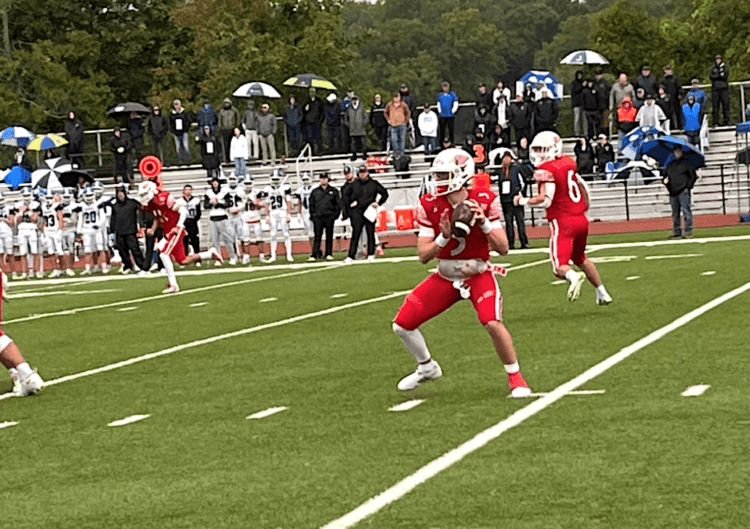 "When the ball was handed off to me, I saw that hole right up the middle where I was supposed to go," George Vomvolakis said. "I made a move on the safety like I was supposed to do and the rest is history, I just took that thing to the house."
Rolapp scored on a 2-yard run in the fourth quarter for Darien's second and final touchdown of the game. Jozwiak registered a sack and senior cornerback/captain Nick Aravides intercepted a pass in the winning effort.
"We had to get lined up every play and we had to play the coverage – we had a little bit trouble there at the end, but it's a huge win for us," Aravides said. "I finally got an interception, which I've waited five weeks for, so it was relieving."
Morello was especially impressed with how his team's secondary covered Darien's big, tall receivers. Blue Wave junior Kevin Roche stands 6-foot-8. His teammate, Charlie Thom, a senior, is 6-6.
"We knew they could pass the ball," Morello said. "So, we switched our defensive scheme up to go with the two high safety look and I thought we executed our defensive game plan well. Aravides played his best game of football today. Not only was his coverage great, but I saw some of the most physical tackles and hits that he's had during his years."
"Our linebackers were great and D-Line has proven to this point that nobody can run against us with any success. They are constantly putting offenses in third-and-long situations."
Greenwich's offensive linemen – Peter Vomvolakis, David Virella, Nicholas Granitto and Dylan Brehm – once again excelled. Ian Kim had several solid runs out of the backfield and a key reception for Greenwich.
"Darien is good every single year," Peter Vomvolakis said. "Their best unit is always their front seven, so we knew we had to take care of them and we did today. I think we did a really good job of working the past two weeks and we did a good job today."
"Those last drives of the game, we really tried to execute and get those touchdowns," Peter Vomvolakis continued. "I feel like we're getting better every single week and we have to keep it going. The goal is to go perfect the entire season."
Up next for Greenwich is a road game against Trumbull on Friday at 7 p.m.
"They have a great fan base, it's going to be loud," Morello said. "They are a big, physical team. We know they can score in bunches."