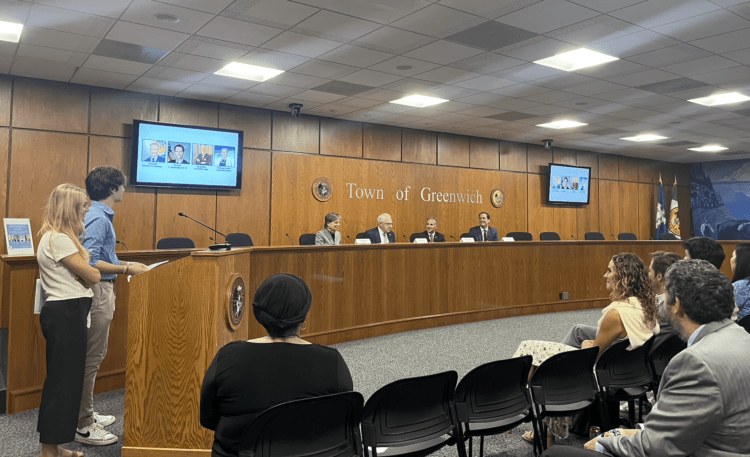 By Julia Barcello
Two ardent young adults, Hanna Klingbeil, 18, student at Greenwich High School and Sayah Trahanas, 16, student at Brunswick School, organized a panel event, "Discourse for Democracy" with the help of the First Selectman's Youth Commission Thursday evening.
Panelist for the event included, CT U.S. Representative Jim Himes; First Selectman Fred Camillo; founder of M Metrick Advisory, Maryfrances Metrick; and former First Selectman and State Representative candidate John Blankley.
Klingbeil expressed her motivation to organize the panel, "Politics have been becoming so hostile and so aggressive and violent even, at times… We [Trahanas] just really wanted to have a powerful panel of people just to symbolize that unity and compromise, and that finding a middle ground is really important."
Similarly, Trahanas explained, "I can say that we [Klingbeil] both have seen a lot of polarization in our community, our state, our country. And so, this is one of those steps that we felt like we should take in our community, at least, to try and initiate change."
The event was moderated by Klingbeil and Trahanas who asked questions regarding political polarization, ranked choice voting, and open primaries. Each panelist had roughly three minutes to respond and express their opinion.
Discourse for Democracy was open to the public, many students from across Greenwich attended in hopes to increase their knowledge on their country's democratic process.
Attendee Layla Rodriguez, 16, Greenwich High School, expressed, "I wanted to learn more about… the way that the country's government system works… At 16, I want to figure out how I can be more involved in my country and how I can be more educated about how it works."
In a one-on-one interview, Himes explained one indispensable principle young adults must understand, "I hope that in a world where media encourages people to think tribally about politics, that a lot of people see that Fred [Camillo] and I are good friends. We may have different party labels, but we are good friends and that's better than the alternative."
Ryan Jones, a Greenwich High School history, and government teacher who had his students attend the event, further explained the importance in educating young people. "When you talk to them [students] about politics, the thing they are most concerned about is division and polarization… If there is no other goal, it is to bridge that divide and think of other ways to sort of promote democracy."
When discussing how to prevent and recover from political polarization, Camillo explained, "If I had to look to any structural changes, that would again go back to possibly open primaries for those unaffiliated but fix the gerrymandering laws."
Similarly, Metrick stated, "In order to enact that polarization, they [political parties] do use things like closed primaries, and first past the post voting, and gerrymandering and other thing which do exacerbate it."
During the discussion of open primaries, Himes explained how open primaries could provide an outlet for more voices, "I think that [open primaries] would, for obvious reasons, moderate an otherwise infringing empowering process."
Blankley expressed his opinion on the implementation of rank choice voting, "I think that rank choice voting is one way that we the people can make sure that we can make our choice and that we suppress some of the worst candidates."
Concluding the discussion, panelists had the opportunity to provide final statements in which they discussed the most vital aspect to put an end to polarization.
Himes closed with a powerful statement to American's, "…At the end of the day, if we persist in being tribal, and violent, and enraged about our politics, all the structural stuff in the world isn't going to fix out democracy. So, it's up to you."