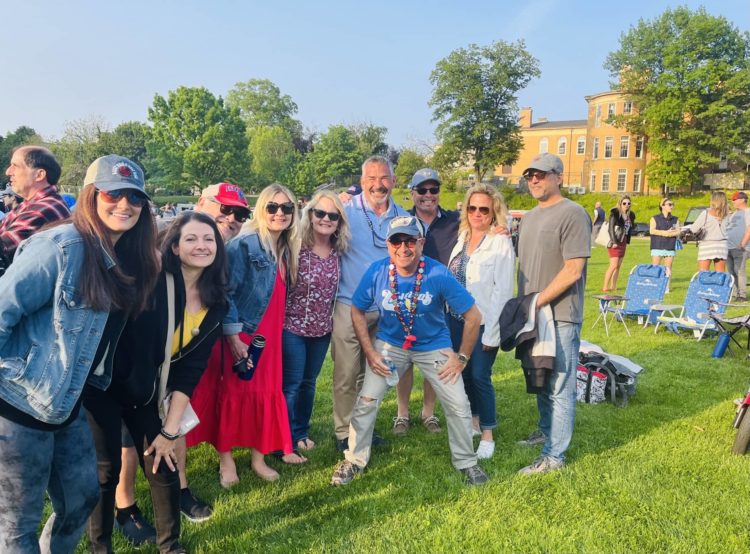 It is here. Yes, Memorial Day weekend is here, but that is not what we are referring to. It is time to party. It is time to Greenwich Town Party. And if this past Tuesday is any indication, it will be amazing.
We do not want to gloat or anything, but if you were not downtown Tuesday evening you missed an amazing community event. That was when members of the Preservation Hall Jazz Band as well as Greenwich High School and Brunswick School jazz bands brought the music and vibe of New Orleans to Havemeyer Park. It started with a parade down Greenwich Avenue and ended with music and food and friends, and a party on the field behind Town Hall.
The party felt like a throwback in time. Everyone was happy. Kids were running around laughing and chasing one another. The music was great. The food, amazing. (Sidenote: If you have not tried PopUp Bagels in town, read Emma's review and then run to place your order!) Everywhere you turned you ran into someone you knew and many we had not seen in some time. In a word it was – community.
We want to thank the leadership at the Greenwich Town Party. This year's GTP is different by design and that is a good thing. Don't get us wrong. We have gone to every Town Party, and they have been amazing. It didn't matter if it was sunny or rainy, cold or hot, Memorial Day Weekend or Labor Day Weekend, they were all great. For some, however, it became less about community and more about a great concert. This year's events leading up to the Town Party, and the Town Party itself puts the focus firmly on great music and community. We think that is great.
Prior to Tuesday's parade and party, members of the Preservation Hall Jazz Band have been in the area since last week. They held workshops for the jazz bands of Greenwich High School and Brunswick School so they could have fun and march in the parade. How cool is that? To learn from the best New Orleans jazz band how to perform the toe-tapping, upbeat music of the bayou is something they will not soon forget.
We have done this already this year, but we believe it bears repeating. We want to thank Ray Dalio, Ray Rivers, Scot Weicker, and everyone involved for what they do for the rest of us. They have created a community celebration that reminds us of the old Volunteer Fire Department Fairs many of us grew up attending.
One of the amazing aspects of what the GTP is doing is the fact that they do not have to do it at all. The party costs money and time and effort to pull it all together. We suspect the ticket sales and sponsorships do not cover all the costs, so we all benefit from their generosity.
Far too often it is far too easy to criticize. We have heard over the years people critical of the music selection or the lottery system. We are disappointed by that attitude, and it goes against what the GTP is trying to accomplish which is a celebration of community. If Tuesday evening was any indication, they have hit the mark this year.
The weather predicted for this weekend looks great. Saturday will have plenty of sunshine and a high in the low 70's. Perfect weather to spend the day at Roger Sherman Baldwin Park enjoying all that the Greenwich Town Party has to offer. While we hope to see the stilt walkers and other characters from the parade there but if not, we will not complain. We will, however, look forward to seeing our friends and neighbors, enjoying great music and food and being thankful for all that our community does to actually celebrate our community. See you Saturday.