By Molly King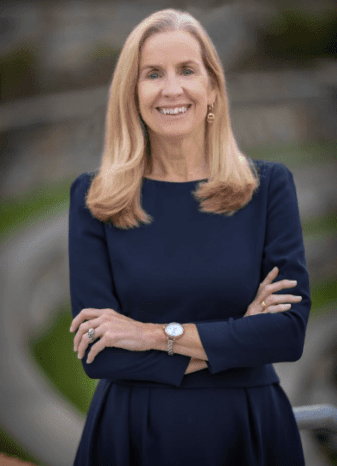 In reflecting on what to share in my final message to the broader Greenwich community, I went back to my very first communications when applying to be GA's Head of School. Obviously, a lot has changed in the intervening years both here at GA and in the world at large. But what was so very clear, reading what 20-years-ago me had written, was how much I'd changed, as well. To be clear, my fundamental values and priorities have remained the same. When originally asked in the search process to share my approach to education, I responded with "When opportunities present themselves, say yes to life,"—a Dag Hammarskjöld quote that my father relied on when dispensing advice to his kids. My parents expected us to look for and generate opportunities to make a positive difference in the lives of others and I continue to aspire to that standard. What changed over the last two decades is that I sound different now. My voice, the way I express myself, has changed.
Voice is something we engage with quite a bit here at Greenwich Academy. Alongside our signature rigorous education, we're helping the girls develop and discover their amazing, unique selves. We're teaching and challenging them to share and articulate, to lead and learn, ultimately to find their voice, and to use it, conscientiously and constructively, on their own behalf and on behalf of others. Your voice is how you tell the world who you are, what you care about, how you choose to be. And if you're doing life right, if you're learning and growing and evolving, it does change. It progresses and matures, with every stage, with every new experience.
At GA, where I know to my core that we do education right, the journey through the divisions is marked by tangible opportunities for growth. A line in the first grade's production of Flat Sarah becomes a lead role in the Upper School play. A Middle Schooler's 16-digit pi recitation advances to Multivariable Calculus in Upper School. The fourth grade's Crickets versus Polar Bears evolve into fierce Gators. So too with voice. A sentence or two at Lower School graduation as the girls describe an important lesson learned, a vignette that honors meaningful memories or people for Middle School's Moving Up ceremony, and then Senior Voices, when students voluntarily present full speeches to the entire Upper School, asserting their brave and confident voices that reflect their most authentic selves. Sharing that authenticity is Greenwich Academy's motto in action, Toward the Building of Character.
Our early-and-often approach to finding your voice is, I believe, a good one, especially when you consider that today it is easier than ever to share your voice. And even more so because, like it or not, today voices carry—everywhere, and forever. When I arrived at GA in 2004, cell phones and email were present but not ubiquitous, we were pre-Facebook, Instagram, and Snapchat. Information traveled more slowly and was less public. There was more time for thoughtful decision-making and less pressure for instant responses or image-sharing. It wasn't a world of unicorns and rainbows, but there was more breathing room.
GA's youngest kilted wonders sometimes ask me what I do and I often describe my role as being "like a mom to GA." It's an analogy that immediately resonates with them, but it's also more broadly relevant. If your parent journey is anything like mine, you will have the humbling and liberating knowledge that you learn at least as much from your children as they do from you. You may start with all the books and endless advice, but every child and situation is unique, and eventually you're left with the realization that what you have is not a project to be managed or curated but a relationship, living, breathing, acting, reacting, changing. The only constant is a parent's own authenticity, your own character. The need for our authentic voices based on our moral compass and most natural instincts as parents and educators has never been greater. Developing and asserting our voices for the sake of our young people who are so earnestly doing the same provides us the path of purpose that makes teaching and parenting the awesome responsibility and wondrous journey that it is.
My advice to parents? Embrace your journey and the teachers and administrators who are wholly committed to the shared values of raising young people of purpose, character, and humanity. In that partnership lies unlimited possibilities for our children's future. They deserve nothing less than our best. And as I return to my Boston roots, know that I'll be cheering you on. Onward!
Molly King will be stepping down as Greenwich Academy's head of school at the conclusion of the 2022-23 academic year.