By Will Kies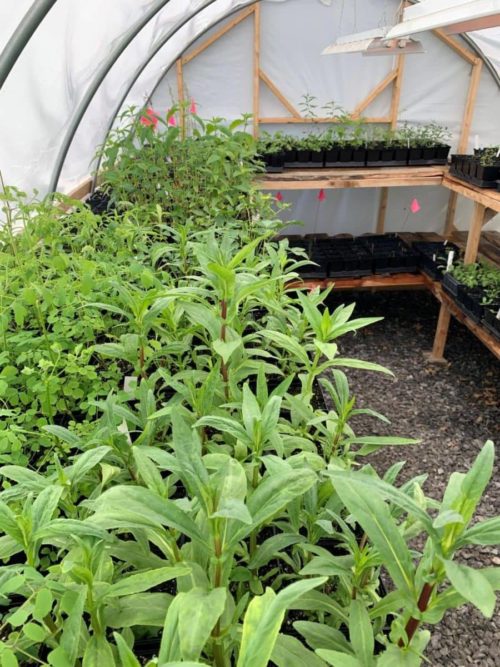 In the wise words of Audrey Hepburn, "As you grow older, you will discover that you have two hands — one for helping yourself, and the other for helping others." This sentiment rings true as the Greenwich Land Trust (GLT) experiences the overwhelming generosity of countless volunteers joining forces to protect our planet. Over the past weeks, an inspiring coalition of local schools, community organizations, business leaders, and passionate individuals have converged to bolster GLT's conservation mission. They've been planting native trees and shrubs, mulching planting beds, and vanquishing invasive species.
The lifeblood of GLT, and similar organizations, flows from the self less dedication of these volunteers. The Farmstead and Go Wild! committees, greenhouse and garden regulars, and the Board of Directors are all part of the vibrant volunteer ecosystem that propels GLT forward. As we gear up for a bustling season, let us take a moment to acknowledge and appreciate the indispensable role these volunteers play in our collective success.
GLT has a host of exciting upcoming events that emphasize the importance of conservation. The Seed-to-Seed Native Plant Sale, taking place on May 12 and 13 at the Mueller Preserve, invites visitors to purchase native plants cultivated through GLT's Seed-to-Seed program. Showcasing an array of meadow and woodland wildflowers, as well as shrubs, this event is a tribute to the region's natural splendor.
Additionally, 'An Evening at the Farmstead' on June 16 offers a delightful soiree of tantalizing bites, cocktails, and live jazz at the Mueller Preserve's historic barns. All proceeds will directly support the Land Trust and its educational initiatives, providing yet another avenue for the community to champion GLT's conservation efforts.
This month's Property Spotlight illuminates the breathtaking Sacred Heart Preserve. Nestled along the Byram River gorge, this awe-inspiring property boasts 165 acres and over a mile of greenway along the river, serving as a powerful reminder of the imperative to conserve our natural resources. As visitors traverse the trail, they'll be treated to a stunning wetland valley and a vibrant display of spring ephemeral wildflowers, including Trillium, Jack-in-the-Pulpit, Bloodroot, False Solomon's Seal, Dutchman's Breeches, and more. Beyond these events, GLT offers a wealth of activities and resources for those keen on environmental stewardship. Planting a summer garden, welcoming the Wren family to your backyard, and attending workshops and guided walks focused on native bees, native plants, fern identification, and invasive species management are just a few of the myriad opportunities to make a tangible difference.
As we reflect on the recent Earth Day celebrations, where volunteers planted Sugar Maple trees, weeded and mulched garden beds, and removed invasive species, we extend our deepest gratitude to those who devoted their time and energy to enhance the beauty and ecological harmony of the Mueller Preserve.
Finally, we congratulate former GLT Director Andy Chapin and Nancy Chapin, GLT Director Karen DeWahl, and Isabel and Peter Malkin, GLT land donors, who were among the recipients of the newly established Sustainability Award. This prestigious accolade, bestowed by the Town of Greenwich's Sustainability Committee, honors individuals who exemplify the committee's principles, advocating for the responsible and enduring stewardship of our environment.
United in the spirit of volunteerism, we can forge a positive impact on the world around us, safeguarding a sustainable future for generations to come.
Will Kies is the Executive Director of the Greenwich Land Trust