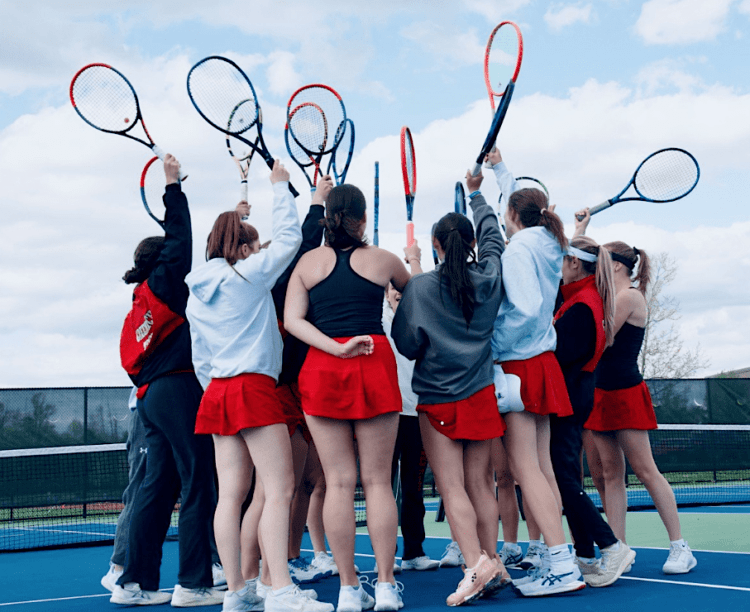 By David Fierro
Greenwich High School's girls tennis team began the week with a tight win against New Canaan, then quickly followed it up with an impressive victory against another FCIAC rival, Darien.
The pair of victories, both of which took place on the road, lifted Greenwich's record to a perfect 9-0, heading into Thursday's match against visiting FCIAC foe Ridgefield.
The Cardinals pulled out a 4-3 comeback win over New Canaan on Monday, then beat Darien, 5-2, on Tuesday to continue its unbeaten season.
Against host New Canaan on Monday, the Cardinals received two victories in singles play and two in doubles action. Senior Ivanna Diez de Bonilla came back from a 5-2 deficit in the third set to win it, 7-5 and take her match at No. 2 singles against New Canaan junior Liza Sieghart, 6-1, 2-6, 7-5.
At fourth singles, junior Malena Schraa was victorious for Greenwich. Schraa gave the Cardinals their first win of the FCIAC matchup, topping Rams junior Annika Khurana, 6-3, 6-4.
In the No. 1 singles match, New Canaan senior Lexi McCall won her matchup against Greenwich junior Kyra Dybas. At third singles, New Canaan's Aaciyaa Sonthonnax was victorious against GHS junior Lilly Foley, 6-2, 6-3.
In doubles play, sophomore Yume Inagawa and freshman Caitlin Mahoney took a well-earned 6-1, 3-6, 6-1 decision from their New Canaan foes at the No. 2 spot.
Third doubles saw sophomore Emme Pecorin and freshman Maddy Wilber gave the Cards a 1-6, 5-2, 7-5 comeback victory against the Rams at No. 3.
At first doubles, GHS junior Emily Weinstein and junior Kyra Dybas were edged, 6-3, 6-3. In their win versus Darien on Tuesday, the Cardinals took three of the four singles matches and two of three doubles matchups.
Diez de Bonilla won her match at second singles over Darien's Annabelle Hirscht, 6-3, 6-2. Foley (No. 3) earned a 6-2, 6-0 straight set win over Scarlett O'Malley of the Blue Wave, while Schraa swept to a 6-0, 6-0 triumph at fourth singles.
In doubles action, Inagawa/Mahoney were victorious at No. 2, 6-4, 7-6 (1). Pecorin/Wilber were 6-1, 6-2 winners at third doubles for the Cards.
Greenwich hosts Ridgefield Thursday at 4:30 p.m., then has home matches versus Bridgeport Central on Monday and Danbury on Tuesday.